Minimum Wage Maximum Headache
Restaurateur: 35% price hike may be needed.
Monday, October 27, 2014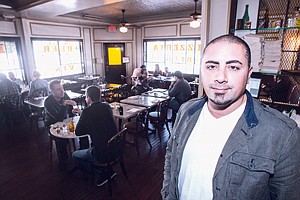 George Abou-Daoud had plans to expand his restaurant empire out of Hollywood and into downtown Los Angeles, but that was before city leaders proposed nearly doubling the local minimum wage over just a few years.
He's halted his expansion plans, saying those wage hikes would add too many burdens on his nine restaurants, well beyond just paying more to his minimum-wage workers. Payroll taxes, workers' compensation insurance premiums and wages for other workers would all increase, as would the price of food – costly headaches he said politicians aren't thinking about.
To cover those costs, he estimates he'd have to raise prices by about 35 percent – an increase he said is unrealistic.
So he's shelved plans to open restaurants in downtown and Echo Park, though he is going ahead with a new restaurant in the Sunset Junction neighborhood that was in the works months before news of the proposed minimum-wage hikes broke.
"I already had too much sunk into that new space to pull out," said Abou-Daoud, 39, whose restaurants include Bowery gastropub and Delancey Pizzeria. "But any further expansion in the city is out of the question."
On Labor Day, Los Angeles Mayor Eric Garcetti proposed hiking the minimum wage to $13.25 an hour by 2017. Then earlier this month, the City Council considered going even further, voting to study raising the wage to $15.25 an hour by 2019. The council could act on either or both proposals by early next year, though that time line could change. A group of council members last week called for a study of how wage hikes would affect small businesses and non-profits.
Abou-Daoud, a former economist who supported Garcetti's mayoral bid last year, said the magnitude of the proposed increases – as much as a 70 percent increase over five years – shows the lack of understanding from politicians about their consequences.
He has even offered, through the Hollywood Chamber of Commerce, to open his books to any politician who asks him to prove his point.
"I support labor, but it's just not possible, given the margins that my restaurants – and most restaurants – have and the expenses they face, to pay so much more," Abou-Daoud said. "I'm speaking for all restaurant owners and many, many other small businesses."
Indeed, many business owners and groups in Hollywood and the rest of the city say the proposed wage hike, because of its magnitude, will hurt both their bottom lines and many of the workers the wage increase is designed to help.
For reprint and licensing requests for this article, CLICK HERE.
Prev Next