Shopping Center Renovates to Sell Locals on Appeal
Monday, October 6, 2014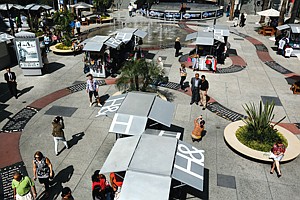 The Hollywood & Highland shopping and entertainment complex is a popular stop for tourists, but ever since opening in 2001 it has struggled to attract locals.
Now, mall owner CIM Group is stepping up efforts to change that, making upgrades and bringing in new tenants it hopes will appeal to Angelenos, not just out-of-towners.
One recent addition is Dave & Busters, a restaurant, sports bar and arcade that's not as touristy as, say, the nearby Hard Rock Café. There's also a new nightclub, OHM. And now, CIM is revamping the center's food court, turning it into a dining deck that will overlook Hollywood Boulevard.
It's all part of CIM's plan to make the massive complex, and the area surrounding it, a more attractive place for Angelenos to shop and dine. Since buying the property a decade ago, CIM has purchased other nearby properties and brought in local-serving shops, said Leron Gubler, chief executive of the Hollywood Chamber of Commerce.
"When you take all that CIM is doing in the area together, they are making a greater play for the local customer," Gubler said.
Dave & Busters, a 35,000-square-foot restaurant and arcade, occupies nearly half of Hollywood & Highland's third level. It opened Aug. 25. That followed the January opening of OHM, a 19,000-square-foot nightclub on the center's fourth level.
The latest news is that CIM is converting the center's third-level food court, next to the TCL Chinese 6 Theaters, into a dining deck overlooking Hollywood Boulevard. Handling the conversion is Spacecraft Design Group, which has worked on several trendy Hollywood nightspots and eateries, including the Bowery, Kitchen 24 and Boho.
CIM and Spacecraft are keeping plans for the dining deck under wraps. Both companies declined to provide further information about the project last week.
Gregory Stoffel, an Irvine retail consultant who has followed Hollywood & Highland, said the renovation and new offerings make sense.
"These are really good additions that reinforce the positioning of what CIM is doing: focusing on entertainment and dining," Stoffel said.
Missing ingredient
Despite the changes, the Hollywood & Highland center still lacks one critical ingredient: consistent, high-profile programming at the Dolby Theatre other than the Oscars.
CIM tried to bring in programming with its 2009 agreement with Montreal's Cirque du Soleil for a Hollywood-themed show that was to run from 2011 through 2020. But the show, "Iris," flopped after just 18 months and closed in January 2013.
For reprint and licensing requests for this article, CLICK HERE.
Prev Next