Shopping Center Renovates to Sell Locals on Appeal
Monday, October 6, 2014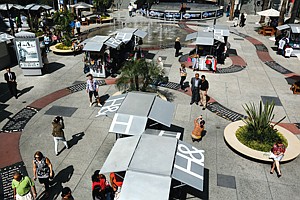 The Hollywood & Highland shopping and entertainment complex is a popular stop for tourists, but ever since opening in 2001 it has struggled to attract locals.
Now, mall owner CIM Group is stepping up efforts to change that, making upgrades and bringing in new tenants it hopes will appeal to Angelenos, not just out-of-towners.
One recent addition is Dave & Busters, a restaurant, sports bar and arcade that's not as touristy as, say, the nearby Hard Rock Café. There's also a new nightclub, OHM. And now, CIM is revamping the center's food court, turning it into a dining deck that will overlook Hollywood Boulevard.
It's all part of CIM's plan to make the massive complex, and the area surrounding it, a more attractive place for Angelenos to shop and dine. Since buying the property a decade ago, CIM has purchased other nearby properties and brought in local-serving shops, said Leron Gubler, chief executive of the Hollywood Chamber of Commerce.
"When you take all that CIM is doing in the area together, they are making a greater play for the local customer," Gubler said.
Dave & Busters, a 35,000-square-foot restaurant and arcade, occupies nearly half of Hollywood & Highland's third level. It opened Aug. 25. That followed the January opening of OHM, a 19,000-square-foot nightclub on the center's fourth level.
The latest news is that CIM is converting the center's third-level food court, next to the TCL Chinese 6 Theaters, into a dining deck overlooking Hollywood Boulevard. Handling the conversion is Spacecraft Design Group, which has worked on several trendy Hollywood nightspots and eateries, including the Bowery, Kitchen 24 and Boho.
CIM and Spacecraft are keeping plans for the dining deck under wraps. Both companies declined to provide further information about the project last week.
Gregory Stoffel, an Irvine retail consultant who has followed Hollywood & Highland, said the renovation and new offerings make sense.
"These are really good additions that reinforce the positioning of what CIM is doing: focusing on entertainment and dining," Stoffel said.
Missing ingredient
Despite the changes, the Hollywood & Highland center still lacks one critical ingredient: consistent, high-profile programming at the Dolby Theatre other than the Oscars.
CIM tried to bring in programming with its 2009 agreement with Montreal's Cirque du Soleil for a Hollywood-themed show that was to run from 2011 through 2020. But the show, "Iris," flopped after just 18 months and closed in January 2013.
Since then, CIM has booked a variety of touring acts and headline performers. Later this month, for example, Bob Dylan is scheduled to play at the venue; next month it will host a jazz competition.
But the programming has been inconsistent and the Dolby has spent many evenings dark.
"That theater was supposed to function as a driver for the entire center, much like the Pantages Theatre drives the area around Hollywood and Vine," said John Tronson, principal at Avison Young and board president of the Hollywood Business Improvement District. "It's not doing this and it never has."
Without a consistent flow of theatergoers to patronize other Hollywood & Highland stores and eateries, the center has struggled to draw locals.
In fact, many locals avoid the center because of the throngs of tourists. Others are deterred by the parking. While the parking situation is greatly improved over the initial 2001 opening fiasco – when nearly everyone had to pay the maximum $10 as there were no store validations – the maximum rate recently increased to $13.
Reports of occasional violence near the center, including the fatal stabbing of a woman in June of last year, haven't helped, though most observers say the impacts of these incidents have been short-lived.
Most importantly, the center has few unique offerings for locals.
"Most retail tenants that are there are also at other local malls that have greater convenience, more selection, and more convenient and cheaper parking," said Stoffel, the retail consultant.
Still, the retail selection at Hollywood & Highland has grown significantly since CIM purchased the complex in 2004 from TrizecHahn Corp. of Toronto for $200 million.
TrizecHahn, which was purchased by Brookfield Office Properties of Toronto in 2006, spent roughly $600 million to develop the center, on top of $90 million in city subsidies.
Under TrizecHahn, many stores were duplicative – lots of tourist kitsch shops, for example – and cannibalized each other's sales, said the business improvement district's Tronson. CIM has spent the last several years gradually broadening the tenant mix.
CIM also added signage to make the center, which has two wings and several levels, less confusing to visitors. More recently, it remodeled the central courtyard fountain.
In a statement provided to the Business Journal, CIM said of these changes: "CIM's long-term strategy for Hollywood & Highland of being a premier destination for the local community remains consistent. CIM is refreshing the complex with new retailers, restaurants and entertainment venues, and programming at the Dolby Theatre."
More crowds
Gubler of the Hollywood chamber said CIM's changes over the years have helped the center.
"There are many afternoons I go over there and the place is packed," Gubler said. "That wasn't the case two years ago or when CIM first took over."
Gubler said that CIM has told the chamber that sales have increased, especially over the last couple of years.
"They've told us that sales have more than matched their expectations," he said.
Given how little CIM paid for the center, that likely means the developer has been turning a considerable profit. That's especially important since CIM has had to repay a $30 million federal Housing and Urban Development loan it received through the city of Los Angeles back in 2009.
The loan was made to finance a reconfiguration of the complex to accommodate Cirque du Soleil. When Cirque's Hollywood act closed abruptly, CIM was left on the hook for most of the loan.
Gubler added that CIM has also upped its focus on the area surrounding the Hollywood & Highland center, buying up several adjacent retail and commercial properties. For example, shortly after buying Hollywood & Highland, CIM bought the smaller Hollywood Galaxy shopping center at Hollywood Boulevard and La Brea Avenue and has repositioned that with retail outlets for local residents, including, most recently, a Muji USA stationery and household goods store.
For reprint and licensing requests for this article, CLICK HERE.