Lots of Worry
City of L.A. looks to put brakes on parking-tax cheats
Monday, November 24, 2014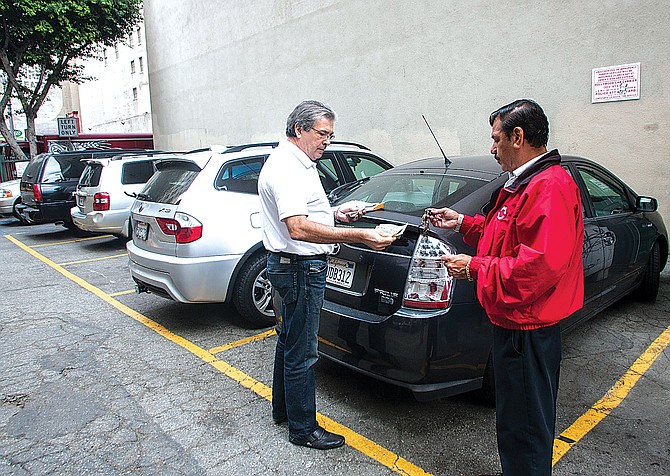 Every small parking lot from Venice to Boyle Heights could soon be required to install the same kind of expensive gate and payment system you'd find in the garage of a huge Century City high-rise – a change that could turn tiny lots into big money-losers.
It's the latest salvo in the city's long-running battle with parking-tax cheats. L.A. city leaders have proposed requiring all parking lot operators to accept credit card payments and perhaps install monitoring equipment to help ensure the city gets its fair share. But parking lot operators fear that will prove costly and hurt law-abiding operators while tax scofflaws will continue to get off scot free.
"We follow all the rules, yet the city is willing to place even more measures on us and not go after the real cheaters," said Kevin Litwin, senior vice president with L&R Group of Cos. of Los Angeles, which operates more than 100 parking lots in the city, including several Joe's Auto Parks downtown.
The city charges a parking tax of 10 percent on revenues and last year collected $96 million in parking tax revenues, according to City Controller Ron Galperin. But the city also estimates that it fails annually to collect an additional $15 million to $20 million in parking taxes from unscrupulous vendors who either under-report their revenue or avoid paying taxes altogether. Many of those vendors operate cash-only lots, making it difficult for authorities to trace the money.
Collecting parking revenue has long been a challenge for the city, and leaders over the years have proposed various methods for making sure all parking lot operators pay up. Two years ago, the city started requiring lot operators to post bonds to cover parking tax payments in advance. Galperin said he thinks that's helped chip away at the problem, but hasn't eliminated it.
Bringing in revenue
Earlier this month, Mayor Eric Garcetti and Councilman Joe Buscaino introduced a package of proposals aimed at generating more money to fix city streets and sidewalks. One would require parking lot operators to use equipment that can track parking volumes and revenue.
The equipment includes devices that accept credit and debit card payments, automated cash-payment systems and electronic gate arms that monitor the number of cars coming in and out of a lot. The City Council is expected to consider that and other proposals next year.
The parking lot proposal builds on a 2012 city report that includes a recommendation that parking lot operators be required to accept credit and debit card payments – and that known parking-tax cheats be required to install monitoring equipment.
Prev Next
For reprint and licensing requests for this article, CLICK HERE.