State's Biggest Refinery in Pipeline
ENERGY: Greens see red as Tesoro looks to link oil facilities.
Monday, November 10, 2014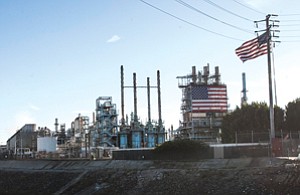 Once an out-of-state oil refiner that few Angelenos had ever heard of, Tesoro Corp. is now poised to become the biggest player in L.A.'s oil market.
The San Antonio company plans to spend $250 million over the next three years to combine two adjoining oil refineries in Carson and Wilmington, a project that would create by far the largest refinery in California.
Business groups are cheering the project, saying a larger, modernized refinery will benefit the local economy. But at least one environmental group is fighting the project, raising concerns about the possibility of more pollution as well as the notion that oil from Canadian tar sands could be imported by rail, which the group sees as a more dangerous mode of transport than by sea. Also, the group points out that heavy tar sands oil is harder to refine, causing more greenhouse gases to be produced.
Though Tesoro has only recently started applying for permits for the project, it's been in the works for more than a year, ever since Tesoro purchased the Carson refinery from BP North America. Before that deal, Tesoro had committed to spending more than $1 billion to upgrade its Wilmington refinery, which it acquired in 2007 from Royal Dutch Shell. But that would have been a lot of money to spend on the relatively small refinery.
Instead, Tesoro applied that $1 billion toward its $2.4 billion purchase of the Carson refinery – and more than 800 Arco service stations – from BP. Now, by spending a comparatively modest $250 million on upgrades, Tesoro would end up with the largest refinery complex in the state, with nearly four times the capacity of the Wilmington refinery.
"Tesoro is doing something smart," said David Hackett, president of Irvine energy and oil market consulting firm Stillwater Associates. "They needed to spend a lot of money at Wilmington; instead, they've been able to leverage their acquisition with Carson so that they end up with a much better refining package for Southern California."
Refinery upgrades
Tesoro plans to modernize oil-processing units at both facilities and replace aging oil storage tanks with larger ones. The combined refinery would be able to process oil from almost anywhere around the globe – including heavy or light crude – and would be able to produce 363,000 barrels a day of refined fuel.
The upgrades would also allow Tesoro to meet the latest round of federal and state emission reduction mandates.
For reprint and licensing requests for this article, CLICK HERE.
Prev Next