Worth a Look?
Early jump on viral videos pays off for Jukin
Monday, May 26, 2014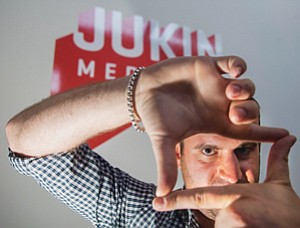 You've probably seen the viral YouTube video of a family cat saving a young boy who's being attacked by a dog. Or perhaps a friend emailed you the clip of a young man being kicked in the head by a train conductor while trying to take a selfie near the tracks.
If so, it's thanks to Culver City's Jukin Media, a 5-year-old entertainment company whose staff scours YouTube for videos the company can buy from creators before they take the Internet by storm.
Its biggest brand is FailArmy, a YouTube channel that boasts more than 5 million subscribers who watch videos with titles such as "Top 5 Crazy Horses" and "Ultimate Playground Fails."
Jukin raised its first outside capital earlier this month, a $1 million round from investors including Culver City's Maker Studios, Launchpad LA and New York's Bertelsmann Digital Media Investments. It plans to use the money to beef up technical operations.
Jukin's founder and chief executive, Jonathan Skogmo, 31, acknowledged that he owes a lot of his success to "America's Funniest Home Videos," the ABC TV show that helped popularize blooper videos with the American public.
"We're more of a digital, Gen-Y version," Skogmo said.
The secret to recognizing the next viral video sensation is elusive. Jukin uses its own YouTube channel and social media functions to build momentum for its content, but success is never assured.
While the company recognizes that only a handful of videos it buys will have the same viral success as the recent cat clip, even less popular videos can be marketed to specific publishers.
What Skogmo said Jukin looks for are "eventized moments," those that have an intangible, magical quality about them.
"It has to be so cool that you just stare at it," he said.
While recent research done at the University of Pennsylvania found people are more likely to share videos that elicit intense emotional responses, Skogmo has a more straightforward way of explaining FailArmy's popularity around the world:
"You can say ouch in any language."
Licensing model
Skogmo started Jukin, slang from his hometown of Chicago for something cool, after working as a producer on Country Music Television show "Country Fried Home Videos," a version of "America's Funniest" with a down-home twist.
After YouTube launched in 2005, Skogmo began incorporating online videos into the show, learning about licensing and intellectual property rights in the process. He bounced around to a few other clip shows before realizing he could create a business by aggregating content and representing video creators.
Prev Next
For reprint and licensing requests for this article, CLICK HERE.