Port Talks Carry Baggage of 2002
shipping: Parties seem open to avoiding costly shutdown.
Monday, May 26, 2014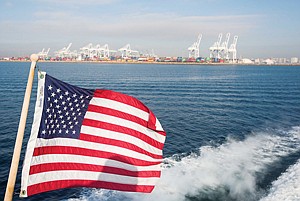 As contract talks have begun between shipping businesses and port workers, importers are stepping up the pace in anticipation of a possible port shutdown. But industry experts believe that both sides are motivated to reach a deal without a repeat of the disastrous lockout of 2002.
Labor negotiations began in May between terminal operators and the longshore workers union as the current six-year contract between the Pacific Maritime Association, representing shipping companies and terminal operators, and the International Longshore and Warehouse Union expires July 1. The contract covers nearly 20,000 workers at 29 West Coast ports including Los Angeles and Long Beach.
In 2002, labor talks between the two sides broke down, resulting in a lockout that shut down the West Coast ports for 11 days before then-President George W. Bush invoked the Taft-Hartley Act and ordered the ports to reopen. The local economy lost several billion dollars. Some shipping companies shifted to other ports, in some cases permanently.
In 2008, negotiations, though contentious at times, resulted in a six-year agreement without a port shutdown.
This time around, with talks that began May 12, shippers are hedging their bets. They are hoping for the best but placing orders early so they don't get caught shorthanded if a shutdown occurs at the height of the traditional holiday shipping season in midsummer.
"We sincerely hope that the negotiations will resolve themselves without any disruption," said Mark Hirzel, president of the Los Angeles Customs Brokers and Freight Forwarders Association, which represents 300 customs brokers and freight forwarders. "But hope is not a good business strategy. Shippers have been placing orders early for both imports and exports and are evaluating their options in case there is a shutdown."
Indeed, those early orders were a factor behind a 10 percent surge in container volumes at both the ports of Los Angeles and Long Beach in April.
A shutdown at the ports could also roil through the local economy, according to Gary Toebben, chief executive of the Los Angeles Area Chamber of Commerce.
"Ever since 2002 there has been fear of another strike or lockout at the ports," Toebben said. "For Southern California, a strike or lockout would be an invitation to shippers to exercise those other options and that would be very harmful to the local economy."
Contentious issues
There is some cause for concern, given the prickly issues on the table for this round of negotiations. The talks are said to be covering health benefits, worker productivity and outsourcing of jobs. The talks have been alternating each week between the offices of the PMA and the ILWU, both in San Francisco.
The PMA says shipping companies and terminal operators need to lower costs on all three fronts if the West Coast ports – chiefly the ports of Los Angeles and Long Beach – are to remain competitive with ports in Canada, Mexico and on the Gulf Coast.
PMA Chief Executive James McKenna laid out this stance in a letter in the association's annual report released earlier this year.
"With competition for discretionary cargo growing stronger every year, we will endeavor to enable West Coast ports to operate efficiently and productively," he said.
The longshore workers union says it will try to hold the line against further cost-cutting.
"Dockworkers are looking forward to negotiating a fair agreement that protects the good jobs and benefits that support thousands of families and dozens of communities around West Coast ports," ILWU International President Bob McEllrath said in a statement as the talks began.
Both sides have agreed to a news blackout about the progress of the talks so their organizations declined to make McKenna or McEllrath available for comment.
The most contentious issue might center on the union's allegation of outsourcing work traditionally performed by their members to less expensive nonunion contractors. The ILWU last summer made this issue the center of its labor protest at the Port of Oakland, alleging that truck chassis maintenance had been farmed out to nonunion contractors. The union says it wants this practice to stop. The PMA has not commented publicly on the issue.
Another battle is likely over health care benefits. Under the Affordable Care Act, employers will be assessed a 40 percent tax on employer-provided health insurance plans that exceed certain premium amounts: $10,400 for an individual plan and $27,500 for a family plan. The requirement takes effect in 2018.
Before the talks began, a trade publication reported that McKenna made a speech saying this tax could cost his members about $150 million a year.
The PMA will be looking for ways to reduce the tax hit, either by switching to cheaper health plans with lower premiums or by passing on more of the costs to union members.
But the union has stated publicly it wants to hold the line on health benefits.
The final issue revolves around increasing efficiency at the ports. The PMA says it needs to use more automation and other means to move more cargo through the ports in any given period of time.
"Ultimately, the more we can work and turn a ship quickly – each and every day – the more competitive West Coast ports will be," the PMA states in its annual report.
But the union sees this as a call for more speed from workers: For example, instead of a crane worker moving 20 containers an hour, they need to move 25. Union members believe that can lead to cutting corners and creating safety problems.
"There is enormous pressure on workers to work more quickly in loading and offloading cargo," ILWU spokesman Craig Merrilees told the Business Journal this month. "But in the final analysis, more speed can kill. The financial incentives behind this system must be re-examined."
Avoiding shutdown?
While these differences seem daunting, both sides entered the talks saying they believed a deal could be reached, if not by the July 1 contract expiration deadline, then shortly afterwards.
People with knowledge of the challenges facing the ports say they believe both sides remember the bitter lessons of that 2002 shutdown and will try to avoid a repeat.
"Neither the PMA nor the ILWU wants to see a shutdown and all the cargo diversions that resulted," said John Husing, chief economist for the Inland Empire Economic Partnership, which promotes business in the area that is heavily dependent on port-related warehouse and logistics activity.
Husing said the ILWU recognizes this threat.
"The union leaders have pressure on them to make sure diversion doesn't occur," he said.
A local logistics and labor expert agreed.
Goetz Wolff, a lecturer in urban planning at the UCLA Luskin School of Public Affairs who has consulted for unions, said the joint press release issued at the beginning of the talks indicated both sides are serious about reaching a deal.
He said the PMA realized that while they might have achieved a short-term gain with their lockout of union workers in 2002, it came with a long-term cost of a permanent loss of cargo to other North American ports. And the union doesn't want to risk that happening again, either.
"I don't see any of the issues on the table now as being real deal-breakers," Wolff said.
For reprint and licensing requests for this article, CLICK HERE.