Port Talks Carry Baggage of 2002
shipping: Parties seem open to avoiding costly shutdown.
Monday, May 26, 2014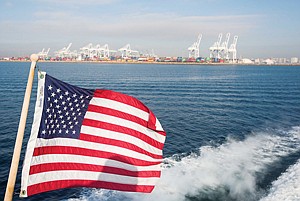 As contract talks have begun between shipping businesses and port workers, importers are stepping up the pace in anticipation of a possible port shutdown. But industry experts believe that both sides are motivated to reach a deal without a repeat of the disastrous lockout of 2002.
Labor negotiations began in May between terminal operators and the longshore workers union as the current six-year contract between the Pacific Maritime Association, representing shipping companies and terminal operators, and the International Longshore and Warehouse Union expires July 1. The contract covers nearly 20,000 workers at 29 West Coast ports including Los Angeles and Long Beach.
In 2002, labor talks between the two sides broke down, resulting in a lockout that shut down the West Coast ports for 11 days before then-President George W. Bush invoked the Taft-Hartley Act and ordered the ports to reopen. The local economy lost several billion dollars. Some shipping companies shifted to other ports, in some cases permanently.
In 2008, negotiations, though contentious at times, resulted in a six-year agreement without a port shutdown.
This time around, with talks that began May 12, shippers are hedging their bets. They are hoping for the best but placing orders early so they don't get caught shorthanded if a shutdown occurs at the height of the traditional holiday shipping season in midsummer.
"We sincerely hope that the negotiations will resolve themselves without any disruption," said Mark Hirzel, president of the Los Angeles Customs Brokers and Freight Forwarders Association, which represents 300 customs brokers and freight forwarders. "But hope is not a good business strategy. Shippers have been placing orders early for both imports and exports and are evaluating their options in case there is a shutdown."
Indeed, those early orders were a factor behind a 10 percent surge in container volumes at both the ports of Los Angeles and Long Beach in April.
A shutdown at the ports could also roil through the local economy, according to Gary Toebben, chief executive of the Los Angeles Area Chamber of Commerce.
"Ever since 2002 there has been fear of another strike or lockout at the ports," Toebben said. "For Southern California, a strike or lockout would be an invitation to shippers to exercise those other options and that would be very harmful to the local economy."
Contentious issues
There is some cause for concern, given the prickly issues on the table for this round of negotiations. The talks are said to be covering health benefits, worker productivity and outsourcing of jobs. The talks have been alternating each week between the offices of the PMA and the ILWU, both in San Francisco.
Prev Next
For reprint and licensing requests for this article, CLICK HERE.