Aquifer Owner Soaks Up Win
WATER: Judge rejects lawsuits against Cadiz's desert project.
Monday, May 12, 2014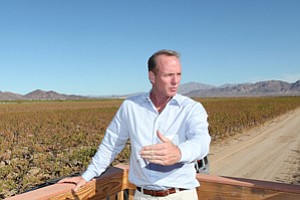 Investors in Cadiz Inc. were pumped up last week after a court ruling cleared a big roadblock for the L.A. company's controversial plan to draw water from its remote desert property.
An Orange County judge May 2 upheld approvals for the water plan, dismissing challenges from an array of conservation groups and a mining company.
The ruling from Superior Court Judge Gail Andler moves Cadiz a big step closer to construction of its water-pumping plants and a pipeline to transfer millions of gallons of water from its desert aquifer to thirsty residents and businesses. That means the Cadiz project is closer to reality than it has ever been since its conception more than 20 years ago.
As a result of the ruling, investors sent Cadiz shares soaring. The stock closed at $8.03 on May 7, up 25 percent for the week and making Cadiz the biggest gainer on the LABJ Stock Index. (See page 82.)
The battle isn't over, though. Opponents said last week that they plan to appeal the ruling. And Cadiz still needs federal approval to build a 43-mile pipeline alongside a rail line from the aquifer to the Colorado Aqueduct.
Nonetheless, Cadiz executives relished their victory.
"We hope this ruling clears any doubts about the soundness of the project's environmental commitment and our commitment to providing a safe and sustainable water supply throughout the region without causing environmental harm," Cadiz Chief Executive Scott Slater told the Business Journal.
Tortured history
When the project was proposed in the early 1990s, it called for the Metropolitan Water District, a huge regional water wholesaler, to pay Cadiz up to $1 billion over 50 years to store up to 1.5 million acre-feet of water a year in the aquifer and then draw on that as needed. (An acre-foot of water is 326,000 gallons, enough to supply a household of four for a year).
Environmentalists argued the project would drain the desert aquifer and harm local wildlife. They persuaded Democratic Sen. Dianne Feinstein to oppose the plan; her opposition was a key factor in the MWD board's decision to reject the plan in 2002.
The L.A. company resurrected the project in 2009 in a smaller form. Cadiz now plans to pump Colorado River water into the aquifer, where it will mix with natural groundwater. The aquifer is under its 45,000-acre holdings in the Cadiz Valley east of the Twentynine Palms Marine Corps Air Station. The company will pump it out as needed and sell it to water agencies, mostly in Southern California. The company will transport the water to the agencies via the aqueduct and another pipeline.
Prev Next
For reprint and licensing requests for this article, CLICK HERE.