Spillover Feared in Fracking Ban
ENERGY: Industry sees city of L.A. proposal closing other wells.
Monday, March 31, 2014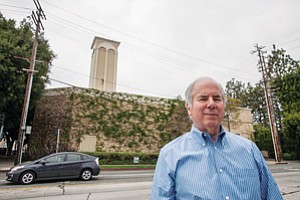 A proposed moratorium on fracking in Los Angeles would have more sweeping consequences, local oil companies say. In fact, if passed as proposed, they say it will shut down most oil production in the city – even at wells where fracking isn't used.
The companies say the ordinance would also halt reinjecting water into the ground and using acid compounds to clean the wells, practices that have been used widely for decades. And they note that because the moratorium would stay in place until all of these practices are proven safe, hundreds of wells in the city would likely have to shut down for years, if not permanently.
One L.A. company that says it would be hit hard is BreitBurn Energy Partners, which has wells on Pico Boulevard just south of Beverly Hills, on the Veterans Affairs property in West Los Angeles and in Harbor Gateway.
"As currently written, this ordinance would shut down all our production in the city," said Greg Brown, BreitBurn's general counsel.
The ordinance was first introduced last year amid rising opposition to fracking, which is the high-pressure injection of water, sand and chemicals into wells to force oil out of underground formations. Environmental groups, local residents and community activists allege the process could contaminate local water supplies and have tried to link it to earthquakes.
The California Independent Producers Association, a Sacramento group representing small and midsize oil companies, has stepped up its opposition to the proposed moratorium. Chief Executive Rock Zierman said up to half of the city's oil production would be halted immediately because of the prohibition on water reinjection and more wells would shut down over time because of the acid moratorium.
Zierman said the producers association and industry executives are meeting with city council members to convey the proposed ordinance's sweeping impact on the industry.
"This motion was poorly conceived and its implications not understood," he said.
If the final ordinance contains the same language as the motion, he said his organization will likely file a lawsuit, claiming that the ordinance represents an illegal regulatory taking under the Fifth Amendment of the Constitution.
BreitBurn is one of 26 oil companies that last year extracted more than 3.1 million barrels of oil from wells in the city, according to data from the state Division of Oil, Gas and Geothermal Resources.
The biggest single producer is Freeport-McMoRan Oil & Gas of Houston, which last year bought Plains Exploration and Production Co. and its extensive drilling operations in Baldwin Hills. The company accounts for one-third of the production in the city, with about 1 million barrels a year.
Prev Next
For reprint and licensing requests for this article, CLICK HERE.