City Tackles New Convention Center Without NFL
TOURISM: Council OKs remodeling plan as scoring football team seems unlikely.
Monday, June 9, 2014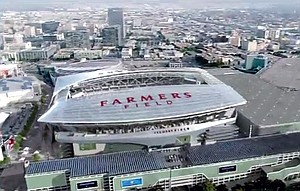 Bringing a professional football team to downtown Los Angeles might not be dead, but it's on life support.
The City Council voted last week to proceed with a plan to remodel the Los Angeles Convention Center without waiting for a long-planned football stadium to be a part of that plan.
The stadium plans were a key to the effort to return football to Los Angeles two decades after the Raiders left town. For the past four years, city officials had pushed a plan put forward by Anschutz Entertainment Group to build a $1.2 billion stadium on the Convention Center parking lot. As part of the project, AEG would have torn down the West Hall of the Convention Center and built a replacement wing in a different part of the complex.
But AEG so far has failed to reach an agreement with the National Football League or one of its teams to move a franchise to the proposed stadium, named Farmers Field for its name sponsor, Farmers Insurance Group in Los Angeles. Negotiations slowed two years ago when AEG owner Philip Anschutz announced he was putting the company up for sale. There has been little news since then, even though Anschutz took AEG off the market.
AEG's development agreement with the city for the stadium and its proposed Convention Center overhaul expires in October. It is not likely to be renewed, unless significant progress is made toward securing a team; even then, an extension would only last a few months.
"The development agreement could be briefly extended, depending on the progress made toward securing a team," Jeff Millman, spokesman for Mayor Eric Garcetti, told the Business Journal.
Plan B
City officials earlier this year quietly began working up an alternative, known as "Plan B," to revamp the Convention Center, which is seen as inadequate for large-scale conventions.
On May 27, with Garcetti's backing, a council committee recommended spending $600,000 in bond money to pay for predesign work for three applicants for the Convention Center remodel. The full council voted June 4 to proceed.
Plan B presumably would not include plans for a stadium, although there is still a chance a design could leave room for one. But the impetus to do that decreases the longer AEG goes without any serious negotiations with a team or without a more firm commitment from the NFL to place a team here.
As described in a recent city report, Plan B now calls for adding 300,000 square feet of exhibit space, 75,000 square feet of meeting space, a 60,000-square-foot ballroom and various façade upgrades. There will also be space set aside for a 1,000-room hotel to complement the J.W. Marriott/Ritz Carlton hotel complex next to L.A. Live.
Gerry Miller, chief legislative analyst, said the predesign work would begin this year and at a certain point city officials would determine whether to include a stadium or not.
But Garcetti said he's ready to proceed without waiting for a football team.
"I support moving forward on Plan B," Garcetti said in a statement after the committee approved the plan. "It's time to modernize our Convention Center so our city attracts the nation's largest conventions and the economic benefits they provide."
AEG welcomed the city's move even though it might mean the stadium never gets built. The company last year won the right to operate the Convention Center so it will benefit either way.
"Building an NFL stadium remains our first choice and we do not believe it is too late to achieve that objective," AEG spokesman Michael Roth said in an email to the Business Journal. "However, we continue to support the city as, with the passage of time, it is becoming more imperative to explore alternative ways to modernize and expand the Convention Center as a means to bring additional conventions and greater economic impact to Los Angeles."
Other sites
Meanwhile, if the Farmers Field concept dies, other possible sites remain for an NFL team in the L.A. area.
St. Louis Rams owner Stan Kroenke in January bought a 60-acre vacant lot from Wal-Mart Stores Inc. in Inglewood as the neighboring Hollywood Park horse-racing track was closed. The Hollywood Park site had long been mentioned as a possible NFL stadium and the Rams had been mentioned as a team with the potential to move to Los Angeles.
A site in the City of Industry is also a candidate ever since developer Ed Roski's Majestic Realty Co. received environmental approvals in 2010 for a 75,000-seat stadium to be built into a hillside at an estimated cost of $800 million. But no team has expressed serious interest in moving to this site near the interchange of the 57 and 60 freeways. If no team materializes and that stadium plan is put on hold, Majestic could proceed with commercial and retail development on the site, which it has dubbed Grand Crossing.
As part of its deal with Majestic, the city's redevelopment agency agreed to spend up to $172 million in grading and infrastructure improvements, regardless of whether a stadium is ever built. The city recently began the grading work; no date has been set for the other infrastructure work.
For reprint and licensing requests for this article, CLICK HERE.