Smoked Out?
Cities' concerns leave e-cigarette shops up in air
Monday, September 30, 2013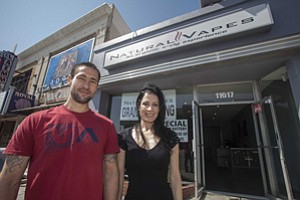 Elaine Ruggieri and Chris Strawn, owners of electronic cigarette store Natural Vapes in West Los Angeles, are casting a wary eye toward City Hall, concerned that they could be snuffed out by regulation.
Strawn, 29, became a convert after he started using e-cigarettes – battery-powered dispensers that turn a nicotine-infused liquid into vapor. He said they helped him shake off his three-pack-a-day habit.
The couple sensed a business opportunity selling e-cigarettes to others looking to kick their addiction and opened shop in July, contributing to the explosion of e-cigarette or "vape" stores.
But earlier this month, the Los Angeles City Council ordered the City Attorney's Office to come up with an ordinance to regulate e-cigarettes as tobacco products, which would ban sales to minors and impose other restrictions.
Worse, there's talk in Los Angeles and other local cities about further regulation; one city, Seal Beach in Orange County, has temporarily banned new e-cigarette stores.
"If that happens here, we'll definitely fight back," said Ruggieri, 41.
Since the beginning of the year, dozens of stores have opened throughout Los Angeles County, with dozens more planned.
"There are several new stores opening each month," said Mark Burton, an attorney and former cigarette smoker who took up e-cigarettes a year ago after a heart attack. He has since become a consultant to the burgeoning industry.
"When I first started looking for electronic cigarettes in July 2012, I did a quick Google search and found only one store within a 20-mile radius of my house," Burton said. "Now, there are dozens of stores, and that's only on L.A.'s Westside and in the western San Fernando Valley. There must be dozens more stretching down to Long Beach and out east through the San Gabriel Valley."
A search on consumer website Yelp turned up 165 stores across the county, from Chatsworth to Lomita, selling e-cigarettes. Most are dedicated vape shops but some are tobacco shops that also sell e-cigarettes and related paraphernalia.
And it's not just e-cigarette converts rushing to open new stores. Local companies are quickly forming to make the liquids – known as e-juices – that are then infused with nicotine and turned into vapor. Already, hundreds of flavors are available online. Burton said some of those companies are opening up vape storefronts.
Electronic cigarettes were introduced into the United States from China in 2007. At that time, the e-cigarette dispensers were made to look like regular cigarettes; those models could be used for a day or two and generally cost about $20.
Prev Next
For reprint and licensing requests for this article, CLICK HERE.