Branching Out
Live-tree firm sprouts elsewhere after billionaire buys in
Monday, December 2, 2013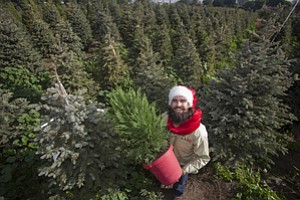 Like its product, Living Christmas Co. is growing slowly but steadily.
The Redondo Beach business, a seasonal enterprise run by landscape designer Scott Martin that rents live potted Christmas trees, is expanding beyond Southern California this year to offer its live trees in Marin County.
The expansion is just one of the ways the company has seen a boost after Martin appeared on ABC's reality television series "Shark Tank" last fall. On the show, Dallas investor and entrepreneur Mark Cuban agreed to invest $150,000 for a 40 percent stake in the company.
The company used the investment to hire part-time nursery managers in the off season as well as upgrade its website and marketing initiatives. It also expanded a relationship it had with Shell Oil Co. that allows the company to care and store trees on a 40-acre site in Carson in exchange for maintaining the land.
Living Christmas rents trees that, planted in 20-gallon pots, stand between 2 and 15 feet tall. Customers order the trees online and the company delivers them in leased trucks – saving hundreds of single car trips in favor of more efficient delivery routes – then picks up the trees three or four weeks later to store until the next holiday season.
"We structured the company to have a net benefit," Martin said. "Yes, it's saving a tree, but it's more than that. Community is part of your environment, too."
One of many small players in a $1 billion U.S. industry, Martin started by renting only about 120 trees in his 2008 debut season. He rented about 1,500 trees last year and hopes to bring that nearer to 2,000 this year. The National Christmas Tree Association, a non-profit trade group in Chesterfield, Mo., estimated that 24.5 million Christmas trees were sold nationwide last year.
Rick Dungey, public relations director for the tree trade group, said the market has plenty of space – and demand – for niche sellers who cater to the widening needs of consumers, particularly businesses that offer convenience without sacrificing living boughs for plastic branches.
"In general, people who want to buy a tree to decorate for Christmas don't want a big green toilet-bowl brush," he said. "They're demanding more variety in a lot of different ways: different sizes, shapes, species, delivery methods. I think there's an underserved market all over the country of people who would get a real tree and decorate it if given more choices and options."
Sustainable start
Martin, 34, is a landscape designer by training and practice. With a background in regenerative studies, he founded Living Christmas on principles meant to promote the health of the environment.
As part of that, renters can choose to "adopt" a tree, opting to have the same tree return to their home year after year. The company, which expects to hire about 45 seasonal employees to deliver and later retrieve trees this season, also makes an effort to hire 50 percent of its staff through the local Veterans Affairs office.
But sustainability comes at a cost. At a traditional cut tree lot in Los Angeles where a buyer can pick out a tree and take it home atop the family car, a tree that stands between 6 and 7 feet tall might cost between $60 and $90. A comparable potted tree from Living Christmas costs anywhere from $130 to $165, depending on species. Choices include Aleppo pine, blue spruce, leylandii cypress, Monterey pine and white spruce. Further, Living Christmas charges a fee of between $30 and $100 depending on the size of the tree for delivery and pickup.
Martin said the company had revenues last year of about $185,000 and he anticipates generating closer to $225,000 this year; the deal with Cuban valued the business at $375,000.
In addition to the equity investment, Martin said Cuban gives him weekly advice on business strategy, operations and goals.
"Having Mark Cuban as a resource helps open doors for us in many ways because it gives potential partners the assurance that we have the staying power to execute on our commitments," he said.
(Earlier this year, the Business Journal reported that the producers of "Shark Tank" have the option to take either a 5 percent equity stake in businesses appearing on the show or a 2 percent royalty on operating profits. Martin, citing confidentiality requirements, declined to say whether they exercised that option with Living Christmas.)
Though the market is vast and Living Christmas offers a premium product, Christian Geismann, a senior manager and national leader for sustainability services for accounting and advisory firm Moss Adams in Seattle, said conscientious consumers are generally willing to pay extra for products that tout social and environmental sensitivity – but only to a point.
"There are price points for everything," he said. "Companies need to be careful not to overestimate the power of sustainable products. The principles of economics still apply."
To address the issue of price and get some use out of trees pickier customers might not consider pretty enough to showcase in their living rooms, Martin began offering "misfit" trees this season at a lower cost. A misfit tree standing between 6 and 7 feet tall, for example, would cost $75 plus a $55 delivery fee.
Within days of his appearance on "Shark Tank," Martin said he got hundreds of emails from people who wanted him to expand the business. But he was determined to grow carefully.
He did end up making a deal with Dean Raffaini, a firefighter in the Bay Area, to act as an authorized dealer. Raffaini will start small this holiday season, delivering only about 100 trees.
"Dean was really adamant about getting involved. He flew down to talk to me and was really gung ho about doing it," Martin said. "But we wanted to grow slowly at first to test the market."
His cautious approach to expansion mirrors the efforts he's made in his home market, which covers the Southern California coast, from San Diego to the Pacific Palisades and east to Pasadena.
Martin said that while he eventually plans to open in major metropolitan areas nationwide, his immediate goal is to make sure the business works in Southern California.
"Our plan is to continue to incubate in Southern California," he said. "If you can't make money here, it's probably not something you want to grow elsewhere."
For reprint and licensing requests for this article, CLICK HERE.