Hollywood Might Have New Starring Roll for Pedicabs
Local leaders gear up to launch program.
Monday, May 14, 2012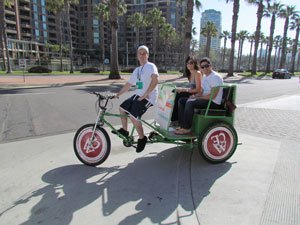 Pedicabs carrying tourists, theatergoers and club hoppers down Hollywood Boulevard?
If Joseph Gharib has his way, this vision could soon be a reality.
For the past couple of years, Gharib, vice president of business development for CarPark in Hollywood, has been pitching a plan to operate up to a dozen pedicabs, or bicycle-driven taxis. Pedicab drivers would charge between $5 and $10 per customer, running between the Hollywood & Highland Center and restaurants and nightclubs along Vine Street. Local restaurants and attractions could advertise on the pedicabs.
"We started this as a way to bring in more business to Hollywood during recession," Gharib said. "Now, we are also looking at this as a business plan for ourselves."
Gharib didn't have to peddle hard; he quickly enlisted the support of several local restaurants and nightclubs, the Hollywood Chamber of Commerce and the Hollywood Business Improvement District.
And last month, Councilman Eric Garcetti, who represents Hollywood, introduced a motion calling on city transportation officials to come up with a pedicab program. Garcetti said that Hollywood would be an ideal testing ground to see if pedicabs can roll out again in Los Angeles as they have in other cities, such as San Diego; San Jose; and Portland, Ore.
"Pedicabs would make it possible for people to take the train into Hollywood, hit all of their stops without a car and then catch the train back home," Garcetti said.
Pedicab services sprang up in the Westwood, Venice and other parts of Los Angeles in the 1980s, but they shut down after the Department of Transportation imposed regulations. In 2007, two companies tried to revive pedicab service, but they, too, were hamstrung by department rules for obtaining licenses and shut down.
Supporters say pedicabs would help connect the restaurants and nightclubs on Hollywood's east side to attractions such as Cirque du Soleil's "Iris" show at the former Kodak Theatre, now renamed the Dolby Theatre.
"When Cirque du Soleil opened, we were looking for a way to move people around Hollywood without adding to the traffic congestion," said Kerry Morrison, chief executive of the Hollywood BID. "When we heard about the pedicab program, it seemed like the perfect opportunity."
Restaurant owner Fabio Conti said he can't wait for pedicabs. Conti, who owns Fabiolus Cucina on Sunset Boulevard just east of Vine, said he often has preshow patrons bound for the Pantages Theatre who pay for parking at both locations and would benefit from pedicabs that could shuttle them a couple of blocks.
More importantly, Conti said pedicabs would allow him to tap into a new customer base: preshow patrons heading to Cirque du Soleil.
"Right now, those folks primarily stick around the Hollywood and Highland area; they just don't venture out to all the restaurants on Vine Street," he said.
Bicycle hurdles
But a pedicab program faces obstacles, including safety concerns, route challenges and rules for fare postings.
Pedicab programs in other cities have had occasional fatalities, prompting a fierce debate in those cities over whether the cyclist-drivers or even the passengers should wear helmets. (California does not require that bicyclists wear helmets.)
Then there's the route. Plans now call for the pedicabs to run on streets from Hollywood & Highland east on Hollywood Boulevard, turn south for one block on Vine, west on Selma Avenue, and then back up Highland Avenue or Orange Street. But with all the tour and transit buses, car traffic, taxis and thousands of pedestrian tourists, Hollywood Boulevard could be difficult for pedicab drivers to navigate. And on Vine, with all its nightclubs, pedicab drivers would have to weave through lines of cars trying to enter parking lots or being dropped off to valets.
Selma, a side street one block south of Hollywood Boulevard, avoids most of these problems. But as one person said privately, "Who would be down on Selma Avenue to take the pedicabs in the first place?"
William Rouse, general manager for United Checker Cab and L.A. Yellow Cab Co., said his company does not oppose the pedicab plan. He believes that it could enhance the environment of the area. But he asked how the program would be regulated.
"Who is going to check to see whether illegal pedicab operators steal fares or whether the fares are consistent?" Rouse asked.
L.A.'s taxicab administrator, Tom Drischler, said these are all issues that will likely be examined by a consultant the city plans to hire.
"Eventually, any pedicab program would likely end up resembling the current taxi system in which fares are standardized and minimum standards set for every operator," Drischler said.
Presumably the city would put a cap on the number of pedicabs allowed and award the business to the best bidder or bidders. There's no guarantee Gharib would get the business, but if he did, he sees his parking lots as good staging areas for the pedicabs.
To help pay for city regulation, Gharib is proposing that pedicab operating companies pay the same tax – 10 percent of revenues – that his parking lot company pays.
As for startup costs, he said those would be minimal. His business plan estimates it would cost between $40,000 and $50,000 to purchase a dozen pedicabs.
Gharib said he looked at a pedicab program in San Diego. One operator there, San Diego VIP Pedicab, started in 2005 and runs up to 50 pedicabs during peak summer months. Most of the pedicabs hold up to three people, though some can carry as many as five.
Ali Horuz, director of VIP Pedicab, said about one-third of his company's revenue comes from advertising. The remaining two-thirds comes from the fees that operators pay to lease the pedicabs. Customers pay $5 to $10 per person, though he added that drivers are often free to negotiate fares.
Drischler said several other areas of the city could potentially benefit from pedicabs, including Westwood Village, Venice, San Pedro, downtown's South Park neighborhood (which includes L.A. Live) and North Hollywood.
CarPark's Gharib also sees the potential for expansion. He's presented a pedicab proposal to West Hollywood city officials. That plan calls for two separate routes: one along the Sunset Strip and one along Santa Monica Boulevard.
"They have to be separate; there's no way a pedicab can get up that grade on La Cienega between those two streets," he said.
But, so far, Gharib said, he has not heard back from anyone in West Hollywood.
"Right now, we're focused on making this Hollywood program happen," he said.
For reprint and licensing requests for this article, CLICK HERE.