One-Time Leader Retakes Size Prize
Gibson Dunn topples O'Melveny as biggest L.A. firm.
Monday, March 12, 2012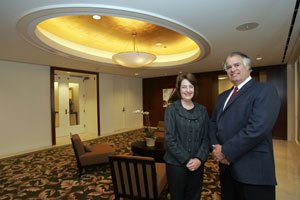 Gibson Dunn & Crutcher LLP is now the largest law firm in Los Angeles, edging out longtime local powerhouse O'Melveny & Myers LLP.
Gibson Dunn last month reported having 262 local lawyers, down six from a year earlier, according to the Business Journal's annual list of largest law firms.
O'Melveny last month reported having 259 lawyers, down 36 from a year earlier, at its two L.A. offices. It has had a rocky transition to a firm with a more international and transactional focus, as the Business Journal reported last fall.
Overall, L.A. firms are experiencing rising revenues and profits but are not adding local attorneys. While revenues at the 100 largest firms were up 6 percent last year, the number of attorneys locally slipped two-tenths of a percent to 7,433.
Like law firms around the nation, L.A. firms started cutting costs during the recession and have kept their stingy ways during the recovery. But the local legal market has also suffered disproportionately, as larger firms have broadened their focus and staffed up in more lucrative regions, such as the Bay Area, New York and overseas.
"Los Angeles as a legal market has been deteriorating for several years," said Peter Zeughauser, a Newport Beach consultant to the legal industry.
Of the 20 largest law firms, only two posted significant gains in local attorneys over the past year: Seyfarth Shaw LLP added a dozen and now has 123; Akin Gump Strauss Hauer & Feld LLP added 10 and now has 96. Nine firms were essentially flat, adding or dropping fewer than four attorneys. The rest posted significant drops.
Indeed, it was only the departures at O'Melveny's L.A. offices that allowed the No. 1 spot to be reclaimed by Gibson Dunn, which itself lost attorneys at its two local offices. Gibson Dunn was No. 1 when the Business Journal launched its law firm list in the late 1980s; O'Melveny took the top spot in 1991 and held the spot ever since.
Gibson Dunn Chairman Ken Doran said that the slight decline in attorneys is temporary and does not reflect planned reductions in Los Angeles.
"The drop is just the product of a snapshot in time," Doran said. "We're actually looking to continue to grow our offices in Los Angeles."
Weak market
Still, Doran acknowledged the firm is expanding more rapidly in other regions, especially New York, Europe and Asia.
That points up a key development in recent years: Los Angeles as a legal market has been losing ground to other markets. Local legal consultants cite several reasons, chief among them the departure of Fortune 500 companies that tend to generate lots of transactional business.
For reprint and licensing requests for this article, CLICK HERE.
Prev Next