One-Time Leader Retakes Size Prize
Gibson Dunn topples O'Melveny as biggest L.A. firm.
Monday, March 12, 2012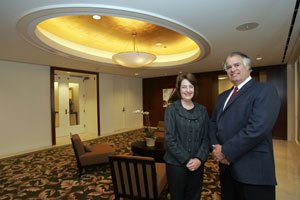 Gibson Dunn & Crutcher LLP is now the largest law firm in Los Angeles, edging out longtime local powerhouse O'Melveny & Myers LLP.
Gibson Dunn last month reported having 262 local lawyers, down six from a year earlier, according to the Business Journal's annual list of largest law firms.
O'Melveny last month reported having 259 lawyers, down 36 from a year earlier, at its two L.A. offices. It has had a rocky transition to a firm with a more international and transactional focus, as the Business Journal reported last fall.
Overall, L.A. firms are experiencing rising revenues and profits but are not adding local attorneys. While revenues at the 100 largest firms were up 6 percent last year, the number of attorneys locally slipped two-tenths of a percent to 7,433.
Like law firms around the nation, L.A. firms started cutting costs during the recession and have kept their stingy ways during the recovery. But the local legal market has also suffered disproportionately, as larger firms have broadened their focus and staffed up in more lucrative regions, such as the Bay Area, New York and overseas.
"Los Angeles as a legal market has been deteriorating for several years," said Peter Zeughauser, a Newport Beach consultant to the legal industry.
Of the 20 largest law firms, only two posted significant gains in local attorneys over the past year: Seyfarth Shaw LLP added a dozen and now has 123; Akin Gump Strauss Hauer & Feld LLP added 10 and now has 96. Nine firms were essentially flat, adding or dropping fewer than four attorneys. The rest posted significant drops.
Indeed, it was only the departures at O'Melveny's L.A. offices that allowed the No. 1 spot to be reclaimed by Gibson Dunn, which itself lost attorneys at its two local offices. Gibson Dunn was No. 1 when the Business Journal launched its law firm list in the late 1980s; O'Melveny took the top spot in 1991 and held the spot ever since.
Gibson Dunn Chairman Ken Doran said that the slight decline in attorneys is temporary and does not reflect planned reductions in Los Angeles.
"The drop is just the product of a snapshot in time," Doran said. "We're actually looking to continue to grow our offices in Los Angeles."
Weak market
Still, Doran acknowledged the firm is expanding more rapidly in other regions, especially New York, Europe and Asia.
That points up a key development in recent years: Los Angeles as a legal market has been losing ground to other markets. Local legal consultants cite several reasons, chief among them the departure of Fortune 500 companies that tend to generate lots of transactional business.
Just last year, aerospace and defense contractor Northrop Grumman Corp. moved its headquarters from Century City to Falls Church, Va.
"A lot of the corporate headquarters are gone. That was the bread-and-butter work for a lot of the major firms," Zeughauser said.
The only major industry left, he said, is entertainment. And the studios, also in cost-cutting mode, have tended to be stingy in their use of outside legal talent. Also gone are the big banks and other financial institutions, most of which have been acquired by out-of-state competitors.
"Every time a merger or acquisition occurs or there's an IPO, there's so much more (legal) work in New York," said William Urquhart, partner in Quinn Emanuel Urquhart & Sullivan LLP in downtown Los Angeles.
The Bay Area also has captured a lot of the growth from law firms eager to get a piece of lucrative intellectual property and technology markets. For example, Quinn Emanuel is the principal outside law firm for Google Inc. of Mountain View.
Another key factor why Los Angeles is losing ground: Many of the large local law firms have been striving in recent years to become national and international players, either with no home office or a New York focus. Among them, O'Melveny and Latham & Watkins LLP.
"These big law firms don't consider themselves headquartered in L.A.," Zeughauser said. "In many cases, they don't consider themselves having any headquarters location."
As a result, growing an L.A. office is less important than boosting a national or even an international presence. O'Melveny, for example, acquired New York law firm O'Sullivan a decade ago as part of its expansion drive.
According to the Business Journal article in November about O'Melveny, some former partners and industry consultants said the firm has stumbled in transitioning from its roots as an L.A.-centric, litigation-heavy firm to a more international, transactional firm centered on New York.
They described a divide that had opened up between West Coast attorneys who frequent the courtroom and East Coast attorneys who handle mergers, corporate finance and other transactions – stemming from the 2002 acquisition of the O'Sullivan firm.
O'Melveny Chairman Bradley Butwin, who is based in New York, maintained that the departure of partners is a natural consequence of the firm refocusing priorities.
"As we continue to zero in on our areas of strength and better define our position in the market, some partners will move to firms where they believe their practices fit better. Those moves make sense, because we are not trying to be all things to all people," said Butwin in an e-mail response to written questions.
He also said O'Melveny has been adding attorneys at some of its other offices outside California, especially in Asia. He added that the firm's financial performance has not been adversely affected by the L.A. departures. Key financial metrics achieved record levels last year, including profits per partner, which hit $1.72 million. (See sidebar, this page.)
O'Melveny spokeswoman Sonja Steptoe characterized the firm this way: "O'Melveny is an international firm that originated in Los Angeles and maintains deep roots throughout Southern California."
Continued cutbacks?
As to whether the weakness in the L.A. legal market will continue, much will depend on whether overall demand for legal services recovers.
"Law firms learned to become more efficient during the recession," said Sandy Lechtick, chief executive of Esquire Search Inc., a Woodland Hills recruitment firm specializing in the legal industry. "Like what's happened in many industries, they have figured out ways to get more out of the people they have."
He said that five or 10 years ago, there used to be three or even four associates for each partner at major law firms. That's now down to two or even one as attorneys have become savvier with time-saving computer software. Also, partners have increased billable hours and reduced overhead by delegating less to associates, Lechtick added.
So, even as revenues have picked up, the need for more associate attorneys has not kept pace. Also, with an increased focus on profits per partner there hasn't been an incentive to increase partner ranks.
Zeughauser said it will take several quarters of sustained revenue and profit growth before firms start hiring again in significant numbers.
"There was some hope at the beginning of 2011 that we were entering this phase, but then legal spending slowed in the second half of the year," he said.
Whether Los Angeles will share in the renewed legal hiring, though, remains to be seen.
For reprint and licensing requests for this article, CLICK HERE.