Pollution Credits A Smoke Screen?
Business rips 'cap and trade' as $1 billion tax.
Monday, June 25, 2012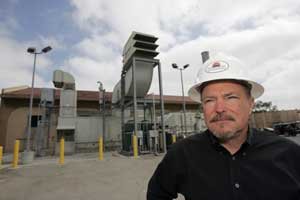 In an effort to curb air pollution, Signal Hill Petroleum Inc. built a clean generator for its local oil field a few years ago. But the plant still produces carbon emissions, so company executives might have to buy at least $500,000 worth of pollution credits at auction this fall as part of the state's greenhouse gas "cap and trade" program.
"We're going to be penalized immediately just to keep operating the way we are now, with one of the cleanest generators in the business," said David Slater, executive vice president with Signal Hill. "It's going to be devastating for us."
So Signal Hill and dozens of other L.A.-area companies have joined a statewide business coalition in a new last-minute drive to get the Legislature to scrap this fall's cap-and-trade auction, calling it a $1 billion tax on state companies. They want the California Air Resources Board to come up with a program that's less costly.
The coalition, called Californians Against Higher Taxes, has sponsored a petition drive aimed at key state legislators and has scheduled a full-page ad in the Sacramento Bee urging lawmakers to step in and block the auction, now set for November.
Coalition spokesman Scott Macdonald said the state should start by granting free credits, as was hoped when the program was unveiled five years ago, instead of selling them at auction.
"To require companies to spend money at the beginning of this cap-and-trade auction system – when it was supposed to be free – is to take money out of the California economy at the worst possible time," Macdonald said.
Cleaning up
Cap-and-trade programs are designed to provide economic incentives for companies to reduce pollution. Governments distribute credits to companies. Those that can meet or come in lower than the cap on emissions can sell those credits to others that have difficulty meeting emission targets. Each year, as the cap drops, emission credits get more expensive. That makes it more attractive for companies to invest in pollution-reducing technology.
Cap-and-trade programs have been used extensively in Europe. In the Eastern United States, they've been used to reduce sulfur emissions from utilities. In Southern California, they've been used to curb smog-forming emissions.
California's carbon emission cap-and-trade program, designed to reduce the amount of so-called greenhouse gas that industries send into the air, is set to start next year and targets 625 carbon-emitting facilities owned by 350 companies (or municipal utilities). Nearly half of the facilities are electricity generators. The others include oil-related businesses, food processors, breweries, glass manufacturers and other industrial companies.
For reprint and licensing requests for this article, CLICK HERE.
Prev Next