Pollution Credits A Smoke Screen?
Business rips 'cap and trade' as $1 billion tax.
Monday, June 25, 2012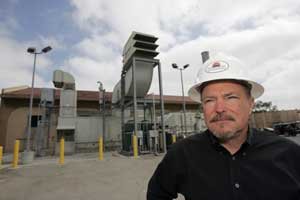 In an effort to curb air pollution, Signal Hill Petroleum Inc. built a clean generator for its local oil field a few years ago. But the plant still produces carbon emissions, so company executives might have to buy at least $500,000 worth of pollution credits at auction this fall as part of the state's greenhouse gas "cap and trade" program.
"We're going to be penalized immediately just to keep operating the way we are now, with one of the cleanest generators in the business," said David Slater, executive vice president with Signal Hill. "It's going to be devastating for us."
So Signal Hill and dozens of other L.A.-area companies have joined a statewide business coalition in a new last-minute drive to get the Legislature to scrap this fall's cap-and-trade auction, calling it a $1 billion tax on state companies. They want the California Air Resources Board to come up with a program that's less costly.
The coalition, called Californians Against Higher Taxes, has sponsored a petition drive aimed at key state legislators and has scheduled a full-page ad in the Sacramento Bee urging lawmakers to step in and block the auction, now set for November.
Coalition spokesman Scott Macdonald said the state should start by granting free credits, as was hoped when the program was unveiled five years ago, instead of selling them at auction.
"To require companies to spend money at the beginning of this cap-and-trade auction system – when it was supposed to be free – is to take money out of the California economy at the worst possible time," Macdonald said.
Cleaning up
Cap-and-trade programs are designed to provide economic incentives for companies to reduce pollution. Governments distribute credits to companies. Those that can meet or come in lower than the cap on emissions can sell those credits to others that have difficulty meeting emission targets. Each year, as the cap drops, emission credits get more expensive. That makes it more attractive for companies to invest in pollution-reducing technology.
Cap-and-trade programs have been used extensively in Europe. In the Eastern United States, they've been used to reduce sulfur emissions from utilities. In Southern California, they've been used to curb smog-forming emissions.
California's carbon emission cap-and-trade program, designed to reduce the amount of so-called greenhouse gas that industries send into the air, is set to start next year and targets 625 carbon-emitting facilities owned by 350 companies (or municipal utilities). Nearly half of the facilities are electricity generators. The others include oil-related businesses, food processors, breweries, glass manufacturers and other industrial companies.
Among the L.A.-area companies and facilities covered by the carbon cap-and-trade program: Amgen Inc. of Thousand Oaks; Southern California Edison, a unit of Rosemead-based Edison International; Anheuser-Busch Inc.'s Van Nuys brewery; Paramount Petroleum Corp.; Owens-Brockway Glass Container Inc.'s plant in Vernon; and all six oil refineries in Los Angeles County.
Controversial auction
The business coalition formed in 2006 to fight passage of greenhouse gas emission law AB 32. That year, Gov. Arnold Schwarzenegger signed the legislation, which included the cap-and-trade program.
Based on other agencies' cap-and-trade programs, the businesses targeted by AB 32 thought that the California Air Resources Board would give free credits to all 625 targeted facilities in order to give them enough time to budget for credit purchases or investments in carbon-reducing technologies.
But last year, the air board surprised them by forcing many companies to buy some credits at auction. The companies can still get most of the credits for free, but if they need more, they will have to bid on them.
However, the rules now affect some facilities, such as Signal Hill, more dramatically. They will not get any free credits and will have to buy them all.
That's because Signal Hill's facility, and some others, generate electricity only for on-site use; such facilities don't get any free credits.
As originally conceived, the cap-and-trade plan was not going to make any money for the state. By forcing some of the credits to go on the block before the program even starts, the money goes to the state, since companies won't yet be able to put their credits on the market. So the state gets an estimated $1 billion it would not have received had it set up the program as others that distributed the initial credits for free.
"The auction is an important mechanism to promote market transparency and it also gives companies additional incentive to find innovative ways to cost-effectively reduce emissions," air board Chairwoman Mary Nichols said in testimony to a state Senate committee in March.
At the projected opening price of $30 per metric ton of carbon emitted, the initial auction could generate close to $1 billion for the state government. Nichols said the revenue could go to other state-run clean energy and environmental programs, including the proposed high-speed rail project.
Despite business opposition to the opening auction, the air board has stuck to its revised plan, which has prompted the last-minute drive by the business coalition to have the Legislature step in.
One cement company, CalPortland Co. in Glendora, has concluded that such an effort is likely to prove futile and is resigned to paying $2 million to $5 million for a year's credits to keep its one remaining cement plant near Mojave operating.
"The air board is determined that companies will make absolutely no profit at all in this system," said Steve Regis, vice president of corporate services for CalPortland. "We haven't made a profit in three years thanks to the construction slowdown and we're still facing tremendous pricing pressure, so we don't know how we're going to absorb this cost."
The cap-and-trade program allows companies to defer payments for up to three years, but doing so entails a risk: The credits might cost even more then.
Regis said the company evaluated alternatives such as extracting carbon dioxide and storing it underground or converting it to biofuel, but concluded these options were too expensive or impractical.
Regis said CalPortland's main concern is making sure it doesn't lose customers to out-of-state cement companies that are not subject to the program. CalPortland is pushing the state air board to impose what's called a "border adjustment mechanism" – essentially a tariff – on imported cement products.
The air board has adopted similar fees for imported oil, and some paper and mineral products. Air board spokesman Stanley Young said the agency is considering the fee on imported cement products.
Broader impact
Opponents of the cap-and-trade auction said the fees imposed on companies that generate greenhouse gas will drive up prices for businesses across the board.
"These costs are going to be passed on to customers," said John Kabateck, executive director of the California chapter of the National Federation of Independent Business.
One local small-business owner said he's concerned he will have to pay more for electricity and petroleum products. Tom Benson, president of Bud's Beach Cities, an auto upholstery shop in the city of Signal Hill, said he's concerned about price hikes for vinyl, foam and other petroleum-based cleaning products that he uses.
"I would feel a little better about this if the result was that companies would be cleaner," Benson said. "But this is just an energy tax scheme; it's all about generating money."
For reprint and licensing requests for this article, CLICK HERE.