It's Taking a Village to Raise a BID
Westwood businesses want to see its return.
Monday, March 7, 2011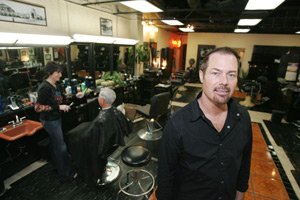 Westwood Village has fallen on tough times. Vacant storefronts have multiplied and homeless people camp out in front of them. The old movie houses that used to host glamorous premieres have closed or are struggling. Trash-strewn sidewalks are cracked.
Some business interests, believing a business improvement district could lead a turnaround, tried but failed three times in recent years to create one. But now, thanks to a strategic move, a BID for Westwood Village is on the verge of being formed.
The BID's revival is generally welcomed by local merchants, who say business has suffered in the decade since the last improvement district shut down amid a financial scandal.
Clinton Schudy, who owns Oakley's Barber Shop on Gayley Avenue, the oldest continuously operating business in Westwood Village, said his base of customers has aged and many potential customers are going to fresher shopping districts, such as the Grove, Century City, Westside Pavilion or Santa Monica's Third Street Promenade.
"The focus right now must be to clean up the area so people will want to come back to the village," he said.
Schudy said the old BID had installed lights in the trees to beautify the streets at night. The lights went out long ago and have not been replaced.
"It would be great if they could bring something like that back again," he said. "That made such a difference."
Other merchants have expressed growing frustration at the length of time it has taken to create a new BID.
"The village has gone down, not up, in regard to cleanliness, safety and the spread of empty storefronts," said Shannon Montoya, event sales manager at Napa Valley Grille restaurant on Glendon Avenue near Wilshire Boulevard. "We desperately need this BID."
Long decay
In the glory days of the 1980s, Westwood Village was a regional destination comparable to today's Third Street Promenade. But a gang shooting in 1988 killed a young woman bystander. That drove the crowds away, and they've never fully returned.
In an attempt to bring back the area, the first BID was formed in 1995.
BIDs are neighborhoods with defined boundaries in which the property owners pay a special assessment, which is like a tax but technically not. The money typically is used for security patrols, neighborhood cleanup and the like. BIDs are created by local governments but are not themselves governmental bodies. Los Angeles County has many BIDs, including ones in downtown, Old Town Pasadena and Hollywood.
For reprint and licensing requests for this article, CLICK HERE.
Prev Next