L.A. 'Jobs Czar' Sees 'Winnable' War
Beutner cites gains in first-year review.
Monday, February 21, 2011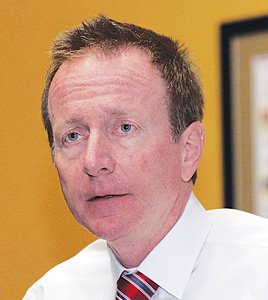 Business leaders have long complained about the off-putting treatment they get from Los Angeles City Hall. So they were enthused a year ago when Austin Beutner, an investment banker, was tapped by Mayor Antonio Villaraigosa to be his "jobs czar" with a broad mandate to make the city more business friendly. Beutner met with the Business Journal last week to reflect on his year at City Hall.
Question: What was the biggest surprise you encountered at City Hall?
Answer: The biggest surprise was how much it was a closed, insular system. The city lacks engagement with the constituents outside: businesses, non-profits and smart people who have something to offer the city. The city apparatus is like a parallel universe. If you look at other, better-run cities like New York and Chicago, the transfer of ideas between public sector and private sector is much more fluid than it is here. And even within City Hall, it's a very siloed place. People from one department just didn't talk to people in another department. The classic example was the Planning Department and Building and Safety when it came to development reform. Now, they talk to each other all the time, including every week inside my office.
How far do you think you've gone in changing the culture at City Hall?
In certain aspects we've made progress. We lowered taxes; we created local preference for contracting; business inclusion. We brought Chinese automaker BYD here, the first headquarters to open in Los Angeles in, well, forever. Changing culture is about people recognizing that they are better led in a direction that's going to make a difference. BYD is a good example. Before I got there, people were working hard at it, shoveling the forms. They thought that's what you do. The new approach is "Why don't we listen first? Try to understand what we can do to help, look at the resources we have and deliver it in a way that the customer will understand."
One of the business community's biggest complaints is that it can take not months but years to get routine permits from the city just to open. The mayor came up with his "12-to-2" plan to cut down on the number of city departments most businesses would need to deal with. But you scrapped that plan to take a wider approach. Can you give us an update on where that stands?
We've hired a consultant to look at how the city processes development permits and at the best practices of other cities. We're looking at how we change processes, how we share data, where are the bottlenecks that permits get caught up in. It's really nitty-gritty roll-up-your-sleeves-type stuff. If a person in one department is doing the same work that someone in another department just finished, can they do it at the same time?
When will a new plan be presented?
There's not going to be a grand plan unveiled at some press conference. This is going to be gradual improvement, making work more transparent, making people more accountable and driving down the time frames to process the permits. We want to get to a point where we can say we owe a date certain by which a permit is either granted or denied. If you're risking $200 million on a building, the notion that you enter a process with no end date doesn't seem to be appropriate.
What have you done to bring new jobs to Los Angeles and keep existing ones here?
We're reaching out to the businesses that are already here. Everybody on my team has to cold-call five employers a week that we don't know through City Hall. One company that we reached out to was Pear Gardens, a large manufacturer of rice cakes in Koreatown that had been forced out of their building by the L.A. Unified School District through eminent domain. We found them new space and that saved 40 to 45 jobs. Not only do we make the calls, but we show up in person at these companies – I make my share of calls, too.
What are some companies you've called?
I started working with auto dealers. They are the No. 1 source of sales tax and the top 10 in wages. But historically, they have gotten the back of the hand from the city and many have left. At the auto show last November, I visited with a half-dozen dealers. They all had a similar message. Their greatest challenge was finding trained entry-level people: service technicians, mechanics, salespeople, financial people. That surprised me. I thought that in a city with horrific unemployment, there would be people lined up outside their doors.
So what did you do?
I approached several local community colleges that ought to be delivering the people with the skills that the auto dealers need. I had them meet in my office with folks from Galpin Ford, Longo Toyota, the Shammas Group of downtown auto dealers and Beverly Hills BMW – collectively representing about 10,000 jobs. It became apparent that the community colleges had a curriculum that didn't quite fit the needs of the auto dealers. We came up with a plan where the colleges would make adjustments to their curriculum – such as allowing students to spend more of their time at companies learning the trade – and the auto dealers would commit to paid internships.
What's the status of that program?
The first couple dozen internships have already started, with more to come each semester. And then we're going to roll this program out to the aerospace industry, where you find a similar situation of companies not being able to find workers with the skill sets the companies need. We're going to meet with several aerospace companies the week of Feb. 21.
As co-chairman of the mayor's blue-ribbon panel on the downtown L.A. football stadium proposal from AEG, what do you see as your mission?
My job is to make sure it's done right, with no use of public funds. That means making sure the deal is transparent. There's no question this is the most significant job-creating proposal the city now has on the table – from any company or industry. So it's a very important deal. But given the history this city has had with the NFL, it's right to be skeptical.
But isn't the city using public funds for the $350 million in bonds for a new convention hall?
It's not public funds. The bonds will be paid by extending the seat tax at the Staples Center and implementing a seat tax at the new stadium. And AEG has pledged to make up any shortfall. It's the city's convention center and the city is the only one that can sell tax-exempt bonds.
If you could do one thing to fix this city, what would it be?
I'd look at the gross receipts tax. I'd find a way to lower the top rate. We cannot win a race to the bottom where we eliminate the gross receipts tax, because we're not a low-cost provider of services. But we can lower that top category and make ourselves more competitive.
Is Los Angeles unmanageable?
No. It just takes the right leadership, the ability to cross-pollinate between public and private sectors. We need to make some changes. I think it's winnable, I really do.
For reprint and licensing requests for this article, CLICK HERE.