Realty Firm Looks to Raise Its Profile on the Westside
REAL ESTATE: Rodeo opens Sunset Strip office, relocates Beverly Hills headquarters.
Monday, February 7, 2011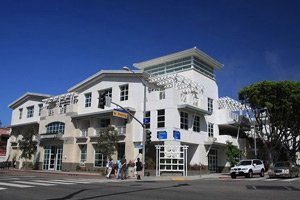 High-end residential real estate brokerage Rodeo Realty Inc. is on a bold, countercyclical expansion drive in western Los Angeles, adding scores of agents, opening offices and moving its flagship Beverly Hills office to larger digs.
Last month, Rodeo Realty opened its first office on the Sunset Strip, in the 9200 Sunset Blvd. offices formerly occupied by rival Sotheby's International Realty Affiliates LLC, which moved to a nearby building. Rodeo Realty hopes to have 100 agents there by midyear.
In March, Rodeo Realty is set to move out of its headquarters at 266 N. Beverly Drive and head one block east to the 202 N. Canon Drive building that was once home to the William Morris Agency. The new space is 13,000 square feet, more than double the space of the current headquarters, which will allow the company to add roughly 80 agents to the 130 already there.
Syd Leibovitch, Rodeo Realty founder and president, said he also plans to open another branch in Brentwood later this year. It's all part of a drive to turn the firm into the top luxury home broker on L.A.'s Westside.
Leibovitch said that rising sales volume of Westside luxury homes is one reason for the expansion. Many wealthy homeowners, stung by years of recession, were finally forced to sell, while foreign investment has increasingly poured into the area.
"We had our best year ever last year, both in the number of transactions and total sales volume," Leibovitch said.
But the main reason, he said, is an abundant supply of agents, either cut by competitors or eager to work for a smaller independent brokerage.
"My company's expansion is the result of other companies imploding," he said.
Leibovitch's goal is to make Rodeo Realty the next John Douglas or Fred Sands, two local residential real estate brokerages that dominated the Westside and parts of the San Fernando Valley until they were bought out more than a decade ago.
Santa Monica Deal
Pierpoint Pacific, the only office building constructed in Santa Monica in the last 10 years, is finally about to be filled.
Owner Realty Bancorp Equities announced last week that it signed British film production company GK Films to a 10-year, $16 million deal for 28,350 square feet of space on the second floor of the three-story building, which features private balconies with ocean views and is directly across Second Street from the recently renovated Santa Monica Place.
With the exception of 3,500 square feet of restaurant space on the ground floor, the Class A office building is completely leased. What's more, GK Films, which is set to move in this spring, beat out two other prospective tenants.
"This is a significant milestone and signifies that the downtown Santa Monica office market is really recovering well," said Chris Houge, a principal with L.A. Realty Partners, which represented Realty Bancorp.
Woodland Hills developer Norman Kravetz, who founded Realty Bancorp, constructed the building in 2008 for $28 million.
GK Films was launched in 2007 by Graham King, who produced or co-produced "Gangs of New York," "The Aviator," "Ali," "The Departed" and "Traffic." The company's current offices are on Fifth Street in Santa Monica.
GK Films was represented by Jeff Cowan and Jessica Foldes, both in the West L.A. office of Studley.
Yahoo Center Lease
In another Santa Monica office deal, online game developer Riot Games has signed a five-year lease for 47,000 square feet of space in the Yahoo Center, a six-building complex owned by Equity Office Properties that's across from the Water Garden.
Culver City-based Riot, which plans to add 100 employees this year after the successful debut of its first online game, "League of Legends," was looking for larger space in the west L.A. County technology corridor that stretches from Santa Monica to Venice and Playa Vista.
"The Yahoo Center appealed to my client because of its campuslike layout and amenities for technology companies," said Bruce Hoffman, senior vice president with UGL Services, which represented Riot. "This is really emerging as ground zero for the Westside technology center."
Yahoo Center was built in two phases: three buildings in the early 1980s and three in the early 1990s. Yahoo Inc. moved in during 2005, becoming the largest tenant and thereby lending its name to the complex.
The transaction value of the lease was not disclosed.
Equity Office was represented by Houge of L.A. Realty, who also brokered the GK Films deal on behalf of landlord Realty Bancorp. Houge said Equity Office would not comment on the deal.
Howard Fine can be reached at hfine@labusinessjournal.com or at (323) 549-5225, ext. 227.
For reprint and licensing requests for this article, CLICK HERE.