Survey: L.A.County Businesses Squeezed by Cities
Search for cash will spur proposals for more taxes and fees.
Monday, October 4, 2010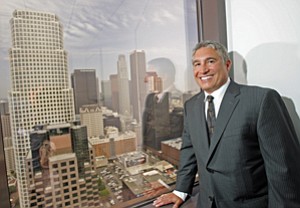 Faced with worsening budget crunches, cities in Los Angeles County are trying to extract more fees and taxes out of businesses, making the region an even more expensive place to do business.
As a result, this year only three cities – Agoura Hills, Glendora and Westlake Village – were placed in the lowest and best category for the cost of doing business, down from six in 2009 and seven in 2008, according to an annual survey compiled by Kosmont Cos. and the Rose Institute of State and Local Government at Claremont McKenna College.
What's more, the number of high-cost cities in the county has increased to 41 in 2010 from 37 in 2008. Three cities – Culver City, Los Angeles and Santa Monica – are among the 20 most expensive cities to do business nationwide.
Kosmont's annual rankings, released Saturday but previewed by the Business Journal last week, are based on the amount of taxes and fees charged to businesses. Included in the calculations are property, utility and sales taxes, and business license fees.
"The cost of doing business is going up at cities throughout Los Angeles County," said Larry Kosmont, chief executive of Kosmont Cos. "With falling revenues, state raids on their budgets and the costs for bloated pensions coming home to roost, cities have nowhere else to turn, so they are hitting up businesses."
Cities have increased sales, business license and hotel bed taxes, and a host of fees on business. At least one of the county's 88 cities seeks voter approval for raising one tax or another on business in almost every election.
Last November, Artesia wanted higher hotel and business license taxes, Huntington Park wanted higher utility taxes, Rancho Palos Verdes also wanted higher hotel taxes and Redondo Beach wanted to tax a power plant. Voters approved the measures in Artesia and Huntington Park, but rejected them in Rancho Palos Verdes and Redondo Beach.
This November, voters in El Segundo will get their say on whether to raise utility taxes paid by businesses by 1 percentage point, while voters in Santa Fe Springs will vote on whether to impose a 5 percent utility users tax on both residents and businesses.
Several county cities have also raised sales taxes in recent years, including Pico Rivera and South Gate, which now have sales tax rates near 11 percent, among the highest in the nation.
"Sales taxes are a double hit for businesses," Kosmont said. "First, they hit customers, who then have less disposable income and buy fewer things. Then they also hit the bottom lines of businesses."
Prev Next
For reprint and licensing requests for this article, CLICK HERE.