Will Sun Rise on Dry Lake Bed?
Cadiz repitches land in desert for solar power use.
Monday, May 24, 2010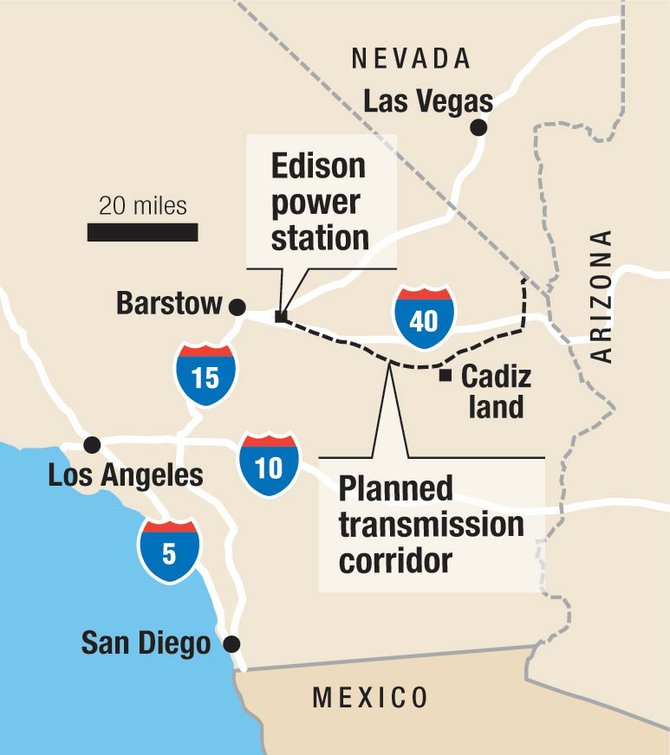 How do you make money off of tens of thousands of acres of land surrounding a dry lake bed in the middle of the Mojave Desert, miles away from just about everything?
That's been the challenge confronting L.A.-based Cadiz Inc. since it was founded nearly 30 years ago.
First Cadiz spent a decade trying to cut a deal to store water for local water agencies – only to be stopped by environmental concerns. Then the company made a bid to become an agricultural powerhouse, with only modest results. Then, at the height of the real estate boom, the company figured it could lure developers to its 45,000-acre site; that dream vanished with the popping of the real estate bubble.
Now, Cadiz is making a new play to profit from its land: solar energy development.
The company is marketing its land east of Twentynine Palms as an ideal site for solar energy companies to set up shop. Its desert locale means plenty of sunshine. There's also a supply of underground water for thermal solar projects. And the site is near a major proposed transmission line that could one day carry energy to Southern California cities.
In its latest quarterly filing with the Securities and Exchange Commission, Cadiz stated it is in negotiations with energy companies that may develop solar energy facilities on the land.
But can this new scheme work where all the past efforts have so far failed to generate a profit?
Maybe, said solar energy analysts and Cadiz watchers.
Investors have been excited about solar power projects in recent years, though enthusiasm dipped after the September 2008 crash of the financial markets. California's three investor-owned utilities – including Southern California Edison – are under pressure to meet state standards to get 20 percent of their power from renewable resources by the end of this year and 33 percent by 2020.
"Solar energy customers are out there now for the land, and the acreage Cadiz has appears to be a good fit," said Larry Kosmont, an L.A. economic development consultant who was on the board of the Metropolitan Water District when it rejected the company's water storage proposal in 2002.
But there are still formidable obstacles to solar power development on Cadiz land. The biggest issue is transmitting power from the site to the power grid. While preliminary approval has been granted for a major transmission route on federal Bureau of Land Management land just to the north of the Cadiz property, it could be a decade or more before an actual power line is completed.
For reprint and licensing requests for this article, CLICK HERE.
Prev Next