Cool With It
Why some businesses oppose delay of global warming act
Monday, May 17, 2010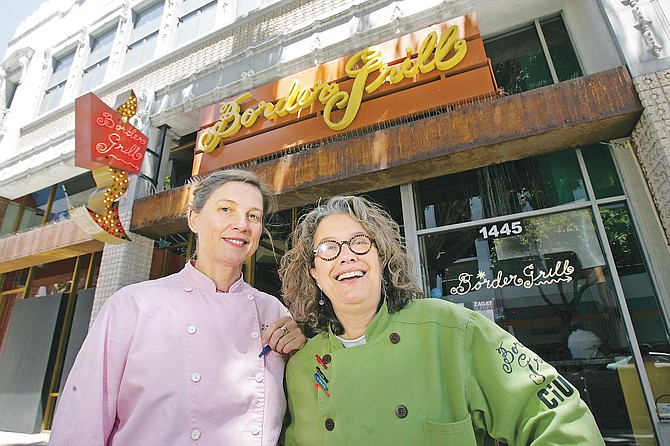 Why would a business oppose a reprieve from the strict compliance deadlines of a major environmental law?
That's exactly what's happening at L.A.-based restaurant chain Border Grill, which is opposing an initiative headed for the November ballot that would suspend implementation of AB 32, the state's sweeping 2006 law that requires businesses to reduce carbon emissions up to 20 percent by 2020.
Border Grill co-owners and chefs Susan Feniger and Mary Sue Milliken said taking a stand to protect AB 32 gives them more credibility with their environmentally conscious customers while not draining too much money from their pocketbooks.
"Being green is good for our business," Feniger said. "Any efforts we make to that end will bring customers in who want to support sustainable businesses."
Border Grill is one example of how the ballot measure to suspend AB 32 has split the business community.
On one side are businesses and business groups – chiefly large manufacturers and other targets of the law – that want to see AB 32 delayed or even scrapped. They say the law will force them to cut production or workers.
Environmental appeal
On the other side is an array of businesses that support AB 32. Some, like Border Grill, see complying with the law as helping them appeal to environmentally conscious customers. Others, such as solar and wind power and fuel cell companies, stand to benefit if the law drives up the cost of traditional carbon-based fuels. They fear the attempt to suspend AB 32 could choke off investment in alternative energy.
Late last month, a coalition of businesses and organizations opposed to the law's aggressive timeline – with substantial financial backing from Texas-based oil companies Tesoro Corp. and Valero Energy Corp. – submitted more than 800,000 signatures, well above the 435,000 needed, to qualify what it calls the California Jobs Initiative for the November ballot.
The initiative would suspend implementation of AB 32 until the statewide unemployment rate dips below 5.5 percent for four consecutive quarters. The last time the unemployment rate was that low was in September 2007. In March, the state's unemployment rate was 12.6 percent; most economists believe it will be several years before the unemployment rate drops below 5.5 percent.
Left unclear in the initiative is whether the ultimate 2020 deadline to reduce greenhouse gas emissions to 1990 levels would be pushed back if implementation of AB 32 were to be delayed by several years.
Initiative backers – including many state and local manufacturers and small businesses – claim that implementing AB 32 during the current fragile economic conditions would force companies to shutter operations and lay off thousands of workers.
The law is expected to hit major oil refineries, power plants, cement plants and other major manufacturers especially hard. But small businesses are also concerned.
One such business is Santa Clarita-based Miller Geosciences Inc., a residential soil analysis company that has seen its work force shrivel from 10 employees five years ago to just one today.
"AB 32 will hit construction companies and cement and concrete companies hard," said owner Steve Miller. "The homebuilding industry is already at a virtual stop, and AB 32 could prolong this. And without homebuilding, my business has almost completely dried up."
Miller and other initiative supporters said that with some of the law's compliance deadlines kicking in as soon as 2012, companies that have to plan now to make the required investments in cleaner technologies can't get financing.
"This is why it's so essential that we postpone AB 32 until the economy improves," said Betty Jo Toccoli, president of the California Small Business Association. "Otherwise, companies will have to lay people off just to afford the investments."
Toccoli said her association does not want to see AB 32 repealed, just postponed until the economy improves.
Valerie Liese, owner of Jack Jones Trucking Co. in Ontario, also supports the initiative to suspend AB 32.
"With many of our customers shutting their doors or leaving the state and cargo levels down, we've had to lower our rates to levels we had 10 years ago," said Liese, who has slashed her truck fleet from 50 to 34 trucks.
"We can't afford to buy the new trucks that AB 32 requires, nor can we get the financing because the banks aren't loaning us the money," she said. "We need more time to get our rates back up so we can afford to make the new investments."
Of course, many major manufacturers opposed AB 32 as it was being debated in the Legislature in 2006 and urged Gov. Arnold Schwarzenegger to veto the measure. The California Manufacturers and Technology Association and its member companies are welcoming the possible postponement of AB 32.
Locally, the Long Beach Area Chamber of Commerce is also supporting the California Jobs Initiative. That city is home to major manufacturing operations such as Boeing Co.'s C-17 plant as well as the Port of Long Beach.
'Potential to devastate'
"AB 32 has the strong potential to devastate businesses here, which in turn will lead to heavy job losses and a reduction in the tax base that this area just can't afford," said Lori Lofstrom, chamber chairwoman.
Other local business organizations, including the Los Angeles Area Chamber of Commerce and the Valley Industry & Commerce Association, have yet to take up the initiative.
But opponents of the planned November ballot initiative said that postponing AB 32 could be harmful, especially if it shuts off the spigot for investments in renewable energy technologies.
One such business that stands to benefit if AB 32 is kept on track is Pacific Edison LLC, a Santa Monica solar power development company. Dion Camp-Sanders, founder and chief executive, said that with AB 32 in effect, oil and other carbon-based fuels will become expensive enough to prompt people to switch to solar power.
"By making greenhouse gases more expensive, more people will turn to solar energy," Camp-Sanders said.
One local business group, the Los Angeles Business Council, wants AB 32 to stay on track because companies have already made their plans to comply – and investors have already put in their money.
"Working to destroy AB 32 would create uncertainty for the business community as well as additional risk for investors as they have come to rely on policies like AB 32 to guide investments," Mary Leslie, council president, said in an open letter late last month.
Energy savers
Another business owner said he's concerned that if AB 32 is postponed, investments in alternative energy will slow and his business will be more vulnerable to the erratic swings in oil prices.
"It now costs me $900 to fill up the tank of one of my semi trucks and more than $250,000 a year for my electricity and propane gas bills," said Glen Gerson, owner of the Malibu Conference Center, a management training and meeting facility. "I want to see alternative fuels available as quickly as possible."
Other business owners said AB 32 is already prompting them to invest in energy-saving technology that they expect will save money in the long run.
Tom Bowman, owner of Signal Hill company Bowman Design Group, which specializes in exhibitions, events and multimedia communications, has installed energy-saving lights and consolidated some office machinery to use less power. After just two years, Bowman's company has slashed its energy costs by $9,000 a year.
As for the Border Grill, the co-owners said critics of AB 32 are exaggerating the law's impact on small business.
The Union of Concerned Scientists did a case study on the effects of the legislation on the restaurant chain – which employs about 350 people in restaurants in Santa Monica and Las Vegas, a mobile food truck and the Ciudad restaurant downtown. That study, released earlier this year, tried to calculate the impact of higher energy costs resulting from the law and found that the total increase would add about 3 cents to a $20 meal tab.
"We were shocked and thrilled when the study found it would be feasible to continue to make the changes we've been doing," Milliken said. "We take these little steps. It is affordable for us."
For reprint and licensing requests for this article, CLICK HERE.