Controlling the Board
After a rough start, Carolyne Johnson steadied her late father's business of repairing circuit boards
Monday, July 26, 2010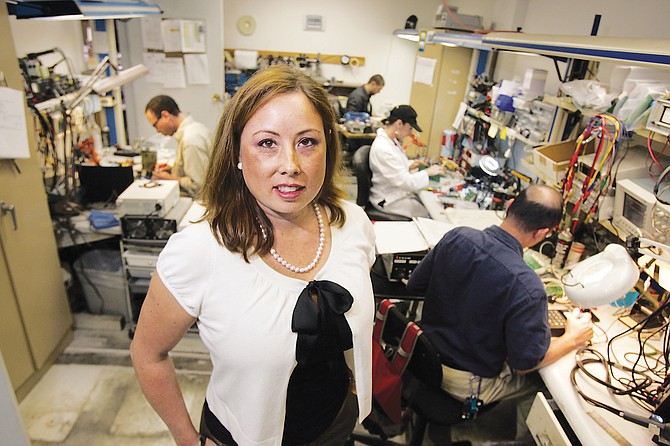 When her father died in 2009 after years of battling lymphoma, Carolyne Johnson thought she was prepared to handle the challenges of taking over his company, which repairs circuit boards for coin-operated laundry machines.
But running ALJ Electronics Inc. in El Segundo through the transition in leadership proved rougher than expected.
Johnson was hit by a triple whammy. Competitors were trying to poach longtime clients who were used to dealing with her father. There were personnel changes. Many of the circuit-board repair instructions hadn't been transferred to computer and were still in her father's scrawled handwriting. In addition, all this took place during the worst economic downturn in decades.
"There were real doubts that we would survive," Johnson said.
To keep the company alive, she met face to face with clients to reassure them the company would pull through, firmed up her management team and worked extra hard to finish computerizing the database.
Most of the clients stayed and the business has recovered. The employee count has risen from five in 2009 to seven now. And, for the first time, the company plans to expand beyond its niche of repairing circuit boards for commercial laundry machines and possibly into circuit boards for medical equipment.
For the 37-year-old Johnson, who by her own admission has always been a technical geek, the experience of the last 15 months has provided a crash course in management.
"Things have finally begun to settle down now," she said.
She brought in a family friend, Daryl Deese, who had previous experience in the banking industry. He first started with ALJ as chief of shipping and receiving; Johnson then promoted him to general manager and chief operating officer.
Delegating key management functions marked quite a departure for the company, since founder Alan Johnson, Carolyne Johnson's father, used to make the financial and management decisions himself. But it was a crucial step toward restoring stability, said James Ellis, dean of USC's Marshall School of Business and the former director of the family business program there.
"She should never be afraid to ask for help from outsiders and insiders," Ellis said. "This is the perfect time to listen and ask for support. Don't be shy about it."
The management challenges were not what Johnson envisioned as she was being groomed by her father to take over the business he had started 25 years ago.
Alan Johnson, who had once been an electrical engineer, bought up several Laundromats in the South Bay area in the 1970s and 1980s, and figured out how to repair damaged or wornout circuit boards in the washers and dryers. Soon, owners of other Laundromats heard about his expertise and brought their old circuit boards in for repair – generally at about one-tenth the cost of a new machine. By 1992, the business had generated enough income that he decided to get out of the Laundromat business and go full time into circuit board repair.
Alan Johnson had spent most of his adult life battling lymphoma, the disease that eventually killed him. When he underwent chemotherapy treatments, he would have to take temporary leave and his wife would fill in on the administrative side, while the daughter remained in her role as lead technician, repairing the circuit boards.
As Alan Johnson was training his daughter, the focus was mostly on preserving the repair data: making sure the instructions on how to repair specific circuit boards were transferred from his personal notes to computer files. That way, when a customer brought in a certain circuit board, instructions on how to make the repair would be readily available for technicians.
But when Alan Johnson died in May 2009 at 65, he was only about half-way through the process of creating a repair database, leaving Carolyne Johnson to finish the task. She hired a circuit board technician who helped her complete the transfer of her father's notes to computer files.
But that was the easy part. She had little management experience of her own and her father only provided her with minimal advice in that area.
The first crisis was a matter of bad timing: The company's bookkeeper-chief financial officer, who was pregnant, took maternity leave just weeks after Alan Johnson's death.
Carolyne Johnson quickly moved Deese into the position, and the bookkeeper-CFO later left the company. At about the same time, Johnson had to fire another employee because she found out he was starting up a competing business.
Once longtime customers learned that Alan Johnson had died, they called to ask if the company was going to remain in business. A handful of competing companies, both local and national, started trying to get the customers' orders.
Carolyne Johnson rarely went out to meet with clients in the days when her father was alive. So they didn't know her.
One of the customers who worried about the transition was Ruben Garcia, parts and service manager for PWS: the Laundry Co., an L.A.-based laundry equipment supplier and store sales brokerage.
"My concerns were whether the repair programs would remain the same and whether we could count on the new management to deliver as Alan had done," Garcia said.
Johnson and Deese quickly hatched a plan to visit every major customer to reassure them that things would remain the same despite Alan Johnson's passing.
"We had to instill our customers with a sense that the quality of work would remain high and that they would get the same level of service," Deese said.
So far, most of the customers have stayed with ALJ, while many of those that left have since returned.
All this was playing out against the backdrop of the recession, which drove some customers out of business. The company's revenue has remained flat, in the $700,000 to $800,000 range for the past two years.
Now, ALJ is launching its first ad campaign in an attempt to gain more customers. In addition, the company has hired a medical equipment technician in the hopes of breaking into that field.
"We want to transform ourselves from what was essentially a hobby of the founder into a full repair company with multiple lines of business," Deese said.
Selling the company at this stage is not an option, Johnson said. "I intend to stay with the company for another 10 years, to really build it up."
This strategy follows the path of many family-owned small businesses, USC's Ellis said.
"There's a rule of thumb for these types of family businesses: The first generation starts it, the second generation builds it and the third generation blows it," he said.
To prevent that eventual outcome, Johnson, who is single and has no children, will eventually have to give thought to what happens to the business when she is ready to leave.
"I've certainly learned plenty of lessons with this transition," she said.
ALJ Electronics Inc.
Founded: 1985
Core Business: Repairing circuit boards for coin-operated laundry machines.
Employees: 7 (up from 5 in 2009)
The Numbers: 2009 revenue of $750,000.
Goal: Expand circuit-board repair business to medical equipment.
For reprint and licensing requests for this article, CLICK HERE.