City's Refrigerator Loans Draw Heat
CRA wants to outfit shops for fruits, vegetables.
Monday, July 26, 2010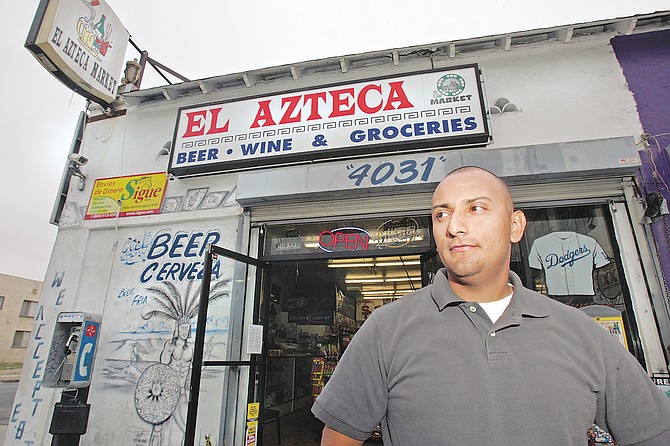 Manny Rodriguez has grown used to saying no to his customers who come into his convenience store in South Los Angeles seeking fruits or vegetables.
"Just the other day, I had someone come into the store asking for celery, bell peppers and cabbage, and I had to tell them I didn't carry those items," Rodriguez said.
That's because Rodriguez and his father, the owner of El Azteca Market near Main Street and Martin Luther King Jr. Boulevard, cannot afford the refrigerated stands for fruits and vegetables that the big supermarkets have.
Rodriguez is eagerly looking forward to a new city program that would give loans up to $90,000 to convenience store owners in underserved parts of the city to help them buy more refrigerators and spruce up their stores.
Supporters say the goal is to make more healthful food choices available in parts of the city that are considered "produce poor," such as South Los Angeles, Boyle Heights and Pacoima, among others.
Critics charge that the loan program smacks of a "nanny state" run amok.
What's more, there are questions of how convenience stores could get regular but small deliveries of fresh fruits and vegetables.
Each stand costs about $10,000; store owners might want two or three stands and they may borrow more money for other store improvements.
The program, which is being developed by the Community Redevelopment Agency, could roll out early next year. It is aimed at convenience store owners in redevelopment areas where there are few outlets to buy fresh produce.
The loans would come with some strings attached, including a requirement that alcohol and junk food such as sodas and potato chips must be at least 10 feet from the cash register.
The loan program, which is related to a CRA facade-improvement project, would come from existing agency money raised through bond sales. The bonds will be repaid from increases in CRA tax revenue. Convenience store owners could get a package of loans for refrigeration and new facades.
The number of loans that will be given will depend on agency budgets in each project area and how many store owners apply for them.
Supporters of the loan program say they are responding to complaints from parents in many low-income communities – especially South Los Angeles –that there are few outlets to buy fresh produce or other healthy foods. They note that it's only been in the last couple of years that large grocery chains – such as British grocer Tesco's Fresh & Easy markets – have ventured into these communities.
'Flaming Hot Cheetos'
"Kids go into these stores and buy empty-calorie snacks like Flaming Hot Cheetos," said Jenna Gulager, special assistant to deputy chief of operations at the CRA. "We are trying to get more healthy foods into these communities."
But critics charge that the plan is an abuse of tax dollars. They say that this program and other city actions – especially a two-year-old moratorium on new fast-food outlets in South Los Angeles – are examples of an overreaching government that's trying to tell people what to eat. They argue that taxpayer dollars should not be used to determine what foods store owners sell.
Critics specifically point to the restriction on displaying alcohol and junk food products.
"How and where stores should display their products should be left up to the store owners and the market and not be subject to government interference," said Adam Summers, policy analyst at the Reason Foundation, a West L.A.-based free-market think tank.
Supporters counter that the city is not restricting what convenience store owners can sell.
"This is an entirely voluntary program," said Los Angeles City Councilwoman Jan Perry, whose district includes South Los Angeles. "If you want to step into this arena, then these are the guidelines. If you don't like these guidelines, then you don't have to accept the money."
Perry said store owners can't afford to pay for refrigeration units and can't get loans for them elsewhere. In addition, they're generally not motivated to make an effort at selling fresh fruits and vegetables because packaged foods are more profitable.
She added that this loan program is one of the least intrusive ways to accomplish the goal of making more healthy food options available to her constituents.
"This is a new way of thinking," she said. "In the past, our approach has simply been to shut down liquor stores and try to get big-box grocery chains to move in."
Last week, the Community Health Councils, a South L.A. non-profit that advocates for poor communities, released a report detailing the comparative lack of grocery stores in South Los Angeles. Only about 60 full-service stores serve the area's 1.3 million residents. By comparison, West Los Angeles has about twice as many stores per capita, the report said.
Among the report's recommendations: creating special enterprise zones to attract major grocery chains and "supporting the development of healthy corner stores."
It's support that store owners say they need.
Jessica Kim four years ago bought the 50-year-old Liquorama store on Washington Boulevard in the Mid-City neighborhood with the intention of sprucing it up, both inside and outside.
"It's very difficult to get a loan," she said. "The banks are very choosy and they are charging high interest rates for the type of loan I want."
As part of the makeover, Kim said she wants to upgrade the antiquated refrigeration units so that she can stock more fruits and vegetables. "I want to sell apples and oranges, but my refrigeration system is not good enough for that."
Kim said she would like to apply for the CRA loan program as soon as it becomes available. She also said she had no problem with the restrictions on the display of alcohol, sodas and junk food.
Pilot program
The CRA is preparing to select four stores in South Los Angeles to participate in a pilot program late this year or early next that would use $240,000 in federal stimulus dollars distributed through the Los Angeles County Department of Public Health.
These four stores would get money to install refrigeration units for fresh produce and signs pointing customers to the produce. Some of the money would go toward sprucing up the exterior of the stores to make them more attractive.
The pilot program was designed to address concerns about sales of fruits and vegetables in "produce poor" neighborhoods.
However, there are also questions about distribution.
"The whole distribution chain for produce is geared toward large crates for the supermarkets, not for a half-dozen heads of lettuce for the corner convenience store," said Norris Bernstein, a Long Beach-based food manufacturing consultant. "It may be difficult to find distributors willing to deliver such small volumes of produce."
What's more, produce only stays fresh for a couple days. What doesn't sell must be discarded.
"Selling fresh produce is not a high-margin business to begin with," Bernstein said. "If you have to bring in your distributor to pick up the spoiled items, that's not a money-making business."
For reprint and licensing requests for this article, CLICK HERE.