Noted L.A. Economist Jack Kyser Dies at 76
Originally published December 6, 2010 at 3:58 p.m., updated December 6, 2010 at 4:28 p.m.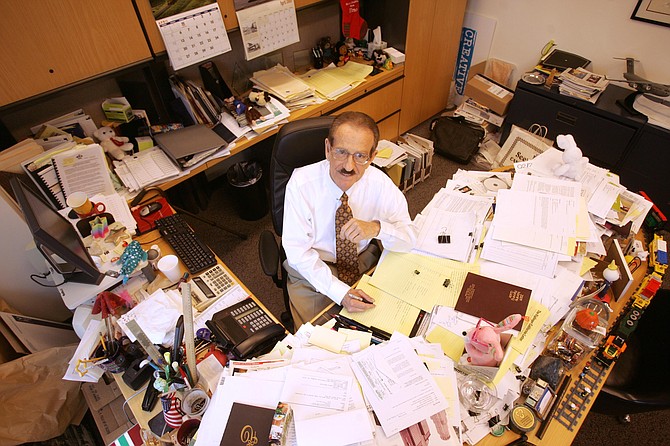 Jack Kyser, the longtime "guru" of the Los Angeles economy, died over the weekend after a long illness. He was 76.
Kyser, who had a variety of health problems, was found at his home Monday afternoon after failing to show up for a luncheon appointment.
For nearly 20 years as chief economist with the Los Angeles County Economic Development Corp., Kyser was the go-to person for the media, business leaders and elected officials who needed information and analysis of the local economy.
Last year, after an extended absence due to various illnesses, Kyser stepped down as the LAEDC's chief economist. The agency established the Kyser Center for Economic Research in his honor. In July, Kyser joined the Southern California Association of Governments as an economist.
"Jack was a tireless champion of Los Angeles County," LAEDC Chief Executive Bill Allen said in a statement. "He loved the county's varied communities, its diverse people and the boundless opportunities available here. We were indeed fortunate to have had such a dedicated and decent friend and colleague in Jack."
Kyser was born in 1934 in Huntington Park. He started drawing up economic charts for Security First National Bank in Los Angeles while he obtained a Masters in Business Administration from USC. He took a post as an economist for Union Pacific Railroad in Omaha, Neb.
Kyser returned to Los Angeles in 1983 and joined the Los Angeles Area Chamber of Commerce as an economist. He made his mark quickly, going against prevailing wisdom by predicting that the 1984 Olympics would be an economic boon to the region.
Southern California was in the grips of a recession when Kyser joined LAEDC in 1991. "It was difficult and it was also sad," he recalled in a 2009 interview with the Business Journal. "I would go out and talk to these laid-off aerospace workers and they really didn't know what they were going to do. I put out my first forecast for the LAEDC in 1992 and it made for very depressing reading."
During his tenure at the LAEDC and later at SCAG, Kyser was a much sought-after speaker among local business groups eager to hear the latest on the local economy. He was always ready with quips for the local media on the latest economic trends.
"Jack's unique ability to work across sectors and engage diverse groups of stakeholders will be admired and will surely be a part of his continued legacy," SCAG President Larry McCallon and Executive Director Hasan Ikrata said in a statement.
Kyser, who was single, lived in Downey. Survivors include a cousin, James Baeza. Funeral arrangements were pending late Monday.
RELATED STORY:
• CLICK HERE to read "Jack Kyser: Money Quote," a 2009 Business Journal interview.
For reprint and licensing requests for this article, CLICK HERE.