Since the middle of the last century, the primary methods for treating cancers have been surgical removal of tumors along with hefty doses of radiation and chemotherapy.
"I call it the slash (surgery), burn (radiation) and poison (chemotherapy) approach to treating cancer – incredibly blunt instruments that have major side effects on patients," said Stephanie Hsieh, executive director of Biocom L.A., a bioscience industry advocacy organization.
But in the last couple of decades, a new approach has come to the forefront in cancer treatment: immunotherapy, which uses cellular therapies to boost the body's immune response to kill cancer cells. These immunotherapies have become increasingly targeted in nature, directing their treatments and drug payloads directly to the tumor site, which in turn reduces the risk of immune responses that get out of control and cause broader harm to patients.
Los Angeles County has been at the center of this increasingly hot area of cancer research. That's because much of the initial underlying research for this targeted immunotherapy approach occurred at institutions such as Duarte-based City of Hope and Westwood-based UCLA Health. Those institutions spun off companies that then began to commercialize these targeted immunotherapies.
Other research institutions have also formed the solid bedrock of research that has turned Los Angeles County into one of the nation's top two or three centers of cancer immunotherapy research and development.
The field is still in its infancy, with only a small fraction of cancer patients currently being treated with immunotherapies. But that number is growing rapidly. The ultimate aim, the "holy grail" of this approach to treating cancer, remains killing the cancer cells while causing little or no harm to the patient.
"Our therapies are built to kill disease, not the immune system," said Patrick Soon-Shiong, the billionaire who founded one of the companies in this field, Culver City-based ImmunityBio Inc.
In this special section, the Business Journal takes a snapshot of several of the local companies and research institutions working in this rapidly evolving field of immunotherapies for cancer.
---
Amgen Inc.
HEADQUARTERS: Thousand Oaks
YEAR FOUNDED: 1980 
BUSINESS: Pharmaceutical company that develops, manufactures, markets and distributes therapeutics focused on treating cancers, inflammation, cardiovascular disease and other health conditions and diseases.
CEO: Robert Bradway
EMPLOYEES: Roughly 25,000
NOTABLE: The name Amgen is a contraction of Applied Molecular Genetics Inc., the first official name of the company.
Biopharma giant Amgen Inc. has been pursuing targeted immunotherapy approaches to cancer treatment for more than two decades. Its main immunotherapy platform involves bispecific T-cell engagers, which essentially retargets the body's T-cells to destroy cells within tumors. In 2014, Amgen's Blinctyo drug was the first drug of its class to win Food and Drug Administration approval; Blinctyo is used to treat certain types of acute lymphoblastic leukemia.
Amgen has continued to refine this targeted T-cell approach over the years and now has several drugs in its pipeline. One aims to treat neuroendocrine cancers, such as small-cell lung cancer and neuroendocrine prostate cancer. A pair of other drugs are targeting other specific types of prostate cancer. Most of these drugs are in preclinical or early clinical phases, though the company is poised to begin a Phase 3 clinical trial of one these drugs, Tarlatamab, to treat a specific type of small cell lung cancer.
"Amgen is proud to have delivered a series of firsts with the first globally approved T-cell engager and as the first company to demonstrate activity and proof of concept for these medicines in multiple solid tumors and hematologic malignancies," said Sumita Bhatta, Amgen's vice president and global medical therapeutic area head for oncology. "We are continuing to build upon this legacy and pioneer the future of T-cell engagers with new technologies and targets to develop molecules with the potential for improved benefit/risk profiles, outpatient administration and more convenient dosing options."
Kite
HEADQUARTERS: Santa Monica
YEAR FOUNDED: 2009
BUSINESS: Biopharmaceutical company developing cancer immunotherapies, focusing on chimeric antigen receptor and T cell receptor engineered cell therapies
CEO: Christi Shaw
EMPLOYEES: Roughly 4,000
NOTABLE: Foster City-based Gilead Sciences Inc. acquired Kite Pharma in 2017 for approximately $12 billion.
Santa Monica-based Kite was originally spun out of UCLA Health's lab, which was working with chimeric antigen receptor T-cell immunotherapy technology to treat cancer by taking a patient's T-cells and modifying them in the lab to better target cancer cells.
One of Kite's cofounders was Arie Belldegrun, an Israeli-American cancer immunotherapy researcher who ran some of UCLA Health's pioneering work in this area. Belldegrun served as chief executive of Kite from 2014 until he and the other co-founders sold the company to Foster City-based Gilead Sciences Inc. in 2017 for nearly $12 billion.
At the time of the sale, Kite's leading drug, Yescarta, was on the verge of FDA approval for use to treat large B-cell lymphoma. Since then, the drug has won FDA approval to treat several other types of lymphomas.
Kite has also won FDA approval for a second drug, Tecartus, to treat mantle cell lymphoma and acute lymphoblastic leukemia.
Kite, with Gilead's financial backing, has also scaled up its manufacturing facilities in Southern California, Maryland and Amsterdam; combined, these are the largest CAR-T manufacturing operations in the world. And these two drugs have so far been used to treat nearly 13,000 patients.
Looking ahead, Kite has two drugs in or on the verge of Phase 3 clinical trials and four more in various stages of Phase 2 clinical trials.
"We are truly at a 'coming-of-age' moment for CAR T-cell therapy with approvals in multiple types of blood cancer and data suggestive of a potential cure for some patients," said Frank Neumann, senior vice president and global head of clinical development for Kite. "The innovation in Kite's pipeline, coupled with the new partnerships that we are forming, will help us continue this momentum to have an even greater impact and reach more patients at scale with the promise of CAR T."
ImmunityBio Inc.
HEADQUARTERS: Culver City
BUSINESS: Biotechnology company developing immunotherapy drugs
CEO: Richard Adcock
EMPLOYEES: 760
NOTABLE: Patrick Soon-Shiong owns approximately 323 million shares of ImmunityBio (a 79% stake) that as of March 1 were worth about $733 million. That represents a plunge of $11.4 billion, or 94%, from the $12.2 billion value of his stake on the first day of trading as a public company on March 10, 2021.
Culver City-based ImmunityBio Inc., which was founded by billionaire Patrick Soon-Shiong, is developing drug platforms using two types of immune cells in the body: T-cells and "natural killer" cells specifically designed to kill invasive cells quickly.
The company has drugs in its pipeline that use each of these immune-cell types individually and in combination – all with the aim of treating rare cancers and other diseases in a more long-lasting manner than many other T-cell therapies.
ImmunityBio's lead drug candidate, which goes by the brand name Anktiva, has received both "breakthrough therapy" and "fast-track designation" from the Food and Drug Administration for a certain type of bladder cancer. The FDA has given ImmunityBio a late-May target date for a decision on the new drug application for Anktiva for this bladder cancer indication.
Meanwhile, ImmunityBio is in clinical trials for Anktiva to be used to treat other rare cancers, including of the lung, pancreas and brain (glioblastomas). The company is also in clinical trials on a T-cell-based vaccine for Covid-19.
As it waits for the FDA's decision, ImmunityBio has also acted to scale up manufacturing of this and other drugs. To accomplish this and continue with clinical trials on multiple fronts, ImmunityBio has raised more than $200 million since mid-December, with roughly half of the money coming from Soon-Shiong's own pockets.
"ImmunityBio's data and science specifically focus on the power of inducing trained immune memory to bring potentially long-term, durable effects in the remediation of serious, life-threatening cancers," said Soon-Shiong, who is executive chairman and global chief scientific and medical officer for ImmunityBio.
Nammi Therapeutics Inc.
HEADQUARTERS: Westwood
YEAR FOUNDED: 2018
BUSINESS: Immunotherapy targeting cancers
CEO: David Stover
EMPLOYEES: 6
FUNDING TO DATE: $21.3 million 
NOTABLE: Nammi Therapeutics this month is set to be part of a new biotech incubator in Sawtelle operated by the Westwood-based Terasaki Institute for Biomedical Innovation.
Westwood-based Nammi Therapeutics is another, more recent, spinout from UCLA Health's immune-oncology labs. Its initial approach involves immunocytokines, which combines antibodies with proteins that stimulate immune responses. These immunocytokines are then used to convey immunotherapy drugs to the tumor site.
The company is also developing a nanoparticle transport mechanism to bring immunotherapy drugs to tumor sites.
In recent weeks, Nammi has received a pair of awards that it hopes will enable it to stand out as it prepares to file a new drug application for its immunocytokine technology.
The first is a $4 million grant award from South San Francisco-based California Institute of Regenerative Medicine, also known as the California Stem Cell Agency. The grant will help cover the final stage of preclinical trial costs.
The second award was announced last month jointly by Amgen and Torrance-based incubator BioLabs LA at the Lundquist Institute. This award, dubbed the "Amgen Golden Ticket," gives Nammi one year of free rent at BioLabs as well connections to Amgen's scientific and business leaders.
"While both awards have material benefits, the bigger impact is that they validate the technology we've been developing," said David Stover, Nammi's chief executive.
The company is moving in this month to a new incubator in the Sawtelle neighborhood of Los Angeles run by the Westwood-based Terasaki Institute for Biomedical Innovation.
Xencor Pharmaceuticals Inc.
HEADQUARTERS: Pasadena
YEAR FOUNDED: 1997
BUSINESS: Develops and markets antibody and protein therapeutics to treat cancer and autoimmune inflammation.
CEO: Bassil Dahiyat
EMPLOYEES: 281
NOTABLE: Xencor this month is moving its headquarters to Pasadena from Monrovia.
Pasadena-based Xencor Inc. is developing engineered antibodies and cytokines for the treatment of patients with cancer and autoimmune diseases. This platform that combines engineered antibodies and cytokines makes small changes to a protein's structure that can then be used to target and kill tumor cells. The company has a pipeline of more than 20 drug candidates using this antibody-cytokine platform.
Xencor has several joint-marketing and research collaboration arrangements. One of those began in 2020, when Xencor and San Carlos-based Atreca Inc. announced a collaboration under which Xencor takes antibodies engineered in a lab by Atreca and alters them to bind with T-cell protein receptors more readily so that the T-cells can be activated rapidly. Last month, the two companies chose their first specific program under this collaborative effort, with costs and eventual anticipated profits being split evenly between them. This program uses antibodies that target colorectal, thyroid, head and neck, urothelial, melanoma and brain cancers.
The ultimate aim of this collaboration and the other drug programs in Xencor's pipeline is to come up with immunotherapies that are more easily tolerated by patients.
"Xencor has built a suite of protein engineering tools internally over the last 25 years," said Bassil Dahiyat, Xencor's chief executive. "Now, we are taking several approaches to create targeted immunotherapies with new mechanisms of anti-tumor action, enabling potential treatments that are more easily managed by patients and with higher success rates compared to currently available immunotherapies."
Xencor this month is also moving into a new headquarters and lab space in Pasadena; the company had previously been headquartered for several years in nearby Monrovia.
UCLA David Geffen School of Medicine
HEADQUARTERS: Westwood
YEAR FOUNDED: 1951
BUSINESS: Medical school and research institution
INTERIM DEAN: Steve Dubinett
EMPLOYEES: Approximately 3,500 clinicians and researchers.
RESEARCH FUNDING: $1.2 billion for the 2021-2022 fiscal year, including $570 million in grants from the National Institutes of Health 
NOTABLE: The UCLA David Geffen School of Medicine has two centers devoted entirely or in part to immune-oncology research: the Jonsson Comprehensive Cancer Center and the Parker Institute for Cancer Immunotherapy Center.
In the late 1990s and the early years of this century, UCLA Health was one of the leading research institutions in immune-oncology. One of the most prominent researchers there has been Arie Belldegrun, an Israeli-American urologist who was at the forefront of research into chimeric antigen receptor (CAR) T-cell therapies. Belldegrun and other UCLA lab researchers spun off their work on the drug that would become Yescarta into what became Kite Pharma.
Today, UCLA Health has two centers devoting much or all of their resources to cancer immunotherapy research: the Tumor Immunology program at the Jonsson Comprehensive Cancer Center and the Parker Institute for Cancer Immunotherapy Center. Both are headed by one man: Antoni Ribas, who is also professor of medicine, surgery and molecular/medical pharmacology at UCLA.
The Parker Institute is now tackling reversing the body's braking mechanisms that restrain immune side effects but unintentionally limit productive destruction of cancerous cells, as well as genetically engineering immune cells that could target and eliminate patient's tumors.
At the Jonsson Comprehensive Cancer Center, one area of focus is on developing gene-engineered adoptive cell transfer T-cell therapies. And the program won some of the first FDA approvals for an immune checkpoint inhibitor drug, now marketed under the brand name Keytruda, for patients with melanoma or lung cancer. Checkpoint inhibitors switch off the immune system's normal braking mechanisms that prevent an immune response from getting out of control, making easier the task of killing cancer cells.
"Cancer immunotherapy is providing oncologists treatment options for certain types of cancers that can offer most patients many years to live without cancer progression," Ribas said. "Our physicians are working closely with our scientists to develop new treatments that would make the above statement apply to all cancers and all our patients."
City of Hope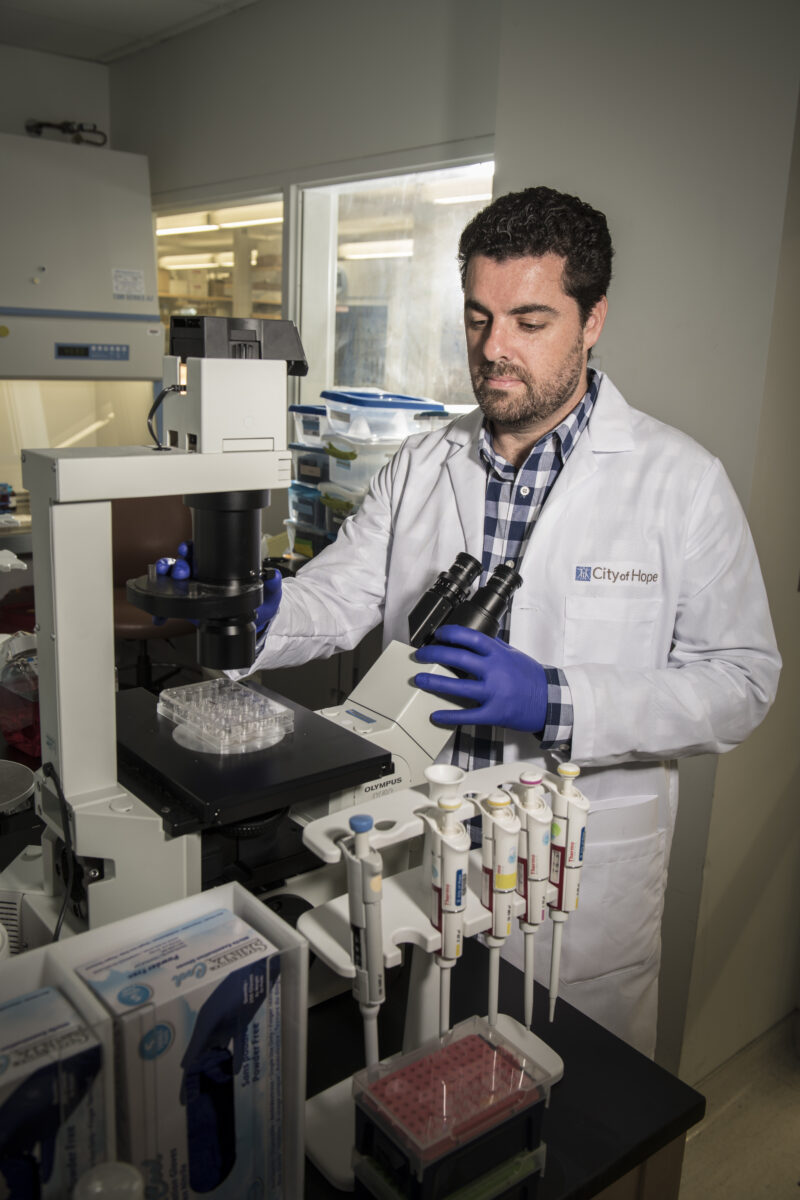 HEADQUARTERS: Duarte
BUSINESS: Comprehensive cancer center and independent bioåmedical research institution
CEO: Robert Stone
EMPLOYEES: 6,800
TOTAL RESEARCH REVENUE (Fiscal year ending Sept. 2022): $216 million 
NOTABLE: City of Hope is one of 51 comprehensive cancer centers in the nation.
Duarte-based City of Hope was one of the pioneering institutions for research into immunotherapy approaches to treating cancer, dating back to the late 1970s and early 1980s and laboratory teams under the leadership of the late Arthur Riggs. While Riggs and the lab teams primarily focused on developing immunotherapy technologies in which drugs precisely target receptor molecules responsible for diabetes, many of their discoveries translated into cancer immunotherapies.
This immune effector cell therapy uses the body's immune system to direct antitumor responses. It is now being researched, honed and even applied to patients at City of Hope under several programs: chimeric antigen receptor (CAR) T-cell therapy, natural killer cell therapy, checkpoint inhibitors, bispecific antibodies and viral therapy. One of the main goals is to come up with new methods to treat cancers that often defy more conventional treatments.
Today, more than 200 researchers work in City of Hope's immunotherapy programs.
According to a City of Hope spokeswoman, the comprehensive cancer center has treated more than 1,000 patients with immune effector cell products, including CAR T-cell therapy. Up to 10 patients per week are treated as outpatients when receiving either a commercial CAR product or immune effector cell products via clinical trials.
The clinical research program includes about 70 ongoing trials for specific drugs targeting more than 10 different types of solid tumors.
City of Hope has licensed several of its CAR T therapies to multiple companies, including Worcester, Massachusetts-based Mustang Bio Inc.; Chimeric Therapeutics in Carlton South, Victoria, Australia; and Monrovia-based CytoImmune Therapeutics.
City of Hope doctors also led clinical trials that contributed to recent FDA approvals of bispecific antibodies against lymphoma and myeloma.
"Over the years, City of Hope has had many successes treating patients with cellular immunotherapy," said Stephen Forman, a hematologist and director of City of Hope's T Cell Therapeutics Research Laboratory. "City of Hope scientists and doctors continue to innovate, finding the best immunotherapy treatments against a wide variety of cancers."