MARIO CORDERO AIMS TO BUOY LONG BEACH PORT'S GROWTH EFFORTS
New Chief Sets Sail at Port
Friday, June 16, 2017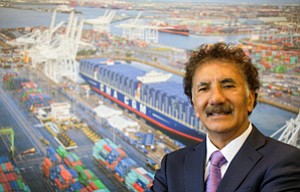 Newly appointed Port of Long Beach Executive Director Mario Cordero spent time with the Business Journal to discuss the outlook for one of the region's biggest economic drivers. Here are edited excerpts of the interview:
Can you shed light on priorities and challenges you've identified at the port?
My priorities stem from my time at the (Long Beach Harbor Commission). We're going to continue with sustainable development and we will continue to grow our business here. We're a business-friendly port, and we want to continue to work on our relationships with terminals, shipping lines, freight owners and all stakeholders. Challenges at the Port of Long Beach are no different from the challenges at any other major container gate. Challenges are the question of competitiveness. When I was on the commission years ago, we talked about – what if Panama Canal does XYZ? What if East Coast ports are successful in their infrastructure? And more. Well, it's 2017, and these are not what-ifs anymore, they're here. The Panama Canal expansion project has been completed; East Coast ports are now receiving some of the larger vessels they weren't capable of 10 years ago. So, the challenge for us is to continue being a gateway for trans-Pacific cargo coming into the U.S. I'm optimistic that we can protect our market share – we've invested significantly in capital improvement projects.
Capital improvement projects such as the Middle Harbor Project?
Yes – capital improvement projects to the tune of $4 billion over 10 years. You mentioned one – Middle Harbor. We also have the construction of the Gerald Desmond Bridge going on, better rail infrastructure to improve inland connectivity for the movement of goods. Cost is a big factor for a lot of the supply chain community, but so is reliability, and that's where we come in – by making sure cargo moves efficiently through the Port of Long Beach.
The Port of Los Angeles – your neighbor – is testing a pilot program that centralizes data from different stakeholders in an effort to move cargo faster. It's the first port in the country to work on something like this. Is the Port of Long Beach taking similar steps?
During my time at the commission, we did a port congestion study and part of that was asking what is it in the supply chain that we need to enhance for the movement of cargo. And part of that answer is the sharing of information. The portal concept like you referenced is essential for U.S. gateways. The Port of Long Beach thinks that it's very much a priority. And, to put it in context, this industry – the goods-moving industry as a whole – was behind with regards to the implementation of technology.
Prev Next