Cleared to Open, Many Indoor Venues Take Slow Approach
Monday, April 12, 2021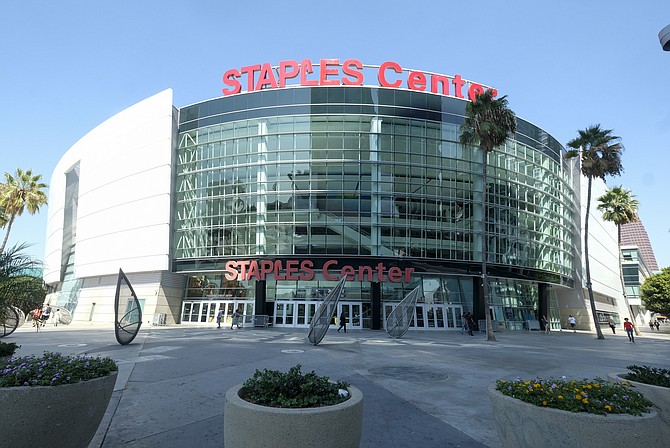 Indoor entertainment and sports venues in Los Angeles County may have a green light from the state to reopen to the public on April 15, but it could be a while before many building owners and operators welcome fans back.

In part, that's because those who run local arenas, theaters and clubs have a range of concerns after more than a year of closures caused by the Covid-19 pandemic.
 
And even as the number of coronavirus cases declines in L.A. and the pace of vaccinations picks up, there is uncertainty among businesses and the public about the best path forward.  

For some venues, a lack of clear safety guidelines from the county or the city of Los Angeles is a sticking point.
 
For others, especially smaller venues, the question is whether the cost of reopening makes financial sense in light of restrictions on the number of patrons permitted inside.

Staples Center was one of the few indoor venues that had announced reopening plans by press time last week. The downtown arena will allow a limited number of fans for Los Angeles Lakers, Los Angeles Clippers and Los Angeles Kings games.

The Lakers will get the ball rolling by hosting their longtime rival, the Boston Celtics, at Staples Center on April 15. The crowd will be small — about 2,000 people based on California's current guidelines.
 
That's a fraction of Staples Center's capacity of more than 19,000 for a basketball game. But it will be a significant first step for the Lakers. The franchise, which won its 17th NBA championship last season inside the league's lockdown bubble in Orlando, Fla., lost an estimated $52.7 million in revenue due to canceled home games during the 2019-20 season, according to Team Marketing Report, a Chicago-based sports marketing publisher. That was the largest loss of any team in the National Basketball Association.  
 
Three days later, a similar number of fans will be in the building as the Los Angeles Clippers take on the Minnesota Timberwolves. And on April 20, Los Angeles Kings faithful can watch in person as their team battles the Anaheim Ducks at Staples.  

"This is exciting for our players and our fans," the Kings said in a statement, adding that the team would work with local health officials to supply information to fans on how to attend games.
 
Many venues are hesitant to release reopening plans before receiving guidance from L.A. County for restarting indoor events. The Forum in Inglewood and the Pantages Theatre in Hollywood are among that group.
 
Under California guidelines, indoor venues that can hold up to 1,501 people in counties that have reached the orange tier for the state's pandemic restrictions must limit capacity to 15% or 200 people, whichever is less. L.A. County was moved into the orange tier earlier this month.

Venues that can accommodate more than 1,501 people must limit capacity at 10% or 2,000 people, whichever is less. Those limits increase if guests show proof of vaccination or a recent negative Covid-19 test.

A spokesperson for the L.A. County Department of Public Health said April 7 that its guidelines are expected to align with the state's framework and would be released by April 15.

Downtown-based live events promoter Live Nation Entertainment Inc., which suffered huge losses during the pandemic, has yet to announce reopening dates for its popular concert venues.
 
The company operates several venues in L.A., including the Wiltern, the Belasco and the Hollywood Palladium. Live Nation revenue plummeted 84% in 2020, dropping nearly $8 billion in its concerts division as live music was halted for nearly a year.

As of April 7, the earliest show scheduled at a local Live Nation venue is a performance from Las Vegas rock band Palaye Royale July 30 at the Wiltern.
 
"Of course, the health and safety of our fans, artists, staff and community is our number one priority and will be planned for accordingly," a Live Nation spokesperson said in an email.
 
Smaller venues are holding off as low capacity limits make reopening financially unfeasible.
 
Gil Cates, Jr., executive director of Geffen Playhouse Inc. in Westwood, said the theater needs more time to prepare for guests. His staff is still figuring out how to balance safety protocols with the desire to create a welcoming experience that also makes fiscal sense for the venue, Cates said.
 
"The Geffen (has) a welcoming and warm environment. We want to keep that," he said.
 
He hopes to reopen the theater at full capacity in the fall.
 
Of course, the live event landscape could look much different well before then.
Gov. Gavin Newsom announced April 6 that he would fully reopen California's economy by June 15 as long as Covid-19 vaccine supplies remain sufficient for every resident 16 and older, and hospitalizations stay low.
 
Masks and social distancing would still be required at all venues. Beyond that, details about a full reopening are scarce.

Some large outdoor venues we
re also slow to reopen, even after the state gave a greenlight effective April 1.

Dodger Stadium, which seats 56,000, was set to allow 11,000 fans for the Los Angeles Dodgers' April 9 home opener against the Washington Nationals.

The nonprofit Los Angeles Philharmonic Association announced April 9 that it would return to the Hollywood Bowl and Ford Theatre for the 2021 concert season, with show dates set to be announced in May.
 
Some 4,000 guests will be allowed into the 17,500-seat Hollywood Bowl. A 14-week concert season will kick off in July, but a series of free concerts will get underway May 15.
 
The Ford Theatre will reopen in July with 15 weeks of concerts, and capacity will hinge on local health guidance at that point.
 
Chad Smith, chief executive of the L.A. Phil, and David Bohnett, chairman of the organization's board, said that the Walt Disney Concert Hall will open for the 2021-2022 winter season in October.
 
Smith said the pandemic has cost the L.A. Phil $105 million since last March, and prompted the organization to cut its annual budget in half and eliminate 55 positions.
 
"This is a moment that we've been waiting for," Smith said. "We are so looking forward to again providing this service to our community, providing a space for these incredible artists across L.A. and around the world to have their work heard, and for us as a community to come together. It's something that's been missing."


For reprint and licensing requests for this article, CLICK HERE.