Wild Gifts Support Wildlife
Custom Content by the Los Angeles Business Journal
Monday, October 26, 2020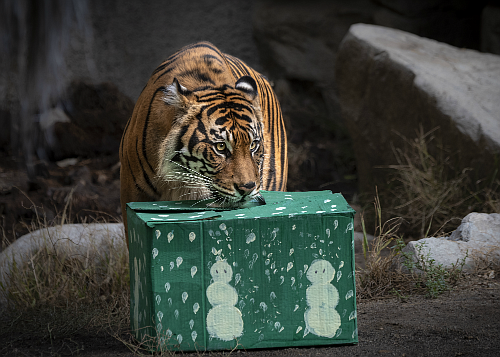 If there was ever a holiday season that called for outside-the-box gifting, it's this one. 2020 redefined "business as usual," and we're all looking for meaningful, creative ways to express appreciation to staff, clients, and loved ones.
Want to reward employees and thank special clients while also saving endangered species? The Los Angeles Zoo's Corporate Leaders program offers businesses the opportunity to demonstrate meaningful community and corporate citizenship and give while giving back. Members receive a range of benefits, including free Zoo passes, exclusive experiences, VIP tours, and hospitality accommodations.
"The Corporate Leaders program is one of the most rewarding corporate philanthropy programs in Southern California." says Kevin O'Brien, Director of Corporate Sponsorships for the Greater Los Angeles Zoo Association (GLAZA). "It provides vital support to the Los Angeles Zoo's mission-driven conservation, sustainability, and education initiatives. At the same time, it provides a wide range of extraordinary benefits created to enhance employees' and clients' experience at the Zoo.
FROM THE BUSINESS TO THE PERSONAL
The Zoo also offers a range of unique experiences and tangible gift items through its new online store and Holiday Gift Guide. Popular retail items include adorable Ecokins (plush animals made from 100% recycled materials), zoo-inspired toys and apparel, and face masks featuring baby Angela, the first gorilla born at the L.A. Zoo in more than 20 years. The Save the Future, Share Our World line features 5% recycled plastic and creates awareness among younger generations about endangered species, echoing the L.A. Zoo's mission of saving animals from extinction.
A fun way to honor the animal lover in your life is to symbolically "adopt" an animal in their name. All species at the L.A. Zoo—from the miniature sunburst diving beetle to the majestic Asian elephant—are available for sponsorship. Recipients receive a personalized ADOPT (Animals Depend on People, Too) certificate and animal fact sheet, with additional benefits at higher levels.
Put someone you love at the front of the line with a year's worth of visits to the Zoo via the gift of membership. Your recipient will also receive event and retail discounts, free or half-price entry to 170 zoos and aquariums nationwide, a subscription to Zoo View magazine, and more.
Want to really wow that special someone? Name a Zoo resident after them! Many animals are available for naming, with donations commensurate with the animal species chosen. Donors with Zoo "namesakes" receive special recognition and other benefits, including a visit with meet the animal's care staff.
All these options support the Zoo's mission to inspire conservation and care for the planet through its diverse wildlife.
To learn more about the Corporate Leaders program, contact Kevin O'Brien at (323) 644-4705 or kobrien@lazoo.org. Shop the Zoo's Holiday Gift Guide at lazoo.org/giftguide.
For reprint and licensing requests for this article, CLICK HERE.