Arrowhead Pharmaceuticals Seeks Approval to Conduct Two Gene Therapy Clinical Trials
Friday, December 22, 2017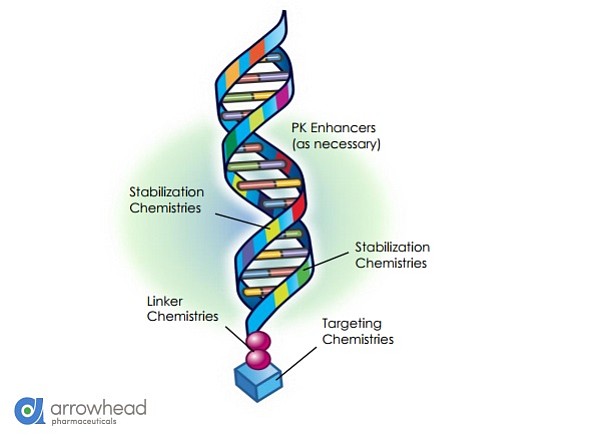 Arrowhead Pharmaceuticals Inc., which develops drugs to treat stubborn diseases by silencing the genes that cause them, reported it has filed for federal clearance to conduct to clinical studies of drugs aimed to treat liver disease and hepatitis B.
The Pasadena firm last week announced it filed a regulatory submission with a New Zealand regulator to conduct a Phase I study of its ARO-ATT medicine to treat alpha-1 liver disease using its own patented gene therapy.
It then announced it also filed for a similar clearance to for a Phase I/II for its ARO-HBV gene therapy to combat chronic hepatitis B virus infection.
Earlier this month, the 28-year-old biotech company reported a fiscal 2017 year-end loss of $34 million compared with 87.7 million in red ink a year earlier.
The narrowed loss came on a $31.2 million year-over-year gain in revenue. Arrowhead reported that in the 12 months ending Sept. 30, its revenue was $31.4 million compared to $158,000 during the same period last year.
It posted a yearly net loss of $34.3 million (47 cents a share), compared with $87.7 million (1.34 cents a share) the prior year.
Arrowhead acquired Novartis AG's RNAi assets two years ago for $35 million in cash and stock to bolster its position in a field of gene therapy known as ribonucleic acid interference (RNAi), which aims to silence certain genes in order to stop the production of proteins that cause hepatitis B and other diseases.
Last year, it sold a 4.5 percent equity stake to Amgen Inc. of Thousand Oaks for $35 million up front, plus a $21.5 million injection, with the potential for another $617 million in milestone payments. Amgen also received options to exclusive licenses.
On Friday, shares in Arrowhead Pharmaceuticals were up 10 percent to $3.73 on the Nasdaq Global Select exchange, with a market capitalization of $279 million. In early January 2017, its stock price was less than $2.
Health business reporter Dana Bartholomew can be reached at dbartholomew@labusinessjournal.com. Follow him on Twitter @_DanaBart.
For reprint and licensing requests for this article, CLICK HERE.