Fender Turns to Hollywood, Internet to Lift Sales
Fender turns to Hollywood, internet to lift sales
Friday, September 16, 2016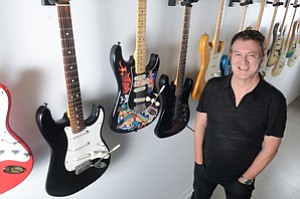 It's the guitar that Jimi Hendrix famously set ablaze on stage in 1967; the one Kurt Cobain smashed to smithereens in 1991; and the sleek, sexy piece that U2 guitarist the Edge (David Evans) shreds today. It's the Fender, a musical mainstay for a half-century and a darling of the rock 'n' roll industry.
But as Fender Musical Instruments Corp.'s customer base ages and the music industry moves toward electronic dance music, the company has been repositioning itself, rolling out an expanded digital and social media presence to recruit a new generation of musicians. As part of that effort it will open an office this month in the heart of Hollywood, where it will seek to take advantage of the region's expansive talent pool and burgeoning number of entertainment startups, said Chief Executive Andy Mooney.
"It couldn't be much better – to be nestled between some of the great recording studios of the world, the Palladium, Amoeba Music," said Mooney, 61, a self-described aficionado of the brand who owns dozens of Fenders. "It's the Sunset Strip after all, it doesn't get much better than this."
Mooney, who has been with the company a little more than a year, will be based at the Gower Street site and plans to hire about 100 people there, primarily for its marketing and production departments. The company plans to relaunch its website next month, and by early next year it expects to roll out three or four educational-based learning projects, Mooney said.
Iconic instruments
When Fender first released its classic Stratocaster and Telecaster guitars in the 1950s, it became one of the first electric guitar manufacturers in the United States. Since then, the company has developed a reputation for high quality among professional musicians, and its long list of celebrity fans has translated to dozens of product collaborations with musicians including George Harrison, Stevie Ray Vaughan and Pete Townshend.
The iconic Fender models – the look, the feel, and the way they sound – continues to attract guitarists, said Jim Hirschberg, president of MI SalesTrak, a New York market research company specializing in musical instruments.
Fender holds the No. 1 position in guitar and amplifier sales in the United States, said Hirschberg.
"It's extremely rare to be at the top in both of those categories," he said.
While Fender is a top performer, the retail musical instrument industry has been flat, he said, with just two sectors that have seen growth in recent years – electronic music and bluegrass. Those upticks come from increased sales of noninstrument performance tools, such as beat production boxes, as well as ukuleles, which are inexpensive, small, and relatively easy to play.
Consumers also have access to an increasing number of digital programs such as Apple's GarageBand, which allows musicians to experiment with beats and create tracks without ever picking up a guitar.
"You can now create music without using any traditional musical instruments at all," said Stephanie Kellar, lead marketing professor at Berklee College of Music in Boston.
Although Fender still makes about 1 million instruments each year, the company and its competitors have faced curve balls in recent years, she said, including the availability of mass-market guitars, such as those First Act Inc. sells at Wal-Mart. Prices for First Act guitars range from $30 for acoustic to $200 for electric, compared with Fender's products that start at $200 for acoustic and $500 or more for an electric.
While Fender maintains a loyal following among musicians, the company has seen a steep decline in revenue in recent years, which Mooney attributes in part to Fender's dumping of sub-brands Guild and Ovation.
Lessons learned
The guitar maker was founded by Leo Fender in Fullerton in 1946 and headquartered in Brea until 1991, when, a few months after Fender's death, it relocated to Scottsdale, Ariz. The company has its main manufacturing and production plant in Corona and has opened specialty shops in international locations, including Ensenada, Mex.
The company toyed with going public in 2012, filing for an IPO in March of that year. In that filing with the Securities and Exchange Commission, it reported sales of $700 million for the year ended January 2012. It withdrew the filing four months later, however, citing unfavorable market conditions.
The intervening years have been rough. Sales this year are projected to be up by a "high single-digit" but still about $500 million, according to Fender, well below the level reached the year before the planned IPO.
After the withdrawal of the public offering, Fender's primary investor at the time, Weston Presidio, sold its stock to the private equity arm of Hawaiian automotive retailer Servco Pacific, which in turn sold a portion of its stake to San Francisco's TPG Growth; together, the companies own a controlling interest in the business, Mooney said.
TPG wouldn't disclose the size of its investment, but Bill McGlashan, founder and managing partner of TPG, said the firm decided to buy in because Fender has an iconic brand and is an important part of the world's music culture.
"We saw an opening for Fender to embrace new opportunities in the market to connect even more deeply with its customers, particularly by leveraging technology to enable people to share their own creative content and have real interactions with a brand they love," McGlashan said in an email.
In June of last year, Mooney joined Fender from retail sporting company Quiksilver Inc., where he had served as chief executive for two years. Prior to that, he was chairman of Walt Disney Inc.'s consumer products division and spent 20 years at Nike Inc., where he worked first in the United Kingdom as a chief financial officer and later as chief marketing officer in the United States.
Upon his arrival at the guitar maker, Mooney launched a division called Fender Digital to focus on apps, websites, platforms, and tools. In June, the company debuted Mod Shop, an online customization site where customers can design their own colorful guitar or bass.
The company released Fender Tune last month, a free app that helps players tune their guitars. It is the first in what is to be a line of teaching devices the company plans to launch over the next year, Mooney said.
That's an important constituency to reach, he said, because 90 percent of first-time guitar players abandon the instrument within the first year. The 10 percent that stick to it are hooked for life and will purchase 12 to 15 guitars over their lifetime, meaning Fender has a lot to gain by increasing player retention.
"We make guitars," said Mooney. "Why don't we teach people how to play them?"
For reprint and licensing requests for this article, CLICK HERE.