Hedge Fund Operator Says Oil Man Pumped Up Career
INVESTMENT: Willem Mesdag still gushes over Marvin Davis.
Monday, May 26, 2014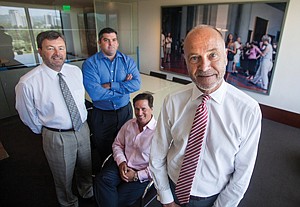 Many former Goldman Sachs Group Inc. executives leave the financial giant to run their own hedge funds. But Willem Mesdag is the only one who made that transition through the influence of legendary L.A. tycoon Marvin Davis.
His two years working with Davis gave Mesdag the confidence to start his own hedge fund, Red Mountain Capital Partners in Century City. Bouncing ideas about companies back and forth with Davis made Mesdag realize that he shared some of the oil man's savvy – and so he decided he could do well by investing his own money in small-cap companies – as long as he could find ones that needed his insight and would be willing to accept it.
"He was a brilliant investor," Mesdag said. "Being around Marvin, it became very clear to me that a lot of the skills that I had developed over 20 years at Goldman were perfect for principal investing – if you could get the company to listen to you."
Red Mountain is now 8 years old. Its early years were slow due to the financial crisis, but the fund outperformed the small-cap market in the past five years and is now ready to grow. The firm recently named two new partners, John Hill and Jack Watkinson, and is adding a handful of junior workers with a goal of tripling its assets under management, going from $400 million to north of $1 billion, so it can pursue investments in a wider range of businesses.
Mesdag retired from Goldman in 2002 at 48, after a successful career that took him from New York to Europe and eventually to California, where he became head of the New York financial firm's L.A. office.
That's when he started moving in the same circles as L.A. business leaders such as Richard Riordan and Davis, famous for his oil fortune, philanthropy and ownership of the 20th Century Fox studio and the Beverly Hills Hotel. (Davis' friend Aaron Spelling based the show "Dynasty" on the oil man's family.) Mesdag had become friendly with Davis, who was then working out of the Fox Plaza tower in Century City where Goldman had its offices.
When he left Goldman after doing all he could at the firm, he enjoyed his time off by mountain-climbing in South America. He also sailed his 60-foot yacht, the Constanter, in a transatlantic race from the Canary Islands to St. Lucia. But then he wanted to get back in the money game. Davis happened to have space in his office and one distinctly L.A. sweetener in convincing Mesdag to come aboard.
"I could keep my parking spot," Mesdag said.
He served in an informal capacity as "senior adviser" to Davis. They talked about companies that Davis thought might be good investments, and Mesdag found that they were on the same wavelength.
When Davis died in September 2004, Mesdag started seriously planning his hedge fund. As soon as his three-year noncompete agreement with Goldman expired in 2005, Mesdag brought former Goldman colleague Chris Teets on board and got to work. Mesdag contributed 25 percent of the initial nine-figure sum, a small group of investors put in the rest, and Red Mountain was in business.
After officially launching the fund in April 2006, Mesdag partnered with two private equity funds to acquire his old suite mate's eponymous oil company, Davis Petroleum Corp. in Houston. Mesdag remains lead director of the business, which is Red Mountain's only privately held investment.
Red Mountain has seven core portfolio companies, owning between 5 percent and 17 percent of the outstanding stock of each one. The fund also has several "toeholds," which are small positions in other companies that it takes to learn about the businesses before diving in with a large stake.
Since inception, the fund has delivered annualized returns to its investors of 6 percent, which is roughly equal to the performance of the small-cap Russell 2000 index. Over the last five years, the span that institutional investors tend to look at when deciding whether to invest in funds, Red Mountain has returned on average 27 percent a year to its investors, 7 percentage points higher than the Russell 2000. The period includes the recovery from the financial crisis, in which stocks have done well.
The first part of this year has been a struggle, with the fund down 12 percent year to date. However, small-cap stocks have performed poorly as an asset class, with the Russell 2000 also in the red for the year.
Small-cap opportunities
Red Mountain makes investments based on two main principles: active ownership and a focus on companies that have a market capitalization between $100 million and $2 billion.
Mesdag and Teets believe that taking an active role, and sitting on the board in particular, is a way to bring better results to small-cap companies.
"There's a lot of opportunity to work with these companies," Teets said. "Boards are typically made up of folks who aren't necessarily bad actors but can be complacent."
While the firm buys into public companies with the intent of working alongside the board to make changes, it prefers to bail early if management isn't receptive. Some funds like to fight it out. Red Mountain does not.
"If they're defensive or appear insecure, most times we'll just sell out of the stock," Teets said.
Brad Vizi, a managing director at Legion Partners Asset Management in Beverly Hills, another activist hedge fund, takes a slightly different approach. Legion won't look for battles but will fight them as necessary.
Also, Red Mountain likes to be the largest shareholder and sit on the board, while Legion is content being somewhere in the top five and doesn't need a board seat.
The second pillar of Red Mountain's strategy is its concentration on the small-cap universe. The firm is looking to raise money to pursue businesses at the higher end of the small-cap space, not to move up to significantly larger targets. Mesdag and his team believe the sea of small-cap companies that could benefit from activist investors is in no danger of being overfished.
"We rarely, if ever, run into other activists that are looking at the same ideas that we're looking at," said Hill. "It's really open season in terms of prospects."
Vizi agrees.
"The sheer breadth of the opportunity tends to be inversely related with market cap," Vizi said.
Challenges
The small-cap world does have its hazards. A lot of companies that size don't have analyst coverage so there is little visibility into them from the outside. Investing in businesses that are out of the spotlight can be very rewarding when things go well, which is how many private equity firms get huge returns. But if a small company's stock doesn't perform, Red Mountain runs more risk than with an investment in a bigger company, where other investors are more likely to step up and stabilize a struggling stock.
While Mesdag brings his years at Goldman to the table, investors might wonder how long that experience will serve the fund. They also might be concerned that the 60-year-old might reduce his personal exposure to the firm's portfolio by lowering his stake. He dismisses such concerns.
"I've got a lot of tread on my tire," said Mesdag, who added that he will remain active in the fund's investment decisions.
This November, Mesdag is returning to the Canary Islands to take the Constanter on the same race as 12 years ago. He hopes to improve on his time from 2002, when he finished fourth out of 250 entrants.
"It's a great race," he said. "It was one of the single best things I'd ever done."
For reprint and licensing requests for this article, CLICK HERE.