Hedge Fund Operator Says Oil Man Pumped Up Career
INVESTMENT: Willem Mesdag still gushes over Marvin Davis.
Monday, May 26, 2014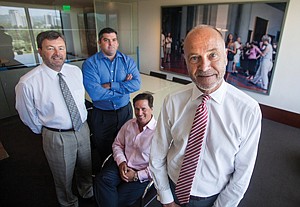 Many former Goldman Sachs Group Inc. executives leave the financial giant to run their own hedge funds. But Willem Mesdag is the only one who made that transition through the influence of legendary L.A. tycoon Marvin Davis.
His two years working with Davis gave Mesdag the confidence to start his own hedge fund, Red Mountain Capital Partners in Century City. Bouncing ideas about companies back and forth with Davis made Mesdag realize that he shared some of the oil man's savvy – and so he decided he could do well by investing his own money in small-cap companies – as long as he could find ones that needed his insight and would be willing to accept it.
"He was a brilliant investor," Mesdag said. "Being around Marvin, it became very clear to me that a lot of the skills that I had developed over 20 years at Goldman were perfect for principal investing – if you could get the company to listen to you."
Red Mountain is now 8 years old. Its early years were slow due to the financial crisis, but the fund outperformed the small-cap market in the past five years and is now ready to grow. The firm recently named two new partners, John Hill and Jack Watkinson, and is adding a handful of junior workers with a goal of tripling its assets under management, going from $400 million to north of $1 billion, so it can pursue investments in a wider range of businesses.
Mesdag retired from Goldman in 2002 at 48, after a successful career that took him from New York to Europe and eventually to California, where he became head of the New York financial firm's L.A. office.
That's when he started moving in the same circles as L.A. business leaders such as Richard Riordan and Davis, famous for his oil fortune, philanthropy and ownership of the 20th Century Fox studio and the Beverly Hills Hotel. (Davis' friend Aaron Spelling based the show "Dynasty" on the oil man's family.) Mesdag had become friendly with Davis, who was then working out of the Fox Plaza tower in Century City where Goldman had its offices.
When he left Goldman after doing all he could at the firm, he enjoyed his time off by mountain-climbing in South America. He also sailed his 60-foot yacht, the Constanter, in a transatlantic race from the Canary Islands to St. Lucia. But then he wanted to get back in the money game. Davis happened to have space in his office and one distinctly L.A. sweetener in convincing Mesdag to come aboard.
Prev Next
For reprint and licensing requests for this article, CLICK HERE.