Alternative Fuel Vehicles Get Lift From California
AUTOMOTIVE: Automakers look to tap investment to grow charging network.
Monday, May 12, 2014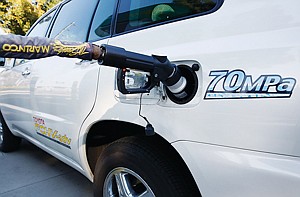 Makers of alternative fuel vehicles are finding that if they build them, people won't necessarily come. Buyers need an infrastructure to help them get there.
With that realization, the California Energy Commission approved 28 hydrogen fuel-cell charging stations earlier this month, adding to the nine existing and 17 under development now. Of the new stations, 15 will be in Los Angeles County.
Immediately after the announcement by the state, which has pledged $200 million to support the development of a 100-station network, Toyota Motor Sales U.S.A. Inc. said it would finance the building of stations being developed by Newport Beach startup FirstElement Fuel Inc., led by Joel Ewanick, General Motors Co.'s former marketing chief.
The effort is part of a push to build the 100 stations by 2020. There are four in Los Angeles thus far: one each in Torrance, Burbank, Harbor City and West Los Angeles. The 15 new ones planned would extend the network from La Canada-Flintridge to Santa Monica and from Long Beach to Woodland Hills.
Toyota, which late last month said that it would move its North American headquarters from Torrance to Texas, didn't disclose the terms of the agreement with FirstElement, but said its closely held affiliate, Toyota Motor Credit Corp., has entered into a series of financial agreements with FirstElement, and the actual amount of financial assistance will be proportional to the grant FirstElement received from the state. California has awarded $27.6 million to FirstElement so far, and the Toyota investment is subject to the approval of the energy commission.

Toyota plans to offer its fuel-cell vehicle, which was shown at January's International Consumer Electronics Show in Las Vegas, next year. Honda Motor Co. is also expected to offer a fuel-cell model next year.
A few other auto makers have also been working on launching fuel-call cars and have done some work on supporting infrastructure, but no other financing plans have been announced yet.
"Auto makers by and large don't want to be in the fuel business," said John O'Dell, senior editor of fuel efficiency and green cars at Edmunds.com, a Santa Monica automotive resource website. "That's not their business. But in this case, they learned, maybe the hard way was the electrical vehicles; you really need a healthy infrastructure if you are going to open these cars up to widespread appeal."
A typical fuel-cell station costs $1.5 million to $1.7 million to build in California, O'Dell said. However, stations that make hydrogen on site can be far more expensive.
It takes about three to five minutes to refill a fuel-cell car. Although the cost to the consumer is not clear, O'Dell believes it will be roughly equivalent to gasoline.
Electric model
The makers of fuel-cell vehicles are the same automotive giants that have watched their efforts to sell plug-in electric cars lag, and they are wary of entering a market where fueling infrastructure is behind vehicle supply. Even with all the infrastructure investments, O'Dell expects hydrogen fuel-cell cars to have slow early sales, too.
However, he added that it took conventional hybrid cars, now 3 percent of the market, five to seven years to become mainstream.
Those who bet on plug-in electric cars are trying hard to improve infrastructure, too.
A bulky, portable charger generally comes with a battery electric vehicle. But charging is often too slow, leaving car owners to install home stations that charge quickly but are not portable. They also often need stations at their work, and so there are estimates that for every electric vehicle, 1.5 charging devices are needed.
AeroVironment Inc., a Monrovia manufacturer of unmanned aerial vehicles, also makes charging devices. It recently launched TurboCord, a product aimed at solving some of the problems. At less than five pounds, it's small and portable and charges as fast as charging stations.
"EVs, long term, are going to become more and more a part of the car industry, but changes like this takes time," said Wahid Nawabi, senior vice president and general manager of AeroVironment's efficient energy systems, adding that hydrogen fueling stations are, at this point, too expensive.
Nawabi said AeroVironment has spotted huge opportunities in providing auto makers efficient charging devices.
Yet Toyota seems to be more confident about the prospect of hydrogen fuel-cell cars, which leave only water as an exhaust product, do not have the range restrictions that limit plug-in electric cars and can be used just like gasoline vehicles.
"We are encouraging and we hope that more manufacturers join this infrastructure engagement," said Craig Scott, national manager of Toyota's advance technologies group.
"There are pluses and minuses for both types of vehicles," said O'Dell. "There are places for both of them in the market, but no one should expect that we are going to see some sudden runaway."
FirstElement said in a statement that its first 19 stations will be up and running in fall 2015, prior to the launch of fuel-cell vehicles from various manufacturers.
For reprint and licensing requests for this article, CLICK HERE.