JustFab Acquires FabKids to Expand Into Children's Clothing
Friday, January 18, 2013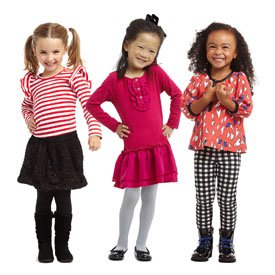 When Adam Goldenberg co-founded subscription ecommerce site JustFab, he admittedly didn't have much fashion experience. But with the El Segundo retailer's latest acquisition, Goldenberg is working in his wheelhouse.
Goldenberg, a father of two, announced Friday that JustFab has acquired children's ecommerce service FabKids for an undisclosed price.
"Being a father of a 9-month-old and a 3-and-a-half-year-old, I could see this is something that makes sense for subscription commerce," Goldenberg said. "What really cemented the deal is that the JustFab and FabKids businesses share some attributes."
In addition to sharing a similar name, both companies operate with similar business models. JustFab charges a monthly subscription fee in exchange for a personalized selection of accessories. FabKids, meanwhile, offers a subscription for a hand-selected outfit ever month.
The companies are also both attached to celebrity names. Former model and fashion executive Kimora Lee Simmons acts as president and chief stylist of JustFab, while actress Christina Applegate has a creative partnership with FabKids.
As a division of JustFab, FabKids, which is based in San Francisco, plans to launch a line for boys – it currently only sells clothing for girls under the age of 10 – and expand internationally.
"We started with girls, which is a slightly larger part of the kids clothing business," said Andy Moss, FabKids founder and chief executive. "We'll be launching boys clothing as part of JustFab this summer."
JustFab plans on marketing the FabKids service to its more than 10 million members, 25 percent of whom are also moms.
Subscription retail businesses have become a hot ticket in Los Angeles and the children's clothes market is no exception. Wittlebee in Culver City charges a subscription fee to send a box of children's clothing every month.
FabKids now has the advantage of working with one of L.A.'s most successful subscription businesses. Goldenberg said JustFab's revenue grew to $100 million last year and fourth quarter sales were up more than 250 percent from the same period last year
But what happens when the kids grow out of the kid-oriented business? Goldenberg said he hopes they'll convert into JustFab members someday.
"We might be introducing the true next generation of ecommerce customer," he said with a laugh.
For reprint and licensing requests for this article, CLICK HERE.