FILM: #OSCARSSOWHITE CAME TO DEFINE FOUR-YEAR TENURE.
President Helped Recast Academy's Role
Friday, July 14, 2017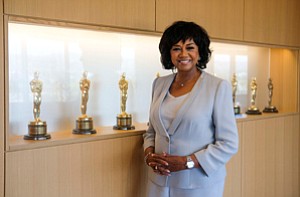 Cheryl Boone Isaacs is preparing to step down as president of the Academy of Motion Picture Arts and Sciences board of governors next month after a four-year term that some consider the most controversial in the organization's 90-year history.
Isaacs, 67, the academy's first black and third female president, was faced with the seemingly ironic challenge of convincing the public – and many in the industry – that the academy was not a racist institution.
The furor erupted after all-white slates of nominees were put forth in the four major Oscar acting categories in 2015. A social media campaign dubbed #OscarsSoWhite ensued, prompting a number of emotional comments from Hollywood power players, with some, including Will Smith and Jada Pinkett Smith, choosing to boycott the ceremony.
Isaacs said during a recent interview at the academy's Beverly Hills headquarters that the organization got swept up in a national – and international – debate over diversity.
"Because there is a lot of interest in the organization, and in the Oscars worldwide, it pushed us further into the spotlight of an existing discussion going on in the United States," Isaacs said. "It brought the debate into the glamour space, into the celebrity space."
She embraced the circumstance.
British-Nigerian actor David Oyelowo starred as Martin Luther King Jr. in the biopic "Selma," which received a best picture nomination that year. Despite critical acclaim, Oyelowo was not nominated for best actor. "Selma" director Ava DuVernay, who had earned the distinction of being the first black woman to direct a best picture-nominated film, was not nominated for best director. The perceived double snub became a centerpiece for the #OscarsSoWhite movement.

Oyelowo said he can't remember which of the many post-Oscar nomination parties put him in the same room with Isaacs, but he did recall the academy president was quick to agree to a private meeting away from the party circuit to talk about the controversy.

"I think it was something that took the academy by surprise, and it took (the 'Selma' team) by surprise," Oyelowo said. "Everywhere I went, I was being asked to give voice to this thing. I also felt like we were being pitted against each other, the film and the academy."
The actor said his discussion with Isaacs wasn't going to come close to solving the academy's knotty problems of diversity and inclusion, but he noted the frank discussion helped the "Selma" movie makers and the academy figure out how to speak with one voice going forward.
Prev Next