A River Runs Through It
Development is flooding into neighborhoods along the LA River
Friday, July 5, 2019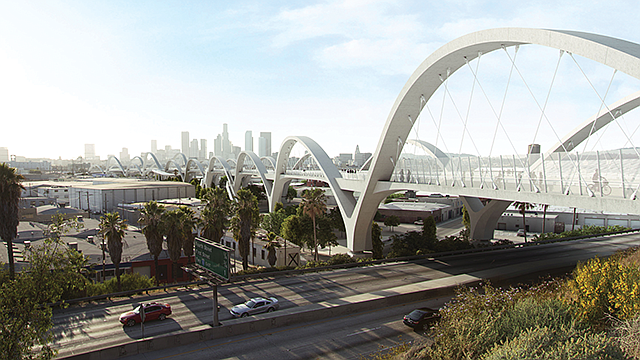 In the early 20th Century, the Los Angeles River was lined with concrete — a feat of modern engineering at the time that served to reduce flooding in the region during heavy rains.
Today, the concrete-chic drainage channel has become one of the area's hottest attractions for builders and developers. A number of office, residential and mixed-use properties are rising along the L.A. River, ranging from rehabbed industrial buildings to brand new developments.
Areas seeing a riverside boom include the Arts District, Lincoln Heights, Frogtown and Glassell Park neighborhoods. And as major projects rise, other amenities are flowing in, including cafes, bike-rental shops, bars and athletic facilities.
"It's been going through a lot of gentrification," Greg Tuszynski, a vice president at Colliers International Group Inc., said about the river and the surrounding area.
Among the driving forces behind the redevelopment are a series of extensive infrastructure improvements, including new bridges connecting one side of the river to the other and new parks lining the water's edge.
The Sixth Street Viaduct, which connects the Arts District and Boyle Heights, was built in 1932 but began to deteriorate soon after. A $482 million project is underway to replace the viaduct and add a park.
According to city officials, it's the largest bridge project in the city's history with funding coming from the Federal Highway Administration, the California Department of Transportation and the city. The bridge is being designed by L.A. architect Michael Maltzan.
Mary Nemick, a spokeswoman for L.A.'s Bureau of Engineering, said the bridge will have wider sidewalks, bike lanes and a 12-acre park. Ramps off the bridge will connect to a park below that will house a plaza, skate park and public art.
The project is expected to be completed in 2022.
Big projects
Other older, rundown properties are getting renovated, including the Lincoln Heights Jail and a former Sears building. The 42-acre parcel at Taylor Yard in Glassell Park, formerly owned by the Union Pacific Railroad, was purchased by the city in 2017 for $60 million and is being redeveloped into a park. The plans also include a bikeway and pedestrian bridge.
Hundreds of units of multifamily housing are also going up along the river.
The Arts District is a hub for much of the new development.
New York-based developer V.E. Equities and the Gallo family are planning a 1.8-million-square-foot mixed-use development near the river called 670 Mesquit. The project will include 308 housing units, a 236-room hotel and 136,000 square feet of commercial space.
For reprint and licensing requests for this article, CLICK HERE.
Prev Next