L.A. Reaches Deal to Host 2028 Summer Olympic Games
Monday, July 31, 2017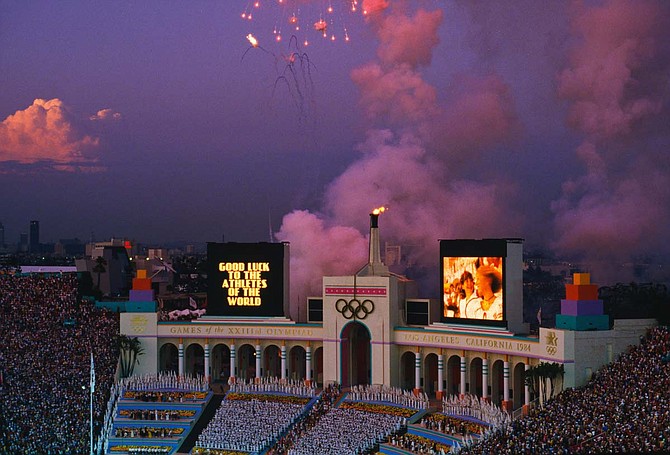 The L.A. Olympic bid committee announced Monday that it had reached a deal with the International Olympic Committee to host the 2028 Summer Olympic Games.
In exchange for Los Angeles agreeing to cede the 2024 Summer Games to Paris, the IOC has agreed to advance roughly $300 million more in funds to the yet-to-be-formed Los Angeles Olympic Organizing Committee to offset increases in costs and to increase access to youth sports. That would bring the total IOC contribution to about $2 billion.
The deal must still be approved by the Los Angeles City Council and the U.S. Olympic Committee Board of Directors. Then the IOC, Los Angeles and Paris must craft a formal three-way agreement that Paris will host the 2024 Summer Olympic and Paralympic Games and Los Angeles will host the 2028 Games. This agreement is then expected to be confirmed and the formal awarding of the 2024 and 2028 Summer Olympic Games to be made at the IOC's next session on Sept. 13 in Lima, Peru.
But with Monday's announcement, all of these steps are expected to be formalities, so barring any unexpected developments, L.A. will be awarded the 2028 Summer Olympic Games.
"This is an historic day for Los Angeles, for the United States and for the Olympic and Paralympic Movements around the world," Los Angeles Mayor Eric Garcetti said in a statement. "Today, we take a major step toward bringing the Games back to our city for the first time in a generation and begin a new chapter in Los Angeles' timeless Olympic story."
Olympic bid committee spokesman Jeff Millman said that under the agreement, about $160 million would be spent up front on youth sports activities throughout Southern California.
Millman added that under the agreement, the Los Angeles Olympic Organizing Committee would receive the IOC's 20 percent share of any surplus revenue from the Games in addition to the 60 percent share the committee already would receive. While most Olympic Games have not generated surpluses, the 1984 Summer Games held in Los Angeles did leave a surplus of about $225 million, most of which has been spent on youth sports.
The agreement – especially the youth sports funding – was welcomed by IOC president Thomas Bach.
"We are very happy that as part of this Host City Contract, we are able to expand the impact of city youth sports programming and encourage the healthy lifestyle of Angelenos for the next 11 years," Bach said in a statement. "We are very confident that we can reach a tripartite agreement under the leadership of the IOC with LA and Paris in August, creating a win-win-win situation for all three partners."
L.A.'s $5.3 billion bid, which includes the IOC funding and relies heavily on private money, requires the construction of only one temporary venue – for rowing events. Bid committee officials last year ditched a $1 billion-plus plan to build a new Olympic Village and instead use existing dormitories and housing at UCLA.
L.A.'s reliance on existing venues and its comparatively slimmed down budget – previous Olympic Games have run up tabs into the tens of billions of dollars - has made it an especially attractive bid as other cities and countries have shied away because of the costs.
Los Angeles bid committee Chairman Casey Wasserman said in a statement that the committee put forward a "no surprises Games plan with the enthusiastic support of the people of L.A. … Thanks to the IOC's courage and vision in creating a mechanism for this unprecedented dual award, both L.A. and Paris now stand together ready to serve the Olympic and Paralympic Movements for more than a decade."
Public policy and energy reporter Howard Fine can be reached at hfine@labusinessjournal.com. Follow him on Twitter @howardafine.
For reprint and licensing requests for this article, CLICK HERE.