Homeless Hurdles
Projects hoping to tap city bonds mull risk with Measure S looming
Friday, January 20, 2017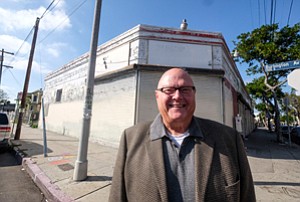 The last few months have been a roller coaster for local affordable housing developer Robin Hughes.
Hughes, chief executive of downtown's Abode Communities, was elated on Nov. 9 that L.A. voters overwhelmingly approved a $1.2 billion bond measure to build thousands of apartment units for homeless people. Abode has four projects with a homeless housing component in the pipeline that could receive a chunk of those funds.
But Hughes is now nervous that much of that Measure HHH money could be off-limits for at least a couple of years if enough Angelenos vote yes on Measure S, the anti-development Neighborhood Integrity Initiative, on the March 7 ballot.
"If Measure S passes, it will definitely impact the production of projects that are 100 percent affordable housing, which is what we do," she said.
The measure imposes a two-year moratorium on approvals for projects in the city of Los Angeles requiring zone changes or plan amendments. While it does contain an exemption for those that are entirely designated for low-income tenants, that exemption does not apply if the project requires a General Plan amendment.
Those for and against Measure S dispute just how impactful this would be.
Measure S proponents say the concerns are overblown and that the exemption written into the measure for 100 percent affordable housing projects would allow most projects of that sort to go through.
"We wrote that into the measure to ensure that the production of affordable housing would continue," said campaign manager Jill Stewart.
That hasn't reassured low-income housing developers such as Hughes and Bob Buente, chief executive of 1010 Development Corp., also located downtown.
Buente said he's concerned Measure S could derail his plans to receive bond money from Measure HHH for future homeless housing projects.
"Measure HHH will satisfy a lot of pent-up demand for financing for homeless housing projects," said Buente, who specializes in projects to house homeless seniors, such as one planned in Pico-Union. "But if Measure S passes, then there's a good chance that financing is dead for at least two years and who knows after that?"
Even the city of Los Angeles itself has chimed in, with officials from Mayor Eric Garcetti on down saying Measure S would indefinitely delay approvals for 11 of 12 city-owned properties it has proposed be converted into homeless housing projects. Dozens of developers have already submitted qualifications to bid on those projects.
The timing of the vote on Measure S is impacting development plans. It nears just as city officials are laying the groundwork to issue the first bonds authorized by voters' passage of Measure HHH.
That measure authorizes the sale of $1.2 billion in bonds to build an estimated 10,000 housing units for the homeless over the next 10 years, along with some facilities for drug treatment and mental health services for the homeless. The bonds are to be repaid with a property tax increase of about $10 for every $100,000 in assessed valuation.
An oversight committee is being set up, as is a detailed implementation program. The first bonds could be sold in July, according to Yolanda Chavez, assistant city administrative officer. Those bonds will go to projects that already have their entitlement approvals and therefore would be grandfathered in before Measure S could take effect if voters pass it, Chavez said.
In need of approval
The trouble could begin with the second set of bonds, to be sold later this year or early next year. That's because many of the projects that likely would be considered for that round of bond funds don't already have their approvals and thus could come under the Measure S moratorium.
The ballot language for the measure states that the exemption applies to any 100 percent affordable unit housing project "that seeks a zone change or height district change only, but not a General Plan amendment."
Both sides dispute how much General Plan amendments would come into play for such projects. Proponents downplay this, while opponents have seized on it as one more reason to reject the measure.
The city's General Plan sets the basic parameters of development that are allowed for properties.
For example, a property designated as commercial under the General Plan can include several different zoning designations, from "restricted commercial" (for small commercial buildings) all the way to "unlimited commercial," which would include office towers and mixed-use projects. But there are certain types of General Plan designations that don't allow for any residential use without an amendment, said Dave Rand, partner at the land-use law firm of Armbruster Goldsmith & Delvac in West Los Angeles.
"If a property is classified as industrial or government use, residential units are not allowed on that property and an amendment must be sought," Rand said.
That's why most of the city-owned sites being proposed for homeless housing – including two former fire stations and a municipal yard – would need General Plan amendments and therefore would be subject to the Measure S moratorium.
Stewart said projects requiring General Plan amendments are rare.
However, Abode has at least two planned affordable housing projects on sites with an industrial designation that would almost certainly require General Plan amendments, Hughes said. Neither of those projects is slated to house homeless people.
So far, Hughes said, none of the four homeless housing projects Abode has in the pipeline appears to require a General Plan amendment.
Yet she said that historically about one-third of Abode's projects have required such amendments. With land so scarce in the L.A. area, it's likely that future projects for the homeless would be on parcels that would require a conversion of use, triggering the need for General Plan amendments.
To minimize the impact if Measure S passes, the city needs to speedily update the 35 community plans that make up its General Plan so that development can resume after the moratorium has ended, she said.
"Updating those community plans has got to be a priority now, so that we can proceed with these projects," Hughes said.
For reprint and licensing requests for this article, CLICK HERE.