Family Fashion
Friday, December 1, 2017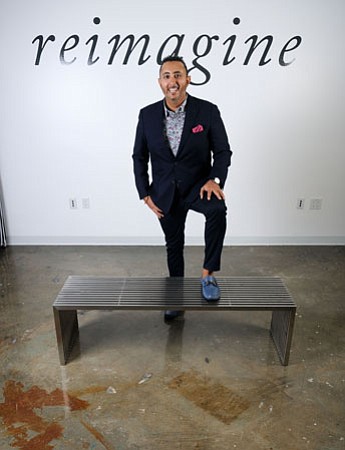 Shaan Sethi | Jaanuu
Shaan Sethi, chief executive of El Segundo-based Jaanuu, a purveyor of fashion-forward scrubs for medical professionals, called the company "a brother-sister dream."
That's because Jaanuu's co-founder is Sethi's sister, pediatrician Neela Sethi Young.
The kid fashionista who used to give Sethi fashion advice grew up to be a doctor who believed the homely, shapeless scrubs she was required to wear were woefully behind the times.
That was enough for Sethi – a former investment banker who also had worked with apparel companies during his years at Ron Burkle's investment company Yucaipa Cos. – to jump into a family business. The pair founded the company in 2013.
"We were attending to Neela's desire to find the intersection of looking good, feeling good and doing good," he said. "When you look at what professionals are purchasing and wearing to work every day in corporate America, why doesn't the health care worker, or the masseur, deserve the same?"
Sethi added that Jaanuu's fashions inspired a wave of selfies with professionals wearing the scrubs. Those "scrubbies" helped launch the company's success.
"I had never seen a nurse post a photo of her or himself and say, 'I feel beautiful today,'" Sethi said. "I think that's what really led to the success of this business, this viral component."
Sethi was determined not just to reinvent scrubs, but to re-imagine the business model of his investment banking years.
"I came from the world of Wall Street, where there are strict rules of hierarchy," he said. "Anything I disliked about corporate America, I made sure we don't do it at Jaanuu. We try to cultivate this spirit of re-imagination. That's why we have that word on the wall."

That means nurturing a culture of family. The Hindi word Jaanuu is an endearment parents often use for their children.
"Jaan means life, and Jaanuu means that person is as important to you as life," Sethi said.
Sethi said he finds himself pushing the boundaries of personal style as well.
"Coming from an Indian family, oftentimes you are expected to be a doctor or an attorney or a banker, to take the path of least resistance," he said. "But for me, whether it's my hair, or my shoes, or my shirts, or the company I founded, everything I've done is with the mindset of testing the boundaries.
For me, it's about being fun, being kind of courageous, and sort of pushing the envelope."
– Diane Haithman
For reprint and licensing requests for this article, CLICK HERE.