Photo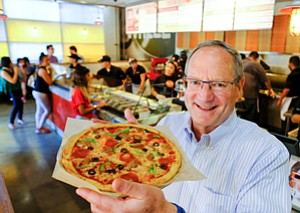 Fuller Plate: Blaze Pizza CEO Jim Mizes.
Stories this photo appears in:
Restaurants lead way as franchisers expand base in growth year
Franchisers, particularly restaurants, in L.A. County added units to grow numbers.
West L.A. private equity firm Brentwood Associates took a minority stake this week in Pasadena's Blaze Pizza, according to the restaurant chain's spokesman Joshua Levitt.
DINING: Blaze remains hot with franchisees as chain maintains rapid expansion.
Fast-casual chain Blaze Pizza is still bringing the heat through its expansion plans.