Photo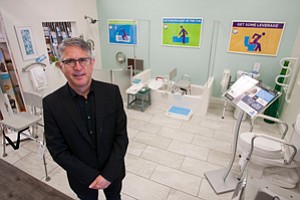 Taxing Situation: Mobul's Wayne Slavitt at his Long Beach health product retailer.
Stories this photo appears in:
COMMERCE: Survey sees costs jumping even higher in 2016 with new taxes.
It might not be what local business owners want to hear, but the cost of doing business in Los Angeles has gone up yet again and will likely jump even more next year, according to a survey to be released this week. The annual Kosmont-Rose Institute Cost of Doing Business Survey has classified 46 of the 74 Los Angeles County cities surveyed as either "high cost" or "very high cost" in terms of tax and fee rates for businesses in 2016. That's up from 45 last year and 44 the year before that, representing a steadily increasing trend. Even worse, eight area cities – including Los Angeles, Beverly Hills, Santa Monica, and Culver City – rank among the 20 most expensive cities in which to do business in the Western United States. That's also up one from last year.