Photo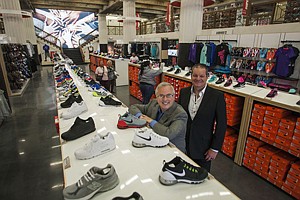 Best Foot Forward: Mark Archer, left, and Dan Nuthals at Warehouse Shoe Sale's new flagship store in Westlake.
Stories this photo appears in:
RETAIL: Warehouse Shoe Sale prepares expansion plan based on setting up in low-cost properties in working-class locations.
Warehouse Shoe Sale has stepped past malls to set up standalone shops in working-class neighborhoods.