Photo
Chief Executive Larry Kosmont of Kosmont Cos. at his downtown L.A. office.
Stories this photo appears in:
COMMERCE: Survey rates most L.A. cities as high cost.
Rising costs push more than half of L.A. cities into business-unfriendly territory, survey reports.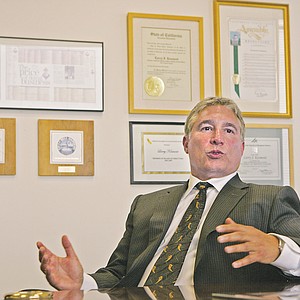 After working for years in municipal governments, economic development consultant Larry Kosmont now helps companies find business-friendly cities.
Economic development guru Larry Kosmont learned the ins and outs of government in city hall jobs.