Opportunity Zones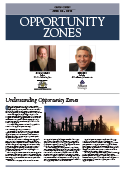 Custom Content from the Los Angeles Business Journal
---
Inside this supplement:
Understanding Opportunity Zones
Opportunity Zones (OZs) are part of a developmental program that promotes the long-term investment in, and development of, low-income urban and rural real estate across the United States. Each OZ is a selected census tract...
Read More
---
"THE ONE": "The Poster Child of the Opportunity Zone Initiative Nationwide"-Domestic policy Council at the White House.
What started as a needle in a haystack, two pages in the enormous 2017 Tax Cut and Jobs Act Law, has now burgeoned into an industry within the Commercial Real Estate community...
Read More
---
What to Expect When You are Expecting Opportunity Zone Fund Results
Opportunity Zones have the investment world buzzing with interest and excitement by providing the opportunity to provide investors the ability to defer and reduce the rate at which they will be taxed...
Read More
---
New Partnership to Promote Investments in Opportunity Zones
The Mastercard Center for Inclusive Growth and Accelerator for America (AFA), a non-profit consortium of mayors, labor and business leaders, and urban and economic development experts...
Read More
---