LA Airports Report Only 1.7% Passenger Traffic Gain From October to November
Monday, January 10, 2022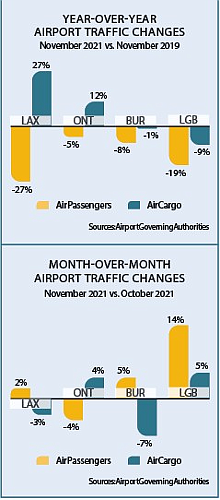 Air travel at local airports inched up 1.7% in November from October as the normally busy Thanksgiving travel season was hampered somewhat by the start of another Covid-19 surge and flight cancellations.

The four commercial airports serving Los Angeles County — Los Angeles International, Ontario International, Hollywood Burbank and Long Beach — had 6.14 million passengers go through their gates in November, up from 6.03 million passengers in October but still short of the July pandemic-era peak of 6.7 million.

The November passenger count at the four airports was up 153% from the same month in 2020 when people were still more fearful of travel during the pandemic. But the November total was still down 23.9% from pre-pandemic November 2019.

Ontario International Airport remained the region's star performer in November as its total passenger count of 475,000 was down only 5.2% from pre-pandemic November 2019. For the first 11 months of 2021, air passenger totals were down 20% from the same period in 2019.

"Ontario International continued on its strong recovery path in November despite the persistence of the global coronavirus pandemic and continues to lead among airports of its size and larger," Julia Gouw, a commissioner with the Ontario International Airport Authority, said in the airport's November data release.

Turbulence into December
The picture was not quite as bright at LAX, by far the largest of the four airports, where November passenger traffic was 4.93 million, down 26.8% from November 2019. The domestic passenger count of 4.05 million was down roughly 16.4% from November 2019, but international passenger traffic of 877,000 was still down 53.5% from two years ago. That steep plunge in international travel persisted despite President Joe Biden's administration lifting many international travel bans in early November.

Preliminary December air passenger figures show LAX losing ground as it tries to get back to pre-pandemic levels. According to figures compiled by the Transportation Security Administration and released by Los Angeles World Airports, roughly 2.5 million passengers went through TSA screenings in December on the way to board aircraft. That's down 28.6% from December 2019, according to LAWA spokesman Heath Montgomery.
 
The TSA screening figures are typically less than half of the total passenger traffic: They don't count arriving passengers or passengers who transfer to other flights without going through security.
 
Justin Erbacci, LAWA's chief executive, said passenger counts during the holiday travel period were less than what officials had been hoping for.
"While the holiday travel season brought us some of the busiest days of the last 20 months, cancellations and delays caused by the pandemic and bad weather have, unfortunately, been a reality for many airlines and airports over the past few weeks, and resulted in fewer people flying over the holiday period than expected." Erbacci said. "We remain focused on providing our guests with safe, clean facilities as we enter the new year with high hopes for increased passenger numbers."

Rounding out the passenger totals at local airports, Hollywood Burbank Airport's total of 483,000 passengers was down 8% from pre-pandemic November 2019 while Long Beach Airport's count of 250,000 passengers was down nearly 19% from the same month two years ago.

However, both Burbank and Long Beach November passenger counts were up more than 300% from November 2020, by far the largest year-over-year percentage gains among the four airports.

Slight cargo drop
On the cargo side, nearly 335,000 tons of cargo went through the four airports in November, down about 1.5% from October.
Some of that drop could be due to November having one less day than October. Also, November saw an easing of the cargo crunch at the ports of Long Beach and Los Angeles, which may have lessened the need to shift perishable or high-priority goods to aircraft.
November's cargo total was still robust compared with recent historical levels. It was up 5.1% from November 2020 and 22.7% from November 2019.
For reprint and licensing requests for this article, CLICK HERE.