Malka Media Aims to Bridge Media, Financial Worlds
Monday, January 3, 2022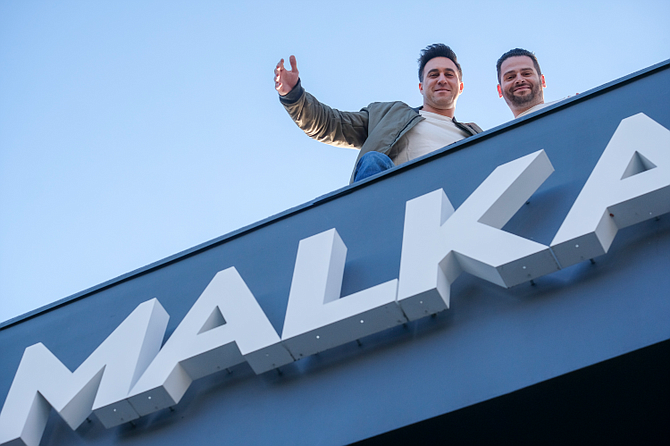 A content studio and digital bank might seem like an unconventional marriage, but Malka Media Group's acquisition by MoneyLion Inc. is part of a long-term plan by Malka's leadership. It also reflects larger trends in media, such as the surge in interest in nonfungible tokens and providing educational content across various platforms.
 
Malka Media Group, which has dual headquarters in Santa Monica and Jersey City, N.J., was acquired by New York City-based MoneyLion Nov. 16 for approximately $75 million. Malka Media's founders Louis Krubich and Jeff Frommer started laying the groundwork for their bridge between the media and financial worlds, however, long before Krubich, Malka's chief executive, and Frommer, its president, formally began working together.

Malka reported generating more than 1 million pieces of content in 2021, and its digital content increased sixfold over the year leading to its acquisition. The company has produced six feature documentaries, more than 30 digital series and more than 1,000 livestreams to date. Its talent pool includes more than 30 professional athletes, and clients include Netflix Inc., Showtime, Amazon Studios and many others across television, film, streaming and social media. Malka told the Business Journal it retains its clients at a rate of 99%.

Malka has grown from three employees to 170 since its 2012 founding, and it expects to hire at least 30 more people in the beginning of 2022.
 
In its investor presentation about the acquisition, the company projected more than
$25 million in 2021 revenue, and Krubich indicated that number was a result of 50% to 100% growth each year since the company's launch. Krubich and Frommer have continued to lead day-to-day operations since the acquisition.

Origin story
Malka, named after Krubich's Hebrew name, was founded when he worked in production at MTV hiring companies to create the kind of content Malka would eventually provide. Frommer, a classmate of Krubich's from Rutgers University–New Brunswick, was an associate vice president at computer software company Adobe Inc. when he cut a check that helped Krubich land some of his initial investments.
Their plan was to merge Krubich's production experience with Frommer's business acumen, and their timing could not have been more fortuitous; an influx of inexpensive, easy-to-use equipment around that time, from DSLR cameras to editing software, enabled them to target clients whose needs existed outside of traditional media and promotional models.

"When companies and brands started seeing a need within their own organizations for content and assets, whether it was public-facing assets, internal assets, sales assets, inter-company things, business-to-business needs, we were able to do it at scale," Krubich said.
 
Frommer added, "There's a motto that we try to live by, which is the value of the story is not in the production quality but is in the quality of the story. You don't have to spend a lot of money to tell a great story, but you need to be agile enough that when something happens that your brand needs to participate in, you need to be able to inject yourself into that conversation."

The co-founders said they recognize that entering the content production space now would be a much different challenge, given how smartphones have enabled users to shoot, light, color and edit content all on one handheld device. But when Malka launched, it immediately distinguished itself by being more nimble financially and logistically than older production companies that, at the time, were applying more traditional Hollywood methodologies, such as spending six weeks and $100,000 to create a 30-second piece of content that was going to go on Snapchat and then disappear.
 
With one of the company's first big clients, Showtime Sports, Frommer and Krubich demonstrated their aptitude not just for creating content quickly but for enabling clients to participate in a trending conversation. Covering basic event formalities to help promote Showtime's weekly boxing events, Malka was quickly able to grow its deliverables from short promotional videos they called "workout porn" to a list that now includes an all-access show and a regular livestream of every news conference and weigh in.

Content verticals
Krubich and Frommer insist they would have eventually added cryptocurrency and real estate content as verticals alongside the company's sports, comedy, and health and wellness content regardless of MoneyLion's acquisition of Malka.
 
But the acquisition gave Malka additional funding and infrastructure to grow at a scale it couldn't when Krubich and Frommer were bootstrapping young entrepreneurs. In addition to supporting its new owners, the company saw the merger as an opportunity to break ground with content in another space where it didn't exist or where, at least, it wasn't yet driving vital cultural conversations.
 
"When you have NFTs being bought for hundreds of thousands of dollars, and the majority of individuals in this country don't understand what it is, more stories need to be told, and more education needs to exist," Krubich said.

"If you believe that creators are driving commerce, and that the next generation doesn't believe in the existing financial infrastructure, and they're getting educated from people on TikTok and Snapchat and Twitter and podcasts, then for a digital bank to be able to offer better financial decision-making, you really need to be a part of this creative marketplace," Krubich added.
 
Frommer explained that he doesn't view Malka's purpose as limited to promoting new financial products such as NFTs or cryptocurrency but instead, promoting financial literacy for members of a generation that either doesn't understand its infrastructure or has grown disillusioned by legacy institutions.
 
"For this next generation of hardworking Americans, where are they going to be educated?" he asked. "Where are they going to learn about things from a curated place where it feels like I'm not eating my broccoli, I'm being entertained while I learn?"
 
He cited the success of social media creator "Miss Excel" Kat Norton. Frommer estimated Norton has made more than $1 million teaching her more than 569,000 followers on Instagram and over 705,000 followers on TikTok how to use the spreadsheet software while dancing in short videos. Malka client Matt Gresia, whose tagline is "helping you understand all things money," has more than 3.8 million followers on TikTok alone.

Frommer counts a self-produced "network of shows" covering a variety of topics as part of the company's future plans — an initiative that gives "creators a platform and a voice to live in an omnichannel world." But it's the interconnectedness of Malka's content that he argued is what keeps the company ahead of the curve and part of the cultural conversation.
 
"What we've done has always been on the cutting edge of agile storytelling whether it's Hollywood, for digital, or it's (user generated content) for endemic social channels," Frommer said. "How do you participate in that conversation faster? It all needs to be collaborative if we're going to produce things at the speed of culture. So, there's a variety of needs that brands today need, and they need a partner that has all of them."
For reprint and licensing requests for this article, CLICK HERE.