Curling Center Reflects Vernon's Push to Grow Beyond Industrial Reputation
Monday, January 3, 2022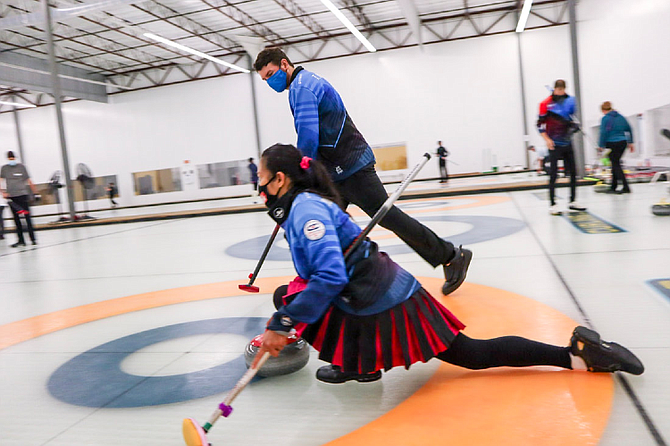 Peter Dohm's list of top places to build an ice curling facility in 2019 did not include Vernon. But after touring some 50 locations throughout Los Angeles County, the 5.2-square-mile manufacturing hub surfaced as the finalist.

"Their motto is 'Vernon means business,' and they absolutely do," said the former Space Exploration Technologies Corp. communications engineer who founded the Southern California Curling Center with Matt Gamboa and Liza Beres.
Initially, Dohm was hesitant about Vernon.

"I'm a Los Angeles native, and if you were to ask me three years ago what I thought about Vernon, I wouldn't even been able to tell you anything other than it was always in the news for past issues with the government and that sort of stuff," he said. "But essentially, they welcomed us with open arms."

Part of the city's appeal was, despite its small size, it has its own permitting department, police force and fire department.
"Everything that you can dream of," said Dohm. "What would have taken eight months in the city of L.A. took eight weeks in the city of Vernon because they're streamlined, and they take care of business."

Welcoming nonmanufacturing businesses like the curling center is part of Mayor Melissa Ybarra's plan "to bring back residents into the city," which is home to some 1,900 companies but has fewer than 150 registered voters.

"With Vernon attracting so many businesses and (55,000) commuters day in and day out, we also want to make it a desirable place to live," Ybarra said. "I grew up here, I live here, and I want to continue to grow here in Vernon. … Our long-term goal is to … develop more housing and more attractions so that we can keep our businesses (and) residents growing. ."

Changing landscape
Ybarra became mayor in 2017, following in the footsteps of her grandfather Thomas, who served on the City Council from 1966 to 2009, and her father, Michael, a councilman from 2012 until his unexpected death in 2014.

"When he passed away, I made the decision to (run), not for the family name, but just because I wanted to continue the good in the city of Vernon and be part of it," she said.

Ybarra, one of Vernon's roughly 250 residents, said she has watched the city's business roster change over time with some dye houses and furniture manufacturers moving to countries "where it's easier for them to do business without the restrictions."
She has also witnessed companies, such as packaging and essential goods manufacturers, return to Vernon from overseas in recent years to avoid shipping delays and increased costs.
 
Then there are long-timers, including Tapatio Foods, F. Gaviña & Sons Inc., Baker Commodities Inc. and Smithfield Foods Inc.-owned Farmer John, each with decades-old ties to the city. Ybarra attributes their loyalty to her team's "first-class" customer service and lower-than-average utility rates provided by the Vernon-owned water and power department.

"The role of the city is not only to help support but ensure their success by helping them grow their products and services," she said of the city's relationships with local businesses.
 
Recent transplants to Vernon include LA Roller Derby Cooperative Inc., doing business as Derby Dolls. The banked-track roller derby league moved from El Sereno in 2018 after running into problems with obtaining permits from the Los Angeles Department of Building and Safety to hold their bouts.
 
"I'm really happy for the curling center, and I'm really happy to have the Derby Dolls … because it's recreational, and who thinks about Vernon as recreational?" Ybarra said.

Dohm said his new clients at the curling center often express similar sentiment, with some wondering where the city is and others seemingly put off by its image as an industrial mecca.

"People say, 'Why Vernon?' but at the end of the day, Vernon is central for everyone," he said. "We're right off the East L.A. Interchange."
He explained that some have a perception or expectation that a mostly industrial area might not seem as consumer friendly.

"But when they come in, the city's clean, the roads are taken care of with the parcel tax, they have their own police department. … Once the regulars got over that stigma, if you will, they love it here," he said. "They're able to get here in good time, and they feel safe here. Sometimes we go until 11 p.m. or midnight, and people don't have issues walking in the parking lot to their car. They feel comfortable in Vernon."

Built-in base
In addition to the perception about the center's location, Dohm and his partners had to contend with pandemic-related delays before opening. They signed their lease right before the lockdown went into effect in 2020 and had to wait nearly a year to begin construction of the ice rink.
 
To complicate matters, the small business loans they were counting on never panned out as "no one was taking any risk." Dohm ended up "finding a great contractor" in March, he said, and started laying the ice around June 1. The grand opening was held July 23.,
 
The curling center's 20 part-time coaches provide learn-to-curl lessons while Hollywood Curling, Orange County Curling Club and Curl San Diego run leagues at the Vernon facility.

Dohm said the three clubs he's partnered with brought a "built-in member base and name brand that they already had worked on."
He got the idea to open the curling center while taking lessons with Hollywood Curling.

"There was a passionate base of curlers in the area, but they were way down on the list of (priorities) for ice rinks — they were only getting ice time at 10 p.m. on Saturday nights at Pasadena or 6 p.m. on Sundays in Valencia," Dohm said. "I saw that this could be a business opportunity that could actually take off and be profitable."

He's also looking forward to the Winter Olympics taking place in Beijing next month — an event that usually provides a "big bump" in interest in curling.
"As a kid, I've watched curling on TV, and I wished I had a chance to try it out, but there wasn't a place to do it at the time," Dohn said. "Now, kids in the L.A. area that are watching the Olympics in February will have a place to try it out, the chance that I never had."
For reprint and licensing requests for this article, CLICK HERE.