Airdrop Service Dash Delivers Proof of Concept
Monday, September 27, 2021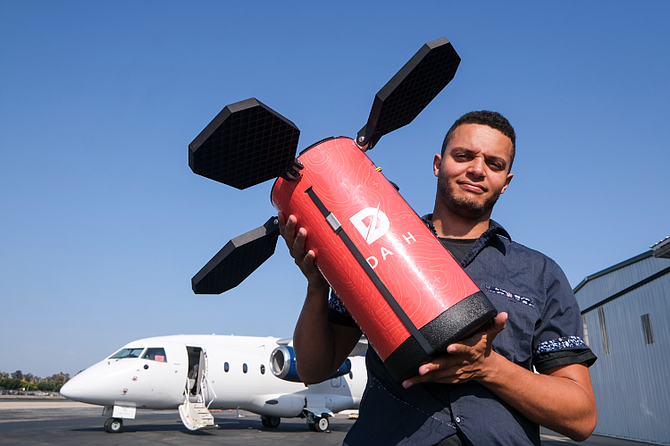 In the 10 months Joel Ifill worked at El Segundo-based Aerojet Rocketdyne Holdings Inc., he said he "never felt at ease" making precision kinetic weapons, better known as smart bombs.
 
Even after he left Rocketdyne in 2010, he said he couldn't shake the idea that precision technology and his engineering prowess could be used for a less lethal application: deliveries to remote areas.

"What I took away from (Aerojet) is we already had all this immense capability in launching and landing things accurately from aircraft," said Ifill, 34.  

In 2017, Ifill secured an angel investment of an undisclosed sum led by Chatsworth-based Mila Capital and launched Dash Systems Inc.
 
The Hawthorne-based shipping company uses aircraft to deliver packages in helipad-size areas without ever needing to land, no airport required. Its pilots are guided by technology that allows them to release and land delivery pods — which it designed in house — capable of carrying up to 50 pounds of cargo.

Dash launched commercially in 2019 as a part of the Techstars Los Angeles Accelerator. But the company started developing and testing in 2017 and has since made more than 400 airdrops.
 
Dash's patented technology is similar to the joint precision airdrop systems used by the Defense Department and first developed in 1993 by the Army. The company also has an "ever growing" portfolio of intellectual property surrounding its technology, according to Bryan Miller, Dash's chief operating officer and test pilot.

For now, Dash remains focused on research and development. It uses its singular aircraft, a Cessna 208B Grand Caravan, for test runs and "proof of concept" deliveries to remote areas every week. The tests are run out of its Hawthorne headquarters, as well in the Mojave Desert and Porterville, near Sequoia National Forest, said Miller.
 
Some investors, however, are already sold on the potential commercial applications of Dash.

"Dash Systems is an innovative solution to delivering commercial packages at a fraction of both the cost and speed of traditional services," Jake Medwell, founding partner at 8VC, which led Dash's first funding round, said in a statement. "We've already seen top engineers and talent quickly join the Dash team, which is an early sign that things are working and major problems are being solved."

The $8 million funding round closed in December and included participation from New York City-based Tusk Venture Partners; Minneapolis-based Loup Ventures; Austin, Texas-based Trust Ventures; Dallas-based Perot Jain; and Mila Capital.

Dash has used the funding to further research and development, train aviation partners, expand commercial uses for the technology and double the staff, Ifill said.

Its clients include the Office of Naval Research, Air Force Special Operations Command and most recently, the University of Alaska Fairbanks.
 
In a July mission funded by the Office of Naval Research, Dash flew more than 7,000 miles to make 20 deliveries to multiple remote locations in Alaska, including Poker Flat Research Range, the Village of Minto and Tullik Lake. The deliveries included tools, food and supplies.

"We were in highly remote places that are historically very difficult logistically to get to," said Miller, 38. "Proving out that the capability bears a lot of weight, and in doing so we were able to talk to a lot of folks and ask, 'What would you put in one of these?'"

Advancing logistics
As precision airdrop delivery is a young sector, Dash has few direct competitors.
 
The company's eventual goal is to sell its technology platform and delivery pods to major shipping and logistics companies, such as United Parcel Service, DHL International and FedEx Corp.

"We don't want to be a competitor with all of the 135 carriers," said Miller. "Let's let them do what they do best, but let's give them a new set of tools so that they can do it in a more efficient and more effective manner."
While Dash might not ever compete with major carriers, it is pushing the boundaries of traditional air delivery methods.  

The company claims its systems are 65% faster and 45% less expensive than traditional delivery options that typically require landing planes or using trucks.

But Thomas Anthony, director of the aviation safety and security program at USC, said Dash's market coverage may be limited.

The country has more than 13,500 airports and 19,000 civil landing areas. Even Alaska, where Dash conducted its most recent mission, has more than 400 airports and nearly 750 landing areas, he said.

"A lot of places are not that far from an airport," Anthony said.
Mark Billingsley, director of the Office of Intellectual Property and Commercialization at University of Alaska, however, sees the potential in Dash's delivery system. He said it can help with the technological and economic challenges faced by many remote areas in his state.

Dash could deliver medicine, infrastructure components and mail to the more than 300 remote villages in Alaska that are not located on all-weather roads, he said.

"We're talking about truly remote ... hundreds of miles away from a road," Billingsley said. "The only way (residents) get their mail and all of their supplies, really, is through the air. There are some critical supplies that can be delivered by Dash in a hurry without even having to land the airplane."

As the crow flies
The company's market expands beyond rural areas, too.
Ifill said Dash's precision deliveries could prove essential in the aftermath of hurricanes or wildfires. He said he began testing the precision airdrop technology in 2017 by providing disaster relief deliveries in Puerto Rico after Hurricane Maria.
 
Dash also aims to make deliveries to places regularly served by delivery trucks, Miller said, such as towns on the outskirts of L.A. County. In the Antelope Valley, for example, a truck delivery could take hours in heavy traffic, whereas a Dash delivery would take 18 minutes and could serve several towns on the way, he said.

"Whether it's a rural community or a densely populated area, we can close that middle-mile gap," Miller said.

As the company continues to prove its capabilities, Miller said, his goal is to bring Dash's delivery capacity up to 500 pounds in the next 18 to 24 months.

"At its core, what we're talking about is something literally falling from the sky," he said. "But the implication of that is extraordinary because …  we're able to do that with a high level of precision, a high level of accuracy and a high level of reliability."

For reprint and licensing requests for this article, CLICK HERE.