Johnny Was Apparel Brand Investment Pays Off for Endeavour
Monday, September 20, 2021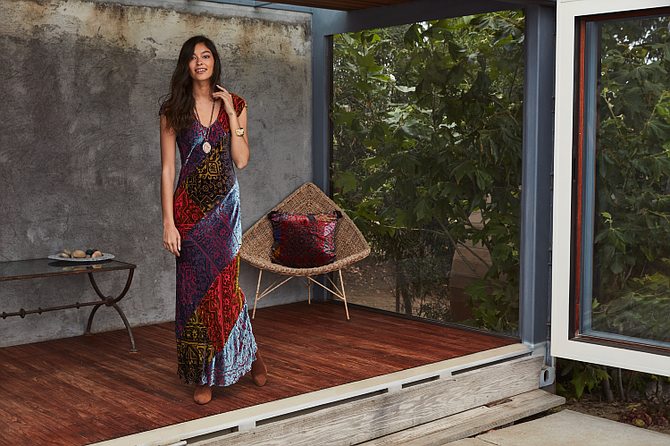 Johnny Was, named after a Bob Marley song on the artist's 1976 chart-topping album, is proving a hit for its investor.

The downtown-based apparel brand has quadrupled its annual revenue to about $200 million since 
downtown-based Endeavour Capital acquired the majority stake from founder Eli Levite in 2015.

"It's worked out very well," said Leland Jones, a managing director of the private equity firm's Los Angeles office. "Covid was a little tough on them for about six months, but they've bounced right back and are doing remarkably. First we wondered whether or not it was the (post-shutdown) revenge spending going on that everybody's talking about, but it just keeps continuing."

Opportunity strikes
Levite, a local apparel manufacturer, founded the company in 1987, focusing on "boho chic" women's apparel — relaxed outfits featuring mixed patterns, colors and layers.
 
When Endeavor took over, Johnny Was had nine stores, including a flagship location that opened at the Santa Monica Place mall in 2010. The majority of its revenue came from wholesale accounts with high-end department stores and hundreds of boutiques across the country.
 
These days, the brand has more than 300 employees working at 57 company-owned stores and at a downtown warehousing and fulfillment facility. Its wholesale consists of a "strong business" with Neiman Marcus Group, Saks Fifth Avenue and Bloomingdale's Inc., and "a smaller business at Nordstrom," according to Chief Executive Robert Trauber, who added that the brand is sold in about 1,000 boutiques as well as in Australia and Germany.

Trauber, who helped Endeavour court Johnny Was before taking over as CEO, noticed a potential for growth in the brand's direct-to-consumer business — it had a small, but "very strong consumer base" and few, but profitable, stores. It also had an underdeveloped website and small customer database, both ripe for expansion via various marketing and customer acquisition strategies.

"When we came in … wholesale was about 70% of business, and we switched that, (but) we didn't shrink wholesale," he said. "The wholesale continues to grow, but direct-to-consumer is growing much faster, and now direct-to-consumer is 75% of business."

His team "focused on integrating the omnichannel approach," where its stores serve as a showrooms and warehouses.

"If you shopped online two to three years ago, if we were sold out, we were sold out, and you'd have to walk into a store to get something," Trauber said. "Today, if you go online, you have access to our inventory across 57 doors, no matter where that product is. … We are much better able to leverage the inventory, and that's been wonderful for us."
New lines
There was also room to expand product categories, which centered on woven tops.

"It was such an opportunity to build the bottoms business and build into new categories, even if it was tops — more sweaters or knit business that they didn't really have, even some home and accessories," Trauber said. "We really made it a head-to-toe kind of a lifestyle brand."

While product design and marketing are done in house, Johnny Was contracts out the bulk of its manufacturing to overseas factories. Sewing and embroidery is done in Shanghai, and cashmere and other knits come from Peru while leather handbags and shoes are made in Italy.
 
Calmé, the brand's sustainable loungewear line, is manufactured locally using tencel, hemp and organic cotton.

Johnny Was' roster of collections also includes JWLA, 3J Workshop, Biya, Pete and Greta, Love Johnny Was and Jade, each of which caters to a specific subset of the brand's afficionados.
 
"The target consumer is sort of a middle-aged, more mature customer," said Carrie Tanzman, who joined Johnny Was from Lucky Brand two years ago to serve as a senior vice president merchandising, merchandise planning and buying. "She definitely has the bohemian spirit. I think the idea is our product is meant to be a mix-and-match proposition to create her own unique outfitting."

The product prices range from $58 to $2,600, which explains why the target customers' age skews "a little bit older because the 20-something isn't going to spend the kind of money it costs to have Johnny Was, even though it would appeal to her from an aesthetic standpoint," added Trauber. "We are trying to broaden the product hierarchy, the pricing approach, so that more people can get access to the brand."

Trauber, who served as president of Trina Turk for three years prior to joining Johnny Was in 2015 and another three as chief financial officer and chief operational officer for Juicy Couture, plans to add more stores "where the economics make sense."

Plans are also underway to expand the company's brick-and-mortar footprint to Australia.

When it comes to Endeavour's playbook, Johnny Was might be ready for the marketplace. But the private equity firm, which also has a majority stake in City of Industry-based Whiplash Inc. and Visual Data Media Services in Burbank, does not have a prescribed holding period, according to Jones.

"I'd say in the vast majority of cases the sort of catalyst for exiting one of our businesses is usually when (its) management ... (is) interested in exploring getting some liquidity or harvesting some of the values that they've created," he said. "We always listen to management when we hear that, so often that's the catalyst."

It appears that Trauber's not in a rush.
 
"There's no active process right now, but it would be reasonable to think in the next couple of years that (Endeavour) would consider an exit strategy for themselves, not for me or my team," he said. "I just love Johnny's. We (have) a great group of people. ... It's a happy brand."
For reprint and licensing requests for this article, CLICK HERE.