Herbalife Shares Plunge After Company Lowers Revenue Guidance
Tuesday, September 14, 2021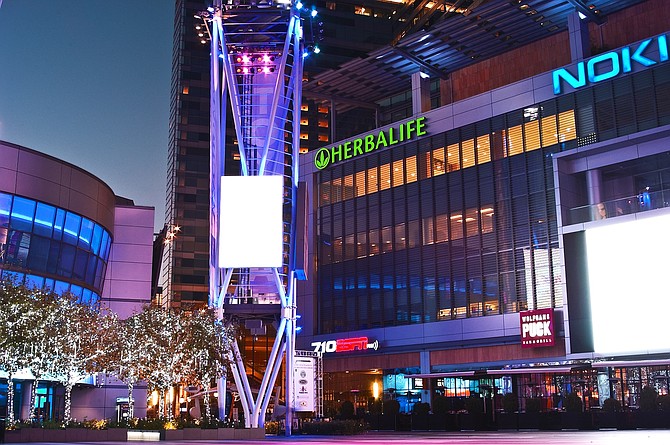 Shares of Herbalife Nutrition plunged 21% on news that the downtown-based nutrition supplement company lowered third-quarter and full-year revenue guidance due to lower-than-expected results from its distributor network.

The company released the lowered guidance in advance of an investor conference it hosted on Sept. 14 designed to drum up investor interest in the company.

"Recently, the company observed lower-than-expected levels of activity amongst its independent distributors that has led to a decrease in expected third-quarter and full-year net sales," the company said in its announcement.

Herbalife sells nutrition supplement products in an array of flavors, both through a network of individual distributors in 94 countries and through direct-to-consumer sales.

In the second quarter, Herbalife reported sales of $1.6 billion, up 15% from the pandemic-impacted second quarter of 2020. Net income was $144 million, up 25% from the same quarter last year.

In its second quarter earnings release, Herbalife lowered its guidance for full-year revenue to a growth rate range of 8.5% to 12.5%, down from earlier guidance of 10% to 14%. This came after the company had for at least two quarters reported slowing sales in China.

In the Sept. 14 announcement, Herbalife lowered the revenue growth rate guidance by another 400 basis points, to between 4.5% and 8.5%.

Despite this update, the announcement said the company remains on track for a second straight year of record revenue. The company also noted that third-quarter revenue should run between 14% and 18% higher than the third quarter of 2019, prior to the pandemic.

That news did little to reassure investors, who sent Herbalife shares plunging 10% at market open on Sept. 14. The selloff continued throughout the day, plunging 21.1% by market close to $42.78.  
Shares continued to hover around that price the morning of Sept. 16.
For reprint and licensing requests for this article, CLICK HERE.