Developer Thomas Safran & Associates Builds Affordable Housing at Record Pace
Monday, September 13, 2021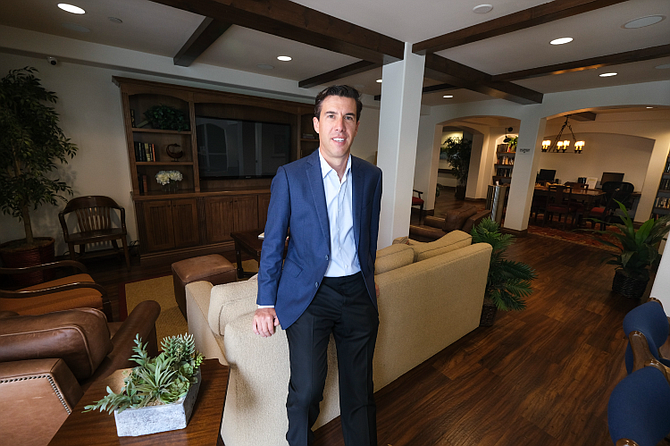 One of the biggest topics in Los Angeles right now is the need for affordable housing.
 
In L.A. County, the number of people experiencing homelessness topped 66,000 last year, according to the Los Angeles Homeless Services Authority. And plenty of others who do have shelter are struggling to pay rent.

According to the California Housing Partnership, 79% of extremely low-income households are devoting more than half their income to housing costs, compared to 3% of households earning moderate incomes. The nonprofit estimates that countywide, 516,946 more affordable rental homes are needed to meet demand.
 
Brentwood-based Thomas Safran & Associates is one of the companies looking to fill the need. It has 1,000 units under construction and another 1,200 in preconstruction. Most of the units are affordable.

That's "more under construction than any time in our company history. We are focused on Southern California and L.A. specifically," Jordan Pynes, president of Thomas Safran & Associates, said.

Founded in 1974, the company has since grown to own and operate 6,000 units and have 250 employees. It develops both market-rate and affordable housing units but specializes in affordable housing. These types of units are set aside for people who make a set percentage of the median income for the area. Some 80% of the company's portfolio is in L.A.

Before launching his namesake firm in 1974, where he serves as chairman, Safran served a stint at the Department of Housing and Urban Development, acting as a representative for L.A. to ensure developers were building quality projects.
 
Safran, according to the company, was "appalled" by some of the buildings he saw erected in the '70s and wanted to create better projects that were not only affordable but looked like their market-rate counterparts.
 
Unlike some other developers, Thomas Safran & Associates doesn't just build, it also manages its properties.
 
"We build to the highest standard, and once our residents move in, we run our properties to the highest level," Pynes said. "We manage what we own because we want it done at the highest standards."
'Overwhelming' demand
Thomas Safran & Associates is tackling L.A.'s affordability crisis in two ways: through ground-up construction and rehabilitations of existing properties.

Over the past seven years, the company has rehabbed more than 2,500 units of Section 8 properties, which it acquires with an agreement in place to keep them affordable.

Thomas Safran & Associates puts current tenants up in a hotel with a per diem, then guts the apartments in a matter of days, changing out kitchens and bathrooms before residents return.

Pynes said a lot of the buildings it acquires have been previously "mismanaged" and are "in desperate need of rehabilitation."
 
Though the company is working at a rapid clip, the Covid-19 pandemic, Pynes said, has had a huge impact on its pipeline.

"Covid has wreaked havoc on our construction business," Pynes said. "The challenges over the last 18 months have been significant from trade groups. If a couple of people from one trade line gets Covid or tested positive, everyone who has been exposed has been out of work maybe two weeks, and it throws the whole construction schedule off."

A lack of materials like lumber has also caused problems, he said.

Still, Pynes said the company is pushing ahead to build as many affordable units as possible, including for veterans and seniors.

Senior housing has been in high demand as the population ages. The number of people 85 years and older is expected to grow 177% by 2050, according to CBRE Group Inc.

Thomas Safran & Associates' senior communities all have programs to encourage residents to interact, such as monthly birthday parties. And the buildings are equipped with gyms and exercise classes.

"There's such a demand for senior affordable housing in L.A. County right now. Our typical buildings, which average 100 units, will receive 2,000 to 3,000 applications for our lottery when we open a new property. The demand is completely overwhelming right now," Pynes said.
Finding the financing
One of the biggest hurdles facing affordable housing developers right now is financing, especially given the high cost of building such projects.

"The cost of construction has gone up, and the time to get things done through the city or have (the Los Angeles Department of Water and Power) give you a meter, everything has become more expensive," Kitty Wallace, a senior executive vice president at Colliers International Group Inc., said.

She added that it was much easier now to convert an old building than to build a new one.
 
Experts said L.A. isn't seeing more buildings comprised entirely of affordable units because of costs, but there are more projects that include some affordable housing because new legislation is encouraging developers to put up buildings with a mix of rental rates. The legislation gives developers the ability to deviate from local zoning codes if they put affordable units in their projects.

"The city has made the incentives lucrative enough that developers are building more affordable housing … and it makes sense for their bottom line," said Laurie Lustig-Bower, an executive vice president at CBRE.
 
For entirely affordable projects, many developers rely on a variety of government subsidies and grants, and that poses its own roadblocks.

"The funding of affordable housing is very challenging right now," Pynes said. "A typical property requires eight to 10 different funding sources to start construction. It's the biggest challenge right now to get more shovels in the ground."

Take Thatcher Yard, for example.
 
Thomas Safran & Associates is working on the $57 million project at 3223 S. Thatcher Ave. in Marina del Rey. When complete, it will hold 98 affordable units, including 67 for seniors, 30 for families and one manager's unit.
 
Funding is coming from nearly a dozen channels, including low-income housing tax credits, tax-exempt bonds, an equity investment and construction loan from Wells Fargo & Co.; a loan from the California Community Reinvestment Corp.; and Proposition HHH, a local $1.2 billion bond for affordable housing units for tenants who were formerly homeless.

"We're one of the biggest recipients of HHH funding in Los Angeles. We look for funding wherever we can get it. We've even recently been contacted by some big tech companies to partner together," Pynes said, adding that the companies would be an additional source of funding for affordable housing units.
 
"All these funding opportunities are really challenging; there's a big demand right now; there's a lot of new players in the space because of the flow of money that is coming in for homeless housing," he said. "It should be more streamlined. It should be easier. If we want to solve this crisis, we need to get more funding together to … make projects easier to start construction."
For reprint and licensing requests for this article, CLICK HERE.