Meet LA's Home-Churned Ice Cream Makers
Monday, September 6, 2021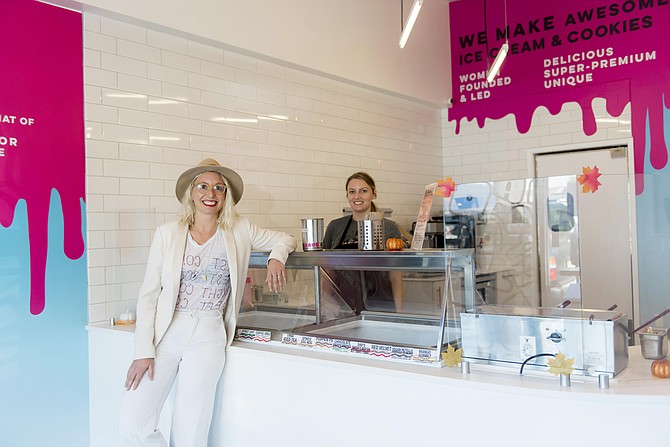 In Los Angeles, there's always room for ice cream.

By the time brothers-in-law Burt Baskin and Irv Robbins founded the multinational brand Baskin-Robbins by merging their Glendale ice cream parlors in 1948, the frozen treat was already a modest staple of L.A. businesses. The industry has since become a bustling community with a wide variety of offerings that are scooped and sold locally and nationally.

The Business Journal estimates there are more than 50 local ice cream businesses headquartered in Los Angeles, a figure that excludes chains that do big business here but are headquartered elsewhere, such as Santa Barbara-based McConnell's Fine Ice Creams; Brooklyn, N.Y.-based Van Leeuwen Ice Cream; Columbus, Ohio-based Jeni's Splendid Ice Creams; Portland, Ore.-based Salt & Straw; and, of course, Baskin-Robbins, which moved its headquarters to Canton, Mass., in 2004.
 
While a handful of local ice cream-makers have a longstanding presence, such as Mashti Malone's, which opened its doors in 1980, several are less than a decade old. They are staking a claim in an increasingly competitive marketplace and are contributing to a nationwide industry that generates $13.1 billion in gross sales and other economic output and provides more than 26,000 direct jobs generating $1.6 billion in direct wages, according to the International Dairy Foods Association.
 
Downtown Los Angeles' open-air food market Smorgasburg LA held its fifth annual "Ice Cream Alley," a curated lineup of local ice cream and sweet treat businesses, from July 18 through Sept. 5. Smorgasburg General Manager Zach Brooks credits this explosion of ice cream businesses to an increasing sophistication in consumer food habits, along with improvements in access and quality of ingredients and the city's thriving mix of different cultures.

"L.A. really in the past five or 10 years has been at the forefront of the food scene and food culture in this country," Brooks said. "I don't think it's a big surprise that we also have some amazing local artisanal ice cream brands."

Much of what these businesses offer is different from the malt-shop model of yesteryear.
Proprietors are not only selling their products out of carts, food trucks and other nontraditional venues but also offering hand-crafted sandwiches, milkshakes and other unique desserts that cater to the specific needs and appetites of their clientele.

Heather Kuklin launched Madame Shugah nine years ago out of her Silver Lake garage to make vegan, gluten-free and soy-free ice cream sandwiches that tasted as good as their traditional counterparts.
 
"I didn't know anything about business," she said. But the growth in popularity of veganism increased the availability of ingredients and the number of customers seeking her products.
 
"I was vegan back in the '90s when there was cheese that was just like Tupperware," she said. "So, being able to have all this now is cool. I only put out what I want to eat myself."

Mehdi Shirvani, who operates Mashti Malone's, launched a second store in Westwood in April. Today, he makes 1,000 gallons a day of Persian-themed ice cream flavored with rosewater, French lavender and Turkish coffee, alongside staples like chocolate and butter pecan, that his employees either scoop by hand or ship to Middle Eastern grocery stores across the country through more than 200 wholesale customers.

Shirvani's isn't the only business tailoring its flavors to the diversity of Los Angeles' population.
 
Leila and Bijan Sadeghi opened Bloomfield Creamery in 2017 in Pasadena, developing flavors that blended their Persian heritage, culinary traditions from their hometown of Bloomfield Hills, Mich., and the legacy of their parents' 20-year ice cream delivery business.
 
Meanwhile, Wanderlust Creamery, which launched in 2015 in Tarzana before expanding to Pasadena, Fairfax, Venice and a permanent residency at Smorgasburg LA, developed flavors inspired by cuisines from Japan (a Neapolitan comprised of matcha, hojicha and black sesame), France (Noyaux and Pralines Roses) and owner Adrienne Borlongan's Filipino background (Ube Malted Crunch).
 
Offering a variety of flavors has become more important than ever for ice cream businesses to stand out, as has paying attention to the quality of the ingredients.

After testing a variety of milk and cream options, Santa Monica-headquartered Sweet Rose Creamery decided upon Petaluma-
based Clover Sonoma as a supplier because owner Josh Loeb and chef Shiho Yoshikawa wanted to make their ice cream from scratch instead of using widely available industrial bases. Early on, they had to purchase Clover from Whole Foods, the only supplier in Los Angeles.
 
Meanwhile, Magpies Softserve founders Rose and Warren Schwartz combined her degree in chemistry and his culinary school pedigree to create the right taste and consistency for soft-serve flavors like Corn Almond and Frozen Hot Chocolate.
 
This raises costs on Magpies' pints to $10 and as much as $12 for those from Sweet Rose Creamery, but prices for individual scoops remain competitive at $4 to $6 apiece.

Several local businesses, including Mashti Malone's, Wanderlust and Playa Vista-based N'ice Cream are forging ahead with plans to open additional locations and expand their businesses in the months and years ahead.
 
Kuklin, who calls Magpies "her favorite," said the competition fulfills consumer needs just like she hoped it would when she created Madame Shugah.
 
"I started this because, at the time, there was a hole, and I was like, 'Yo, why doesn't anyone make this?'" she said. "There's room for everyone. There's millions of people. I cannot serve everyone. Let's all help each other."  
Mashti Malone's
HEADQUARTERS:
Hollywood
FOUNDED:
1980
OWNER:
Mehdi Shirvani
EMPLOYEES:
20
R

P

ODUCTS
: Scoops, pints, milkshakes, Persian-
themed pastry and ice cream combos
MOST POPULAR FLAVOR: 
Saffron Rosewater
BUSINESS:
Mashti Shirvani opened the family business in 1980 in the hull of an ice cream shop named Mugsy Malone's, whose sign he couldn't afford to replace. His brother, Mehdi Shirvani, joined the family business eight years later to help introduce the unique flavors and textures of their native Iranian cuisine to U.S. consumers. The company quickly expanded its repertoire to feature Persian specialties such as rosewater, lavender and pomegranate, as well as standard American flavors like chocolate and vanilla, eventually developing a parallel wholesale business providing pints to natural food stores. With a new location in Westwood and another on the way in Silver Lake, Mashti Malone's aims to open one store a year going forward.
THE SCOOP:
"Our business gets zero customers from tourists. We're a small company, so we expand in the areas that we already know that we have customers who know us." — Mehdi Shirvani, owner
Coolhaus
HEADQUARTERS:
Culver City
FOUNDED:
2009
OWNER:
Natasha Case
EMPLOYEES:
20-25
REVENUE:
 $13 million (2021 projected);
$10 million (2020)
PRODUCTS:
Dairy and dairy-free ice cream sandwiches, cones and pints
MOST POPULAR FLAVORS:
Dairy-free cookie dough and chocolate chip ice cream sandwiches  
BUSINESS:
  Natasha Case founded Coolhaus in the shadow of the Great Recession. Teaming up with Freya Estreller, who studied finance at Cornell, the duo bought an old postal van "masquerading as an ice cream truck" for $2,500 ahead of the Coachella Music Festival and quickly built an empire, using all-natural, handmade ingredients for sandwiches, cones, pints and cups sold out of their "Innovation Center" in Culver City and through partnerships with some 6,000 grocery stores across the country.
THE SCOOP:
"I was interested in reinventing the (dessert) category ... and ice cream was such a great canvas to experiment with. Ice cream sandwiches, I think, are so special, and when I started, no one had really been playing around there." — Natasha Case, owner
Bloomfield Creamery
HEADQUARTERS:
Pasadena
FOUNDED:
2017
OWNERS:
Leila and Bijan Sadeghi
EMPLOYEES:
7
PRODUCTS:
Ice cream pies, pints, milkshakes and cookie combinations
MOST POPULAR FLAVOR: 
Pistachio Saffron (Westwood) and Almond Brittle with Mackinac Island fudge (Pasadena)
BUSINESS:
Leila and Bijan Sadeghi, who come from an ice cream-slinging pedigree, opened their first Bloomfield Creamery location in Pasadena four years ago. Their parents handled ice cream distribution at gas stations and grocery stores for more than 20 years. Developing traditional flavors from their Persian upbringing (Pistachio Saffron, faloodeh) alongside flavors imported from Michigan (Mackinac Island Fudge, Michigan Tart Cherry), the Sadeghi siblings have expanded to a second location with some flavors unique to each store. They are exploring wholesaling and special events.
THE SCOOP:
"I feel like you could go into a Thrifty or Baskin-Robbins and get a vanilla or cookies and cream, or you could go to Salt and Straw and get something crazy. We really wanted to bridge that gap and have a place that did both and did both really well." — Leila Sadeghi, co-owner
Madame Shugah
HEADQUARTERS:
Silver Lake
FOUNDED:
2012
OWNER:
Heather Kuklin
EMPLOYEES:
2
PRODUCTS:
Vegan, gluten, soy-free ice cream pints, milkshakes and sandwiches
MOST POPULAR FLAVOR:
Pistachio
BUSINESS:
L.A. native Heather Kuklin started her health-conscious dessert empire with a single cookie after failing to find vegan or gluten-free options for herself that either didn't taste good or were too expensive. She eventually started making ice cream sandwiches sold at events and pop-ups across the city but quickly discovered that she would have to develop her own soy-free ice creams with the creamy taste she wanted while keeping costs manageable for her consumers. A proposed deal with Whole Foods fell through in March 2020, which she said was the best thing that could have happened because it allowed her to pivot to a business model in which she can focus on things she can "mass produce and not kill herself."
THE SCOOP:
"I'm a punk rocker, I'm DIY,
and I decided I'm going to do it myself." — Heather Kuklin, owner
Sweet Rose Creamery
HEADQUARTERS:
Santa Monica
FOUNDED:
2010
OWNER:
Josh Loeb
EMPLOYEES:
20-25
PRODUCTS:
Ice cream scoops, sundaes, pints and cakes
MOST POPULAR FLAVORS:
Fresh mint chip, salted caramel
BUSINESS:
For Josh Loeb and Zoe Nathan, opening an ice cream shop was a complement to the upscale dining experiences they had already created at Rustic Canyon, Milo & Olive and their six other food businesses in Santa Monica. It was also the fulfillment of an obligation to the community they loved to offer handcrafted ice cream using thoughtfully sourced, high-quality organic ingredients. Bolstered by the imagination of chef Shiho Yoshikawa, Sweet Rose Creamery quickly expanded to multiple locations. But ultimately Loeb decided to reduce the number of stores to just two, realizing that part of the brand's appeal was its quality, its simplicity and its local intimacy.
THE SCOOP: 
"We're sort of … anti-growth. We're just looking at continuing to make better ice cream and have the store be as busy as possible and sell as many pints as we can." — Josh Loeb, owner
N'ice Cream
HEADQUARTERS:
Playa Vista
FOUNDED:
2016
OWNER:
Omid Torkian
EMPLOYEES:
8
REVENUE:
 $315,000 (2021); $450,000 (2019)
PRODUCTS:
Custard, gelato, sorbet and "yogilato" (frozen yogurt and gelato) scoops, cones, ice cream tacos, milkshakes, ice cream bars and cookie "splits"
MOST POPULAR FLAVOR:
Vanilla custard
BUSINESS: 
Omid Torkian, an entrepreneur who grew up in Los Angeles with a passion for ice cream, took over N'ice Cream's Playa Vista location in 2016 when the original owner decided to move into real estate. N'ice was originally developed as a self-service operation but converted to a full-service model when Covid-19 hit. Torkian added fresh waffle cones, ice cream tacos and a delicious monstrosity called the Cookie Split, with fresh-baked cookies replacing the traditional banana.
THE SCOOP:
"We're trying to find the balance of the right product and really focus on taste. So, it's a combination of location, product and the right people involved, so you come in, and you feel like you're taken care of — you feel like this is like a mini vacation." — Omid Torkian, owner
For reprint and licensing requests for this article, CLICK HERE.